charming samples of unusual alphabets, fonts, and signs
When it first appeared, this is a book I used to pick up and browse in bookshops, wondering whether to buy it or not. There was no need to be so cautious, because it's quite cheap, and since taking the plunge it's given me hours of enjoyment. Basically, it's a sample book of fonts, characters, trademarks, alphabet designs, logos, and dingbats. But what makes the book so attractive is that the collection is both eclectic and suffused with a period charm of the inter-war years.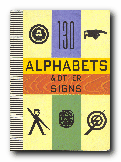 Many of the designs and fonts are drawn from that period – with a hint of colonial nostalgia in labels from products destined for Africa, China, and India. Even the pages are printed in a pre-faded manner and cut with rounded corners. But there's also the cosmopolitan up-side to the same tendency, with fonts from the Victorian revival, Russian constructivism, and even an alphabet cut in bone by French prisoners during the Napoleonic wars.
There are elaborate display fonts, shaded letters, monograms, a set called 'Huxley Vertical' which seem like a precursor to Neville Brody, a selection of ink blots, labels from Joan of Arc laxatives, labels for matches, cigarettes and drinks, a two-page spread of ampersands, examples of visiting cards, Japanese packaging labels, even a typographic book-cover design by Natalia Goncharova from 1920s Paris.
Don't expect any scholarly rigour. Although the collection is interspersed with a few short essays, there are very few technical details given. Many of the fonts are not even even given a name or credited by a caption. A full alphabet in Cyrillic on a single page is left to speak for itself. But somehow this doesn't really matter.
The compilation is very obviously offered just as a source of visual stimulation, and it works marvelously. It would be a jaded aesthetic palate indeed which was not stimulated by the range and vitality of this collection. It's a treat, from first page to last.
© Roy Johnson 2000

  Buy the book at Amazon UK

  Buy the book at Amazon US
---
Julian Rothenstein and Mel Gooding (eds), 130 Alphabets and Other Signs, London: Thames and Hudson, 1993, pp.183, ISBN: 0500277419
---
More on typography
More on design
More on media
More on web design
---