short stories by a master of modernism
A Hunger Artist is a collection of short fictions by one of the most remarkable writers of the early twentieth century. Franz Kafka was a completely original writer. He's classified as a novelist and writer of short stories, and yet most of his novels were not finished, and many of his short works don't have normal characters or recognisable stories. Many of them are not continuous, logical narratives that we expect in work classified as fiction. Much of his writing is closer to being philosophic meditations or the exploration of bizarre images and metaphors. Yet such is the power of his symbol-making and his imagination that there is really nowhere else for him to be categorised.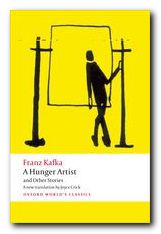 Some of his stories are as short as one-sentence aphorisms or the exploration of curious metaphors, striking images, and parables that present one idea in the guise of another. In one story a man is a bridge, stretched across a chasm, terrified of the responsibility he bears. In another a man spends his entire life at a gateway, pleading to be admitted to the Law. On the point of his death he asks the gatekeeper why nobody else has ever requested entry. The gatekeeper tells him "Nobody else could be granted entry for this entrance was meant only for you. I shall now go and close it."
Kafka was a writer of great contradictions: the semi-mystical believer who doubted everything; the prudish sceptic of personal relationships who consorted with prostitutes; the neurasthenic who was devoted to sunbathing and swimming; the self-denying ascetic who was described by one of his friends as 'the best-dressed man I have ever known'.
He wrote a great deal about animals, birds, insects, and rodents which nevertheless have human thought processes. In one of his most famous stories The Metamorphosis a young travelling salesman wakes up to find that he has changed into a giant insect. Another story features the effect on a small village when it is visited by a giant mole. In The New Advocate a horse is appointed as a lawyer, and A Report to an Academy is the transcript of a lecture in which the speaker describes his former life as an ape.
All the now-familiar elements of Kafka's world are tried out in these stories, parables, and fragments – the inaccessible palace or castle, the closed gate, incomprehensible foreigners, the remote unknowable figure of Authority, and the unspecified menace from without. The essence of a Kafka story is often an inexplicable mystery, a paradox, or a vague un-named threat. He establishes a situation then immediately undermines it by introducing the opposite or a contradiction
It was a beautiful day and K. intended to go for a stroll. But he had scarcely taken two steps before he was already in the graveyard.
In fact K. finds that he is a witness to his own burial. A story such as The Burrow combines the animal motif with a study in paranoia when an unspecified rodent describes the building of a giant network of tunnels against some un-named exterior threat. But the construction is eventually so elaborate that maintaining it becomes a threat in itself.
This collection is made up of some of his earliest and his last published works – from the almost journalistic Aeroplanes at Brescia (1909) to Josephine, the Singer or The Mouse People (1924) completed the year of his death. It also contains some of his most famous and anthologised stories – Investigations of a Dog, The Burrow, Before the Law, and The Great Wall of China.
This volume makes an excellent starting point for anyone who has not tackled Kafka before. The translations in these new Oxford University Press editions are recently commissioned, and the texts come with an extensive critical apparatus of introductory essay, explanatory notes, biographical details, and lists of further reading.

Buy the book at Amazon UK

Buy the book at Amazon US
© Roy Johnson 2012
---
Franz Kafka, A Hunger Artist and Other Stories, Oxford: Oxford University Press, trans. Joyce Crick, 2012, pp.218, ISBN: 0199600929
---
More on Franz Kafka
More on the novella
More on literary studies
More on short stories
---