tutorial, commentary, study resources, and web links
A Life (Una vita) was the first novel written by Italo Svevo, and like all his other works it was published at his own expense. He wrote it in 1888 and originally gave it the title Un inetto (A Bungler). Svevo submitted his manuscript to the publishing house Treves, where it was turned down. Eventually it was accepted by Vram and published in 1892, with the stipulation that the title be changed and Svevo pay for the printing. Once published, it was completely ignored. Not until twenty years later did Svevo find any degree of literary success, following the support and encouragement of his English language teacher, the young James Joyce, who was living in exile in Trieste at the time.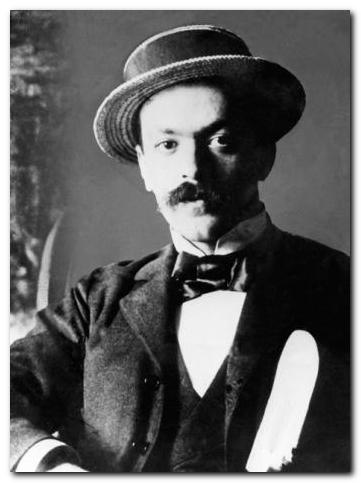 Italo Svevo
---
A Life – critical commentary
Setting
Although it is not explicitly named in the text, there is no reason for thinking that the location of events is anywhere other than Trieste. Svevo set all his major novels in his native city. Characters go for walks along the Corso; the city is located on the sea; and the bank of Maller & Company has commercial relationships with Italy, Germany, and France – all of which were close geographic and political connections with Trieste, the fourth largest city of the Hapsburg Empire and its only Mediterranean sea port in the late nineteenth century.
The main theme
As its original title implies (Un inetto – An Inept One) the novel is a study in social alienation and personal failure. Alfonso is in one sense a precursor of the modern and existential anti-hero. He acts from the best motives and strives for honourable and spiritually elevated relationships with those around him, but he is defeated by petty bureaucracy on one hand and his own emotional weakness on the other.
Svevo repeatedly dwells on the ironic twists of fate that beset his protagonist. At the start of the novel Alfonso feels that he is not well regarded in his lowly position of correspondence clerk, yet his boss and head of the bank Signor Maller specifically assures him that he respects his work, and proves it by inviting him to his home.
This gives Alfonso the opportunity to meet Annetta, the attractive daughter of his boss – yet it is significant that having socially recognised Alfonso with an invitation to his own house, Signor Maller absents himself on the occasion of his visit, and Alfonso is left to the frosty reception provided by Annetta and the housekeeper Francesca (who is also Maller's ex-mistress).
Alfonso is in an ambiguous position in terms of social position – from a lower middle-class family, with enough education to escape his rural native village and to secure a clerk's job in the city, but not enough status or capital to mix easily with those he sees as his peers. He inherits money from the sale of his family home following the death of his mother – but he improvidently sells it for below its market value. He is yearning ambitiously for connections that are socially beyond his means. His relationship with his boss's daughter Annetta only exposes him to suspicions of fortune hunting, as well as being emotionally calamitous.
He is noble and self-sacrificing in nursing his dying mother , and with his inheritance he provides a dowry for the unlovely daughter of his landlady – only to have his generosity misunderstood and even held against him.
Alfonso is similar to one of Kafka's characters – Franz Kafka being a writer who Svevo clearly prefigures. Alfonso's plight would be one of comic misunderstanding if it were not so painful and ultimately tragic. The scene where his feckless landlord Lanucci tries to sell him a personal insurance policy he neither needs nor can afford is like a passage from another tragedian of the comic grotesque – Samuel Beckett.
Pre post-modernism
There are elements of post-modern meta-fiction in the text. Annetta suggests writing a novel collaboratively with a plot which is Alfonso's own story of a provincial boy who falls in love with a rich woman. This is also the plot of Una vita in which they are both characters. This theme is not explored or developed any further, since once Alfonso returns to his native village and his dying mother, the subjects of his literary collaboration and his relationship with Annetta are both abandoned.
Tightness of structure is not one of Svevo's strong points as a novelist. He follows the day to day events of Alfonso's life in an almost naturalistic manner, which renders the account tedious. Apart from the slow-moving development of Alfonso's relationship with Annetta, there is a noticeable absence of any narrative tension or drama. Instead, the narrative comprises a detailed account of the minutiae of psychological processes – the relentless analysis of people's conversations, their possible and actual motivations, and the cataloguing of trivial events. Svevo's interest seems to be mainly in the shifting, contradictory, and sometimes paradoxical nature of human consciousness – something he was to explore in even further detail in Confessions of Zeno (1925).
The only evidence of formal structure to the novel is the fact that it begins and ends with two letters. The first is from Alfonso to his mother expressing his homesickness, and the second is from the bank to the family solicitor disclaiming any financial responsibility following Alfonso's suicide.
---
A Life – study resources

A Life – Secker & Warburg- Amazon UK

A Life – Secker & Warburg – Amazon US

As A Man Grows Older – NYRB Classics – Amazon UK

As A Man Grows Older – NYRB Classics – Amazon US

Confessions of Zeno – Penguin Classics – Amazon UK

Confessions of Zeno – Penguin Classics – Amazon US

Italo Svevo: A Double Life – Clarendon Press – Amazon UK

Italo Svevo: A Double Life – Clarendon Press – Amazon US

Svevo's London Writings – Troubador Press – Amazon UK

Svevo's London Writings – Troubador Press – Amazon US
---
A Life – chapter summaries
1   Alfonso Nitti writes a letter to his mother back home in the countryside. He is poor, homesick, and feels inferior in his work at the bank.
2   The clerks at Maller and Company are kept late copying letters. Signor Maller knows that Alfonso has written home complaining and reassures him that he is well regarded. Alfonso has ambitions, but they are daydreams.
3   Alfonso lodges with the impoverished Lanucci family. Signor Lanucci gauchely tries to sell Alfonso life insurance that he cannot afford and does not need.
4   Alfonso is invited to Signor Maller's house. He is impressed by his boss's wealth, but Signor Maller leaves him with his housekeeper Francesca and daughter Annetta, who treats him very rudely. Annetta's cousin Macario later explains that she is snobbishly disdainful towards her father's employees.
5   Alfonso and his work colleagues are trapped in a routine of petty rivalries and bureaucratic divisions of responsibility – as a result of which Alfonso receives a promotion.
6   Alfonso finds his new work very demanding. To relieve his sense of alienation he takes up the study of philosophy and criticism.
7   Driven by romantic desire, Alfonso takes to following women in the street – but he is too timid to make any serious contact with any of them. He gives lessons in Italian grammar to Lucia Lanucci, but she is not a good student. They quarrel, and Alfonso believes Signora Lanucci is trying to snare him into a relationship with her daughter.
8   Alfonso falls ill and takes up walking every day as a cure. He also launches an ambition to write a philosophic thesis, but gets nowhere with it. He meets Macario in the library: they discuss literature and both read Balzac's Louis Lamberrt.
9   Alfonso pays a second visit to the Maller family home, where he finds Annetta very friendly and encouraging. But Francesca is rather distant with him.
10   Francesca asks Alfonso's mother for a room in her house, but Signor Maller countermands this request. Alfonso decides he is in love with Annetta, but when he attends her Wednesday salon he feels no desire for her.
11   When Alfonso visits Annetta on his own, she has the idea of writing a novel in collaboration, and she suggests a plot which is exactly Alfonso's own story. They describe to each other 'previous works' that they haven't actually written. But Alfonso doesn't know how to begin writing.
12   They collaborate enthusiastically, but Annetta asks Alfonso to re-write his drafts because she claims they are dull. Writing the novel becomes as burdensome to him as working at the bank, but he suppresses his criticisms of the novel because of his rapture for Annetta. He discovers that Fumigi is also in love with Annetta and has plans to marry her. Annetta turns down Fumigi's offer, but she reproaches Alfonso for compromising her social reputation. Fumigi later appears in an agitated state, which Prarchi diagnoses as incipient paralysis.
13   The Lanucci family become further impoverished. Alfonso is encouraged to bring friends home to pay court to Lucia. Finally, the printer Mario Gralli is prepared to marry her.
14   Francesca advises Alfonso to win Annetta by feigning coldness, but he finds it very difficult. They start work on the novel again, and eventually they spend a night together and become lovers.
15   The next day Alfonso feels disappointed. Annetta is going to tell her father, and advises Alfonso to leave Trieste for a while, before the marriage. Francesca advises him not to leave. Next day he is given a fortnight's leave from the bank.
16   When Alfonso returns to his native village he discovers that his mother is dying. He feels ashamed of his dalliance with Annetta. A letter from Francesca tells him that all will be lost unless he returns, but the bank grant him an additional two weeks' leave. He nurses his mother through to her death, then he himself gets typhoid fever. He sells the house for much less than its value, and returns to Trieste.
17   On return he learns that Annetta is now engaged to marry Macario, and Lucia has been jilted by Gralli. He is received in a cool manner at the bank, and the Lanucci family is beset by anxieties following Lucia's problems.
18   Alfonso works hard at the bank and eventually finds some satisfaction from his job. There are rivalries over the appointment of a branch manager for the Venice office. Alfonso preaches stoicism to Lucia but cannot suppress the jealousy aroused by his rival Macario.
19   Lucia has been made pregnant by Gralli, who refuses to marry her. Alfonso offers to pay Lucia's dowry, and Gralli changes his mind. The Lanucci family are reluctantly grateful, but Lucia does not love Gralli, so Alfonso's generous gesture is wasted.
20   The bank clerks are given their annual bonuses, but Alfonso is demoted to the counting room. He protests to Maller, but to no effect. Feeling unjustly persecuted, he appeals to Annetta for a meeting. However, at the appointed hour Annetta's brother appears and challenges him to a duel. Alfonso goes home and commits suicide.
---
A Life – principal characters
| | |
| --- | --- |
| Alfonso Nitti | a bank correspondence clerk (22) |
| Signora Carolina Nitti | his widowed mother |
| Maller & Co | the bank where Alfonso works |
| Signor Maller | his austere boss |
| Annetta Maller | his attractive daughter |
| Frederico Maller | Annetta's brother |
| Signor Lanucci | Alfonso's feckless landlord, a sales representative |
| Signora Lucinda Lanucci | a friend of Alfonso's mother |
| Gustavo Lanucci | their son (18) |
| Lucinda Lanucci | their unattractive daughter (16) |
| Signora Francesca Barrini | Maller's housekeeper and his ex-mistress |
| Avvocato Macario | Maller's nephew, and lawyer |
| Signor Fumigi | a maths enthusiast and inventor |
| Doctor Prarchi | a member of Annetta's salon |
| Signor Gralli | a printer, suitor to Lucia |
| Signor Marotti | notary to the Nitti family |
© Roy Johnson 2016
---
More on Italo Svevo
Twentieth century literature
---