tutorial, study guide, further reading
A Study in Scarlet (1888) marks the first ever appearance in print of Sherlock Holmes, the now world-famous detective. It was Arthur Conan Doyle's first book to be published – for which he received the meagre sum of £25 for all UK rights. The novel first appeared in Beeton's Christmas Annual for 1887 and was then republished as a single volume by Ward Lock & Co in July 1888.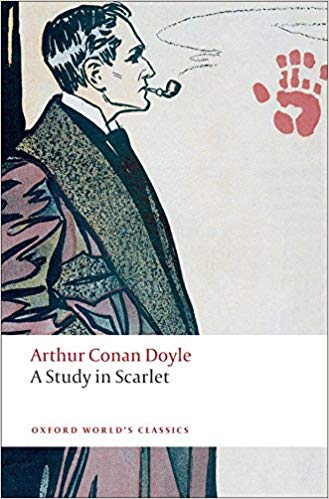 ---
A Study in Scarlet – commentary
Structure
The first part of A Study in Scarlet follows what I have called elsewhere the classic Sherlock Holmes formula. First we are introduced to the racy and enigmatic figure of Holmes himself. He is part-Bohemian, a violin player who relaxes with cocaine, and a freelance consultant detective who outwits Scotland Yard.
Then we are given a demonstration of his amazing powers of observation and clinical analysis. The story is related from the point of view of his colleague Dr John Watson. Next, someone (or a message) arrives at 221B Baker Street with details of a crime that has stumped the police.
Holmes then works out the solution to this problem by a combination of logic, closely observed details, his encyclopedic knowledge of crime, and a process of ratiocination. He then sets out in a series of detective-like escapades to prove that his theory is correct.
It is important to note that the mystery is solved via a process of thinking, the logic of which is usually revealed later. The adventures of pursuing criminals or witnesses are only necessary to prove that his theory is correct.
That is exactly the structure of Part 1 of the narrative of A Study in Scarlet. We are introduced to Holmes; he demonstrates his skills; he is presented with almost a locked-room conundrum – a murdered body in an empty house. He then solves the crime and delivers the culprit in handcuffs.
But in this, his first published work, Conan Doyle was presenting his new hero-sleuth via the form of a novel. This is a literary genre that normally requires more substance than the Sherlock Holmes formula provides. So in Part 2, Conan Doyle switches to what is essentially the 'back story' that has led to the crimes being committed.
This switch requires not only a change of location and time – from urban London boroughs to the plains of Utah earlier in the century. It is also a change in narrative mode from John Watson's first person account to an impersonal third-person history of events. This is done without any subsequent explanation of how these two parts of the narrative are related.
The new topics covered in Part 2 introduce a catastrophic rift in the coherence of A Study in Scarlet, from which the novel never really recovers. We are introduced to scene settings of what was then the American 'Frontier' which might have been lifted straight out of a Fenimore Cooper novel. There are lengthy explanations for the strange beliefs and behaviour of the Mormons (the Church of Jesus Christ of the Latter-Day Saints). The story-line also includes internal rivalries amongst the religious settlers which will explain later complexities in the plot.
This back story is simply too long-winded and complex, the timescale too regressive, and the introduction of significant new characters too disruptive to produce a satisfying whole. The novel could easily have been rescued by eliminating all the back story of Part 2, and simply following the arrest of Jefferson Hope with the explication Holmes gives in the final chapter of the novel.
It seems that Conan Doyle was aware of this weakness, for at a later date he described his own production as 'having much the same effect as if you worked a love-story or an elopement into the fifth proposition by Euclid'. Certainly he did not make the same mistake again when introducing Holmes as a character in the novel-length work The Hound of the Baskervilles (1902). This work maintains its unity of characters, theme, location, and dramatic continuity.
The explanation
Most stories featuring Sherlock Holmes turn on his ability to interpret small details of evidence overlooked by others – particularly his rivals Lestrade and Gregson of the Yard. He deals with the first set of clues in A Study in Scarlet plausibly enough. The dead body in an empty room and the writing in blood on the wall provide him with clues that the muderer was tall, strong, that the blood was the murderer's, that poison was involved, and that the word 'RACHE' on the wall is German.
These are all typical elements in a Holmes story. But Conan Doyle, perhaps because he was tackling a novel or perhaps because this was Holmes's first fictional appearance, pushes these analytic processes to a level which strains credulity. We are asked to believe that Holmes can recognise and discriminate amongst the footprints of several people who have walked across a muddy pathway – not once in the same direction, but more than once in both directions.
Jefferson Hope (the murderer), Enoch Drebber (the victim), constable John Rance, and his colleague Murcher all trample across the path leading to the empty house on the night of the murder. But we are asked to believe that Holmes is able to accurately work out the sequence of their comings and goings, as well as similar movements of Hope's horse-drawn cab.
These analyses are simply not credible – even making allowances for what is essentially a work of popular fiction. Some of the later Holmes stories have similar weaknesses, but they are piled on to an unacceptable degree in A Study in Scarlet. Together with the structural flaw examined above, they render the novel an interesting first attempt or a flawed prototype for the successful shorter fictions that were to follow.
Deduction or induction?
The most amazing thing about Holmes is the manner in which he is able to combine acute observation with an incisive system of reasoning to reach revealing insights and surprisingly deft conclusions. It is a method of ratiocination clearly modelled on Edgar Allen Poe's detective Auguste Dupin.
Amongst critics there is often disagreement on the question of Holmes' methods of detection. He observes very small details of a person's physical appearance or clothing, and from these details arrives at a general understanding of their occupation, their habits, or their recent movements. This method of detection illustrates his acute powers of observation and often reveals his encyclopedic knowledge of arcane topics – such as being able to idetify different brands of cigar from their ashes.
In Watson's narrative, Doyle sometimes calls Holmes' method 'deduction' and other times 'analysis'. Watson (and by implication Conan Doyle) is employing the term 'deduction' in its everyday sense of seeing a relationship between one thing and another which doesn't at first seem to be connected to it.
But the method, strictly speaking, is 'induction' – a form of reasoning which derives general principles from specific observation. This is also known as 'bottom up' reasoning.
Deductive reasoning works the other way round – and is known as 'top down' logic. This starts from a general principle then works down to a specific instance. All men are mortal; Socrates was a man; therefore Socrates was mortal. Another term for this process is 'inference'. This is a minor issue – and many people accept and use the term 'deduction' for both forms of reasoning. Holmes eventually explains his method to Watson as one of analytic reasoning:
Most people, if you describe a train of events to them, will tell you what the result would be … There are few people however, who, if you told them the result, would be able to evolve from their own inner consciousness what the steps were which led up to that result. This power is what I mean when I talk of reasoning backwards, or analytically.
---
A Study in Scarlet – study resources
The best current editions of the Sherlock Holmes novels and stories are those published in the Oxford World's Classics paperback series. Each volume contains a critical introduction, a note on the text, a bibliography of further reading, a biographical chronology of Conan Doyle, and most importantly a series of explanatory notes giving historical, geographical, and scientific information about details mentioned in the text.
A Study in Scarlet – Oxford Classics – Amazon UK
A Study in Scarlet – Oxford Classics – Amazon US
A Study in Scarlet – Wordsworth Classics – Amazon UK
A Study in Scarlet – Wordsworth Classics – Amazon US
The Complete Sherlock Holmes – Amazon UK
Complete Works of Conan Doyle – Amazon UK
---
A Study in Scarlet – plot summary
Part 1
1. Dr John Watson has retired injured from the army. He is introduced to Sherlock Holmes with a view to their sharing lodgings. Holmes is a mercurial character who dabbles in scientific experiments.
2. Holmes has a patchy grasp of general knowledge but a profound understanding of forensic science and anatomy. He has written papers on the philosophy of deduction and works as a freelance consultant detective.
3. Holmes is summoned by letter to assist in an unsolved murder in Brixton. He examines the dead body in an empty room whilst Scotland Yard detectives Lestrade and Gregson theorise about an explanation. There is rivalry between Holmes and the detectives – and between each other.
4. Holmes delivers to Watson a working explanation of the crime, devised from a minute examination of the room and its contents. They interview the policeman who discovered the body, who confirms Holmes' description of the potential murderer.
5. Holmes advertises for the owner of a woman's ring found at the crime scene. It is answered by an old woman who then gives them the slip when pursued.
6. The newspapers give a variety of accounts of the crime. Gregson arrives at Baker Street claiming he has arrested the murderer – the son of the murdered man's landlady. His rival Lestrade arrives to announce the murder of Drebber's secretary, Stargerson.
7. Lestrade describes tracking down Stargerson and finding him murdered. Holmes claims from the details now established that he has a complete answer to the mystery. He tests this by poisoning a dog. He is challenged by Lestrade and Gregson to reveal his findings, and when a cab driver is summoned, Holmes pronounces him the murderer – Jefferson Hope.
Part 2
1. Many years earlier, John Ferrier and his adopted daughter Lucy are lost in the wilderness of Utah, USA. They are dying of thirst and starvation, but are eventually rescued by a caravan of Mormons.
2. Brigham Young establishes the Church of Latter-Day Saints in Salt Lake City. After many years Ferrier becomes a successful and rich farmer. Lucy is courted by Jefferson Hope, a hunter and frontiersman.
3. Brigham Young insists that because she is still single, Lucy should marry one of the Four Elders. Ferrier is given a month to decide.
4. Elders Drebber and Stargerson menace Ferrier with their claims for Lucy. With only two days left, Jefferson Hope arrives and rescues Ferrier and Lucy. They set off for Carson City in Nevada.
5. When Hope goes hunting for food, he returns to find that Ferrier has been killed and Lucy abducted by the Mormons. Returning to Salt Lake City, Hope learns that Stargerson shot Ferrier and Lucy has been forcibly married to Drebber.
When Lucy dies a month later, Hope seizes her wedding ring and begins a long pursuit of Drebber and Stargerson, seeking vengeance.
6. Watson then reports the confession of the captured Hope. He followed the two Elders to London and stalked them as a cab driver. He takes Drebber as a drunken passenger and presents him with a box of pills, some of which are poisoned. Drebber takes one and dies. Hope then goes to Stangerson's hotel and after a struggle stabs him in the heart.
7. Hope dies in prison. Holmes explains to Watson how he analysed details of the case. Lestrade and Gregson get all the credit for solving the crime.
---
A Study in Scarlet – characters
| | |
| --- | --- |
| Dr John Watson | a retired army medical officer |
| Sherlock Holmes | a freelance consultant detective |
| Lestrade | a Scotland Yard detective |
| Tobias Gregson | a Scotland Yard detective |
| Enoch Drebber | a Mormon Elder who marries Lucy |
| Joseph Stargerson | a Mormon Elder, Drebber's 'secretary' |
| Jefferson Hope | an American frontiersman and hunter |
| John Ferrier | a frontiersman who becomes a rich farmer |
| Lucy Ferrier | his adopted daughter |
© Roy Johnson 2018
---
More Sherlock Holmes
More on the novella
More on literary studies
More on short stories
---