tutorial, commentary, study resources, plot, and web links
After Holbein first appeared in the Saturday Evening Post in May 1928. It was subsequently included in Edith Wharton's collection of short fiction, Certain People published in 1930.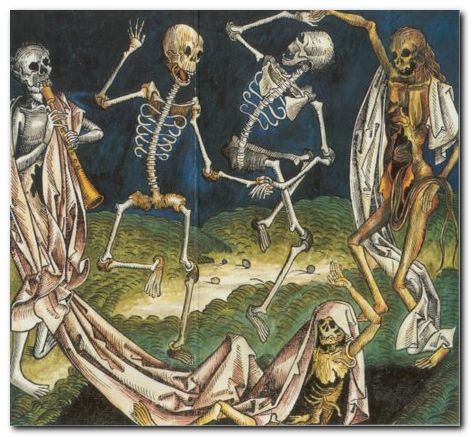 Danse Macabre
---
After Holbein – critical comments
The surprising thing about this story is the very fine balance between sympathy and satire in Edith Wharton's presentation of its two principal characters. There is obviously a critical edge to her depiction of Anson Warley's naive drift into the perils of old age and Mrs Jasper's other-wordly existence in the twilight zone of dementia. Both of them are clearly deluded characters. Yet at the same time she is neither cruel nor lacking in sympathy for their plight.
Mrs Jasper is fairly close to a Dickensian character: she has a black wig tinged with purple, and orthopaedic shoes, and she has clearly lost touch with reality – but the characterisation is not calculated to make her look either ridiculous or pathetic. Similarly Anson Warley is presented as a dreamer, sleepwalking into the perils of old age and death.
Servants
It is interesting to note that both of these principal characters are supported by servants who appear to have a genuine concern for their wellbeing. Warley has his valet/manservant Filmore who tries without success to prevent him from going out or exposing himself to health dangers; and Mrs Jasper has Lavinia, a family servant who seems to be almost as old as herself, and whose chief concern is to protect her mistress from embarrassment and exposure to problems.
Also of note is the financial dependence of some of the servants. Miss Cress has every reason to keep Mrs Jasper happy, because her job depends upon it. And she imputes similar sympathetic views to Lavinia as they deal with the issue of the ageing (and absent) butler Munson
and all because poor old Munson's memory was going, like his mistress's, like Lavinia's, and because he had forgotten it was one of the dinner nights … the tears were running down Lavinia's cheeks, and Miss Cress knew she was thinking "If the daughters send him off—and they will—where's he going to, old and deaf as he is, and all his people dead? Oh if only he can hold on until she dies, and get his pension …"
Structure
There is a very well organised structure to the story. Two characters. Anson Warley and Mrs Jasper, are preparing themselves for a dinner party later in the evening. They both have servants who help them dress. Both of them have had strokes and are losing touch with the real world. Both of them think they are being harassed or deceived by the people around them. And they are preparing for a dinner which is not scheduled to take place – but which does.
Warley has forgotten where he is supposed to be going. Mrs Jasper only has imaginary dinner parties. Yet because of ancient social connections between them he ends up being an uninvited guest at her house, and they dine together in sublime ignorance of the fact that nobody else is there.
Part of the humour in the story is created by the disparate cultural references which emphasise the differences between the time frame in which the characters are living imaginatively and that in which they actually exist. When Warley goes out his reflections are linked to the real world Manhattan where he lives:
The doctors, poor fools, called it the stomach, or high blood-pressure; but it was only the dizzy plunge of the sands in the hour glass, the everlasting plunge that emptied one of heart and bowels, like the drop of an elevator from the top of a sky-scraper.
In contrast, when the imaginary dinner party is about to begin, Mrs Jasper thinks she hears horse drawn carriages arriving – a clear reference to the nineteenth century which she still inhabits.
---
After Holbein – study resources

The New York Stories – New York Review Books – Amazon UK

The New York Stories – New York Review Books – Amazon US

Edith Wharton Stories 1911-1937 – Norton Critical – Amazon UK

Edith Wharton Stories 1911-1937 – Norton Critical – Amazon US

After Holbein – eBook format at Project Gutenberg

A Historical Guide to Edith Wharton – Amazon UK

The Cambridge Introduction to Edith Wharton – Amazon UK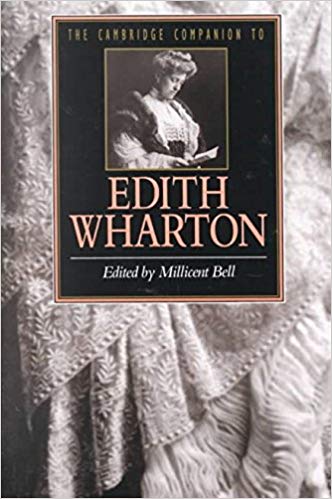 ---
After Holbein – story synopsis
Part I.   Anson Warley is an ageing New York bachelor who once had high cultural aspirations, but he has left them behind to give himself up to the life of a socialite and dandy.
Part II.   Despite signs that his health is failing, he chooses to dine out nightly, ignoring the cautions of his manservant Filmore. On the morning of the story he has had a minor stroke which has left him looking pale through lunch, but he is determined to go out to dinner with a few friends.
Part III.   Meanwhile Mrs Evelyn Jasper, a society hostess, is preparing to dress for an elaborate dinner. She is an elderly woman who wears a black wig and orthopaedic shoes. She is suffering from a form of dementia following a stroke, and is protected from reality by an equally old servant who is a family retainer. She imagines guests are arriving in carriages and recites a list of their names, including some who are already dead. Her jewellery is recovered from a safe, and she goes down to the dining room.
Part IV.   Displaying signs of confusion, Anson Warley dresses for dinner and refutes Filmore's warnings about the night being cold. Once out on Fifth Avenue he suddenly realises that he doesn't know where he is dining. Mrs Jasper enters his thoughts as he just happens to be passing her house – so he assumes that is where he is supposed to be going.
Part V.   As Anson Warley arrives at the house the staff are appalled at the social embarrassment likely to ensue. Warley has not been invited; there are no other guests; and the staff are worried that the shock might be fatal to Mrs Jasper.
But Mrs Jasper comes into the dining room supporting Warley on her arm and they dine as if everything were normal, exchanging formulaic conversation, and as if they were surrounded by other guests. The footman George serves mediocre food and passes spa water off as wine. At the end of the dinner Mrs Jasper invites Warley to join her after he has had cigars with the other male guests.
Part VI.   Warley's temperature has been rising all day. Leaving the house, he struggles to get into his coat, and he thinks he is 'going on' to some other social event. However, as soon as the cold night air hits him, he dies on the pavement.
---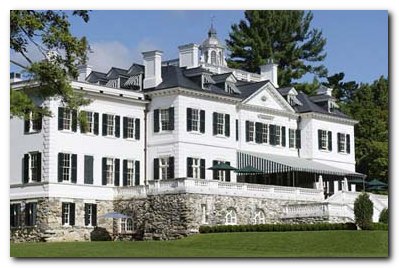 Edith Wharton's 42-room house – The Mount
---
Principal characters
| | |
| --- | --- |
| Anson Warley | an 'ageing' (63) New York bachelor |
| Filmore | his valet and manservant |
| Mrs Evelyn Jasper | an elderly society hostess with dementia |
| Lavinia | her aged servant |
| Miss Cress | her young nurse |
---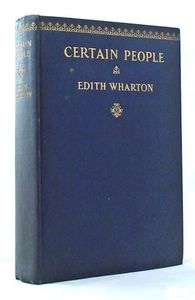 first edition
---
Further reading
Louis Auchincloss, Edith Wharton: A Woman of her Time, New York: Viking, 1971,
Elizabeth Ammons, Edith Wharton's Argument with America, Georgia: University of Georgia Press, 1982, pp.222. ISBN: 0820305138
Janet Beer, Edith Wharton (Writers & Their Work), New York: Northcote House, 2001, pp.99, ISBN: 0746308981
Millicent Bell (ed), The Cambridge Companion to Edith Wharton, Cambridge: Cambridge University Press, 1995, pp.232, ISBN: 0521485134
Alfred Bendixen and Annette Zilversmit (eds), Edith Wharton: New Critical Essays, New York: Garland, 1992, pp.329, ISBN: 0824078489
Eleanor Dwight, Edith Wharton: An Extraordinary Life, New York: Harry N. Abrams, 1994, ISBN: 0810927950
Gloria C. Erlich, The Sexual Education of Edith Wharton, California: University of California Press, 1992, pp.223, ISBN: 0520075838
Susan Goodman, Edith Wharton's Women: Friends and Rivals, UPNE, 1990, pp.220, ISBN: 0874515246
Irving Howe, (ed), Edith Wharton: A collection of Critical Essays, London: University of North Carolina Press, 1986,
Jennie A. Kassanoff, Edith Wharton and the Politics of Race, Cambridge: Cambridge University Press, 2004, pp.240, ISBN: 0521830893
Hermione Lee, Edith Wharton, London: Vintage, new edition 2008, pp.864, ISBN: 0099763516
R.W.B. Lewis, Edith Wharton: A Biography, New York: Harper and Rowe, 1975, pp.592, ISBN: 0880640200
James W. Tuttleton (ed), Edith Wharton: The Contemporary Reviews, Cambridge: Cambridge University Press, 1992, pp.586, ISBN: 0521383196
Candace Waid, Edith Wharton's Letters from the Underworld, London: University of North Carolina Press, 1991,
Sarah Bird Wright, Edith Wharton A to Z: The Essential Reference to Her Life and Work, Fact on File, 1998, pp.352, ISBN: 0816034818
Cynthia Griffin Wolff, A Feast of Words: The Triumph of Edith Wharton, New York: Perseus Books, second edition 1994, pp.512, ISBN: 0201409186
---
Other works by Edith Wharton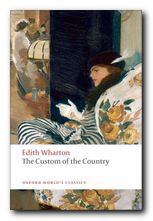 The Custom of the Country (1913) is Edith Wharton's satiric anatomy of American society in the first decade of the twentieth century. It follows the career of Undine Spragg, recently arrived in New York from the midwest and determined to conquer high society. Glamorous, selfish, mercenary and manipulative, her principal assets are her striking beauty, her tenacity, and her father's money. With her sights set on an advantageous marriage, Undine pursues her schemes in a world of shifting values, where triumph is swiftly followed by disillusion. This is a study of modern ambition and materialism written a hundred years before its time.


Buy the book from Amazon UK


Buy the book from Amazon US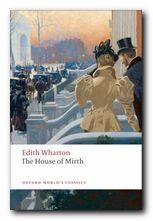 The House of Mirth (1905) is the story of Lily Bart, who is beautiful, poor, and still unmarried at twenty-nine. In her search for a husband with money and position she betrays her own heart and sows the seeds of the tragedy that finally overwhelms her. The book is a disturbing analysis of the stifling limitations imposed upon women of Wharton's generation. In telling the story of Lily Bart, who must marry to survive, Wharton recasts the age-old themes of family, marriage, and money in ways that transform the traditional novel of manners into an arresting modern document of cultural anthropology.


Buy the book from Amazon UK


Buy the book from Amazon US
---
Edith Wharton – web links
Edith Wharton at Mantex
Biographical notes, study guides to the major novels, tutorials on the shorter fiction, bibliographies, critiques of the shorter fiction, and web links.
The Short Stories of Edith Wharton
This is an old-fashioned but excellently detailed site listing the publication details of all Edith Wharton's eighty-six short stories – with links to digital versions available free on line.
Edith Wharton at Gutenberg
Free eTexts of the major novels and collections of stories in a variety of digital formats – also includes travel writing and interior design.
Edith Wharton at Wikipedia
Full details of novels, stories, and travel writing, adaptations for television and the cinema, plus web links to related sites.
The Edith Wharton Society
Old but comprehensive collection of free eTexts of the major novels, stories, and travel writing, linking archives at University of Virginia and Washington State University.
The Mount: Edith Wharton's Home
Aggressively commercial site devoted to exploiting The Mount – the house and estate designed by Edith Wharton. Plan your wedding reception here.
Edith Wharton at Fantastic Fiction
A compilation which purports to be a complete bibliography, arranged as novels, collections, non-fiction, anthologies, short stories, letters, and commentaries – but is largely links to book-selling sites, which however contain some hidden gems.
Wharton's manuscripts
Archive of Wharton holdings at the Beinecke Rare Book and Manuscript Library
© Roy Johnson 2014
---
Edith Wharton – short stories
More on Edith Wharton
More on short stories
---