authorship, writing, printing, publishing, and reading
Book history is one of the most recent and interesting branches of literary studies. It asks questions such as 'What is a text?', 'What is a book?', and 'How do we read?' The answers to these questions are much more complex than you might imagine. David Finkelstein and Alistair McCleery start An Introduction to Book History by outlining the main theories and critical debates that have informed book history studies over the last hundred years.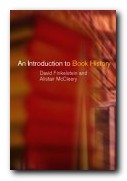 It's amazing how many different fields of study this leads to – the physical production of texts; how accurate they are; what they 'mean'; and how they are interpreted by readers. These same questions of authorship, textual integrity, and the unique nature of a work also apply in other art forms.
In cinema, music, theatre, and television there may even be interventions from other hands. But it is writing and especially printing which are at the heart of the most important intellectual developments of the modern world, and to which they devote their first two introductory chapters. Much of their argument rests on the work of previous historians of the book and literacy, writers such as Walter Ong, Henri-Jean Martin, and Elizabeth Eisenstein.
They trace the changing role of the writer – from anonymous religious copyist in the early Renaissance, and authors working under systems of courtly patronage, to the modern concept of a creative independent working in the free commercial market supplying literary products and services.
Next comes a consideration of the practical aspects of what happens after a manuscript leaves the author. Printers, book distributors, publishers, readers, and even agents. All of these, they argue, can all affect a text; and they should certainly be seen as part of the context out of which the text arises.
Then they move on to consider what has been described as the 'missing link' in book history – the reader. For as many theorists have argued, the text exists in a state of potential whilst it remains as words printed on a page: it only springs into a life of real meaning when it is interpreted in the reader's mind.
Why therefore aren't there as many different interpretations of a text as there are different readers – all equally valid? Well, the answer to this conundrum is supplied by Stanley Fish when he comes up with the notion of 'interpretive communities'. People sharing cultural values are likely to interpret the text in the same way.
They end by looking at the future of books and readers, An interesting detail here is that despite all the prophets of doom, a greater number of books are being read than ever before – but by fewer readers.
I was hoping for a little more on the book as a physical object, and I think longer consideration of digital literature on line might have informed their arguments. But they provide a comprehensive critical introduction to the development of the book and print culture.
© Roy Johnson 2005

  Buy the book at Amazon UK

  Buy the book at Amazon US
---
David Finkelstein and Alistair McCleery, An Introduction to Book History, Abingdon: Routledge, 2005, pp.160, ISBN: 0415314437
---
More on literature
More on the novella
More on literary studies
More on short stories
---