how to understand, analyse, and write about literature
An Introduction to Literary Studies is aimed at serious students of English and American literature at college and university level. It's designed to show you how to approach studying literature in a practical and theoretical manner, how to understand some of the fundamental concepts of literary studies, and how to articulate your understanding by writing academic essays. Mario Klarer begins by looking at some of the very basic issues – what is fiction? what is a poem? and what are the parts of these genres we look at when we study literature?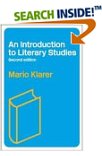 He examines character, plot, point of view, then metaphor, imagery, and symbols. There's also a chapter on drama too, for those who still think this is related to literary studies. Next comes a section on theoretical approaches to literature. This is where most students will need help. That's because the developments of critical theory in the post-war period have been bewildering, to say the least. He touches on rhetoric, formalism, structuralism, semiotics, and deconstruction, Marxism, feminism, and reader-response theory. All his explanations are given in a straightforward manner and he covers definitions of key terms such as 'literature', 'text', and 'author' – which might seem unproblematic, until you look below the surface.
There's a full chapter on how to write a scholarly paper, lots of suggestions for further reading, and a glossary of terms used in both literary studies and the consideration of narratives in other genres such as film.
This latest second edition fully updates the highly successful first edition to provide greater guidance for online research and to reflect recent changes to MLA guidelines for referencing and quoting sources.
So, in a sense, this book is alerting students to the issues which can be considered in the practice of literary studies. It is showing what is possible, alerting you to themes, theories, and approaches you might not have considered, and pointing you towards sources of further information – which is just what an 'introduction' should do.
© Roy Johnson 2004

  Buy the book at Amazon UK

  Buy the book at Amazon US
---
Mario Klarer, An Introduction to Literary Studies, Andover: Routledge, 2nd edn, 2004, pp.173, ISBN: 0415333822
---
More on literature
More on the novella
More on literary studies
More on short stories
---