tutorial, commentary, study resources, plot, and web links
Baroque Concerto (Concierto barroco) was first published in Mexico by Siglo Ventiuno Editiores in 1974. It is one of a number of novellas written by Alejo Carpentier in which he uses the literary conceits of magical realism to explore the relationships between Europe and Latin-America, to compare historical periods with the present, and to mix realism and fantasy, producing a hybrid narrative style for which he coined the term 'magical realism'.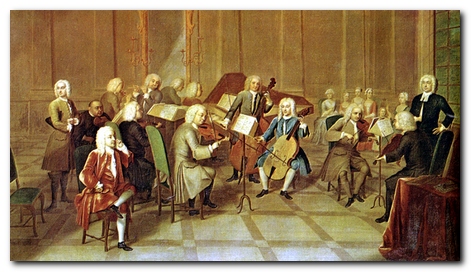 Baroque Concerto – commentary
The theme
A major theme in the work of Alejo Carpentier is the history and relationship of 'Old World' Europe with 'New World' America – and that is, largely South (Latin) America. Of course the 'New World' was only new in the sense that it had not yet been 'discovered' by Europeans. This tension (and conflict) was most dramatically symbolised by the expeditionary force of Hernan Cortes in his conquest of Mexico in 1519.
This event brought into sharp conflict the ideals and values of the European renaissance (The Age of Enlightenment) with those of the so-called 'primitive' values of the natives of Latin America – and the social and cultural mix was also given a further degree of complexity by the presence of slaves in the region.
Carpentier explores the clash of civilizations in many of his major works, such as The Kingdom of this World – El reino de este mundo (1949), Explosion in a Cathedral – El siglo de las luces (1962), and The Harp and the Shadow – El arpa y el sombra (1978).
In Baroque Concerto this idea is examined almost in reverse. A rich Mexican is visiting the 'Old World', and encounters European culture in the form of three of its most distinguished musical composers – Scarlatti, Handel, and Vivaldi.
It should be obvious from even the most cursory reading of Baroque Concerto that Carpentier was fascinated by two subjects – music and architecture. He studied architecture and musical theory, wrote a book on the history of Cuban music (La musica en Cuba 1946), and composed an opera La Passion Noire which was performed in Paris in 1924.
Carpentier's own life also straddles these two worlds. He was born in Lausanne, Switzerland to Russian and French parents, but he grew up in Havana, Cuba. He also spoke French but wrote in Spanish. For all these reasons he seems to have allegiances with the cultures of both the 'Old' and 'New' Worlds.
In the novella Scarlatti, Handel, and Vivaldi perform their Baroque Concerto in the Ospedale dell Pieta, but Filomeno (representing the less harmonically developed but no less vigorous musical heritage of the slaves of African descent) performs his own energising supplement on whichever percussion instruments are to hand. He also takes up the military-based instrument – the trumpet – ready to articulate the clarion call to freedom ("The trumpet shall sound / And we shall be saved") and is last seen watching somebody from the same ethnic background doing the same thing – Louis Armstrong raising the roof in his own concerto at the imaginary theatre performance.
Magical realism
It was Alejo Carpentier who first coined the term 'magical realism' (lo real maravilloso) to describe the literary style that combines realism with fantasy, and which characterises much of the Latin-American fiction that emerged from the period of experimental modernism in which he was an active participant in the 1920s and 1930s. This was an approach to narrative that combined the very realistic tendency to give object and matters of nature and history their true names, with fanciful notions and imaginative inventions that telescoped time, defied logic, and overturned rational explanations.
In Baroque Concerto the fictional character of the rich Mexican burger meets the historical figures of Scarlatti, Handel, and Vivaldi at the highpoint of the European renaissance in the early eighteenth century. After their imaginary concert performance in Venice they repair to the cemetery island of San Michele. There they picnic on the grave of Igor Stravinsky, who did not die until 1971 and is indeed buried there, alongside other twentieth century artists such as Serge Diaghilev, Joseph Brodsky, and Ezra Pound.
This mixture of realism and fantasy was very much a popular feature of Latin-American fiction in the post-war years, and it reached the height of its influence with the publication of One Hundred Years of Solitude by Gabriel Garcia Marquez in 1967. It also has an 'Old World' parallel with the work of writers such as the Russian novelist Mikhail Bulgakov whose The Master and Margerita was first published in the West at exactly the same time.
This influence is to be seen in the work of Gunter Grass's The Tin Drum – Die Blechtrommel (1959) which in its turn can easily be seen as the source of many scenes in Salman Rushdie's Midnight's Children (1981). These novels seemed like innovative works at the time of their first publication (and were enormously successful in commercial terms) but it should be noted that both of these authors have suffered steep declines in their critical reputations ever since. It is as if the fanciful literary devices of Latin-American magical realism do not sit easily with the empirical realist traditions of the English and the European novel.
In Baroque Concerto we can easily accept the idea of a rich Mexican burger meeting three European composers on a journey to Italy – where all three of them worked at one time or another and actually did meet each other in 1709. It can be taken as a fanciful idea which is given a realistic historical substance to make it credible. But jerking temporally forward to also include Igor Stravinsky and Louis Armstrong snaps the thread of our suspended disbelief. It is as though we have been tricked or had the carpet pulled from under our feet.
At least that is the negatively critical view on this matter. Other readers might choose to focus on the thematically congruent issue of music in the Vivaldi-Stravinsky-Armstrong continuum and regard the tale as a meditation on the transformative power of works of art. As the Negro servant Filomeno says to his Master as they go their separate ways at the end of the novella:
of what good is the illusion of theatre if not to remove us from where we are and take us to where we can't get to on our own? Thanks to the theatre we can go back in time and live in periods forever gone – something impossible for us in our present flesh.
---
Baroque Concerto – study resources

Baroque Concerto – at Amazon UK – (Text in English)

Concierto barroco – at Amazon UK – (Text in Spanish)

Baroque Concerto – at Amazon US – (Text in English)

Concierto barroco – at Amazon US – (Text in Spanish)
---
Baroque Concerto – plot summary
Part 1.   The Master, a rich Mexican burger, is taking stock of his house prior to embarking on a journey to Europe. He drinks wine with his servant and is visited by his mistress. Other visitors arrive with requests that he bring back various luxury items from his excursion.
Part 2.   He travels from Veracruz to Cuba where the ship has to be repaired. Havana is in the grip of a plague. When his servant dies he takes on Filomeno, a freed Negro, as his replacement. Filomeno relates a story of European adventurers pillaging in the Caribbean who were defeated by his grandfather, who was given his freedom as a reward. The victory was celebrated for two days with primitive musical instruments.
Part 3.   When he arrives in Madrid, the Master finds the capital squalid, the cuisine boring, and cultural life poor in general compared with his homeland. He and Filomeno travel to Valencia, then on to Barcelona, where they prepare to continue their journey to Italy.
Part 4.   When they arrive in Venice, the Carnival is in full swing, with people taking opportunities for licentious behaviour behind their costumes and masks. The Master is dressed as the Aztec king Montezuma, and he meets Vivaldi, Handel, and Scarlatti who decide they are overwhelmed with the celebrations and wish to play some music.
Part 5.   They repair to the Ospedale della Pieta, where the young abandoned girls under Vivaldi's tutelage provide the orchestra for a grand concerto – with Handel at the organ and Scarlatti at the harpsichord. After this, Filomeno leads a primitive bachannalian song and dance around the church. At dawn, they leave in gondolas with picnic hampers.
Part 6.   They repair to an island cemetery where the Master recounts the story of Montezuma, which Vivaldi thinks will make a good plot for an opera. They discuss the plots of Shakespeare's tragedies whilst breakfasting around the grave of Ivor Stravinsky. Then they return to St Mark's Square.
Part 7.   Next day the Master and Filomeno attend a performance of Vivaldi's opera Montezuma at the Teatro Fenice. The story of the conquest of Mexico by Cortes has been changed in its historical detail and accuracy. There is a re-enactment on stage of battles, the capture of a princess, and then a happy finale when Cortes forgives and pardons all his prisoners. The Master protests at the lack of historical accuracy, but Vivaldi argues that artifice has its own rules of logic and aesthetic structure.
Part 8.   Afterwards the Master and Filomeno discuss the relationship between history and art, and the differences between a European and (Latin) American view of the world. They visit a music shop where they see copies of The Four Seasons and The Messiah. They part company at the railway station, after which Filomeno stays behind to visit the theatre again, where there is a recital given by Louis Armstrong.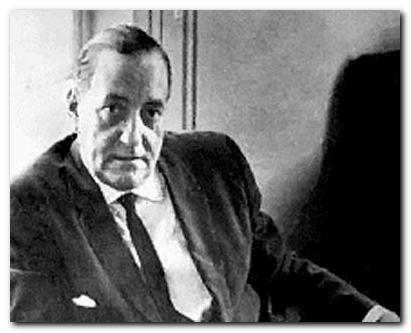 Alejo Carpentier
Alejo Carpentier – other works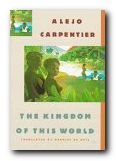 The Kingdom of This World is a marvelously compressed account of the slave uprising and first revolution of the early nineteenth century in San Domingo – now Haiti. Carpentier uses 'magical realism', long before it became fashionable, to depict the contradictions between political reality and religious or mythical beliefs. The story passes rapidly in a series of vivid scenes from the early unsuccessful uprising led by Macandal, then Bouckman who led Haiti in its fight for independence from France, and finally to Henri Christophe the revolutionary leader who later became Emperor of Haiti, and who built Sans Souci and La Ferrière Citadel.


Buy the book at Amazon UK


Buy the book at Amazon US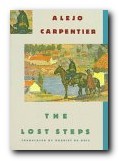 The Lost Steps (1953) is a story told twice. A disillusioned north-American musicologist flees his empty existence in New York City. He takes a journey with his mistress to one of the few remaining areas of the world not yet touched by civilization – the upper reaches of a great South American river (which we take to be the Amazon). The novel describes his search, his adventures, the revival of his creative powers, and the remarkable decision he makes about his life in a village that seems to be truly outside history. This novel offers a wonderful evocations of Latin America from the founder of 'Magical Realism'.


Buy the book at Amazon UK


Buy the book at Amazon US
---
Alejo Carpentier weblinks
Carpentier at Wikipedia
Background, biography, magical realism, major works, literary style, further reading
Carpentier at Amazon UK
Novels, criticism, and interviews – in Spanish and English
The Kingdom of this World
Lecture by Rod Marsh – University of Cambridge
Carpentier at Internet Movie Database
Films and TV movies made from his novels
Carpentier in Depth
Spanish video documentary and interview with Carpentier (1977)
© Roy Johnson 2015
---
More on Alejo Carpentier
More on the novella
More on literary studies
More on short stories
---