Design history: Weimar, Dessau, Berlin 1919-1933
The Bauhaus was a major landmark in the development of modernism in the early years of the last century. In concept it grew out of the German desire to form its own version of the English Arts and Crafts movement, but it quickly became influenced by constructivism and expressionism. As a movement it grew rapidly in Weimar, despite the economic recession in Germany in the 1920s – and it embraced all forms of design – typography, ceramics, furniture, architecture.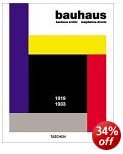 Its principal teachers and movers are now household names in their respective disciplines – painters Wassily Kandinsky, Paul Klee, and Lionel Feininger; architects Walter Gropius and Mies van der Rohe; designers Joseph Albers and Laszlo Moholy-Nagy. What made them different to earlier design movements was that they wished to make their products available for industrial production.
This is the first full-length study of the movement and its participants to be based on the papers of the Bauhaus archive – many of which are reproduced in this elegantly designed book which does its subject proud in terms of page layout and typographic design. Magdalene Droste traces both the artistic policies which were constantly changing as key personnel came and went, as well as the political and economic difficulties of keeping the institution afloat – most of which was achieved in its first phase by Walter Gropius.
The structure of the book follows the policies under its three directors – Gropius, Mayer, and van der Rohe on its three sites, Weimar, Dessau, and Berlin.
I hadn't realised before that the curriculum also included drama, which produced mechanical ballet and abstract theatre which still seems quite avant garde now, eighty-odd years later. There are some wonderful pictures of the products of the institute: the first really modern furniture; stained glass, pottery, and rugs; plus some exquisite tableware by Marianne Brandt, who for me is the outstanding discovery of this collection.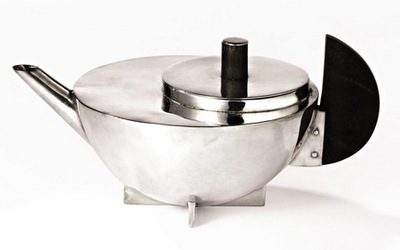 Gropius presciently observed: "Much of what we today consider luxury will tomorrow be the norm" – and its true that looking at the (for then) ultra-modern chairs, tables, and kitchen cabinets is hardly any different to thumbing through a contemporary IKEA catalogue. Some of their designs were commercially successful, particularly their best-selling wallpaper designs, many of which are still in production today.
The Bauhaus is perhaps known best for its influence on modern architecture, and yet strangely enough that subject was not taught there until a demand for it was made by students and then implemented by Mies van der Rohe. Droste's detailed accounts of the classes taught there and the examples of work produced make you wish you could sign up as a student.
The latter part of her story deals with the intense battles which went on between left and right-wing political forces over the future of the Bauhaus. These ended in 1933 with the victory of the Nazis and the closure of the institution.
If there is a weakness in this scholarly piece of work, it's that the story is not taken beyond there. For we know that many of the principal figures involved emigrated to America and continued their work in the New World . But you have to stop somewhere, and any shortfall is made up for by the quality of the illustrations,
I spotted this book in a display on modernism at Waterstone's, selected it as the best on offer, and was amazed when I saw the price. It's another in the astonishingly cheap and high quality publications from Taschen
© Roy Johnson 2007

Buy the book at Amazon UK

Buy the book at Amazon US
---
Magdalene Droste, Bauhaus, London: Taschen, 2006, pp.256, ISBN 3822821055
---
More on architecture
More on technology
More on design
---