popular fiction of the past and present
John Sutherland (professor of literature in London and California) is adept in conveying English Literature and its relevance to the general public (not unlike his contemporary John Carey). Bestsellers is typical of his approach. It's a guide to the world of best-selling writers – writers of fiction on the whole. And it's focused on the UK and the USA. He writes in a slick, non-patronising manner – as if talking to a peer group in the senior common room. He sees the USA as the hotbed of the bestseller – unfettered by copyright restrictions for much of the nineteenth century. And he's very well informed on the subject of book publication and the commercial side of 'literature'. What he looks at in particular is the question of why certain books become more popular than others.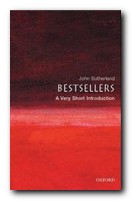 There's all sorts of insider gossip and information on the publishing business sandwiched between his comments on bestsellers of the 1920s which nobody reads any more – and similar cases from the 1970s and 1980s. Indeed, one best-selling novelist went on to become a Nobel prizewinner – though few people read Pearl S. Buck today.
He discusses how difficult it is to measure bestsellers. Is it sales over the past week, or over years? Is it sales of a single title, or a complete oeuvre? His answer is to offer a historical survey of year-end bestsellers – the numbers of which items sold continues to rise exponentially.
But it's a tale in which some writers with phenomenal success are now completely unknown, and others were bestsellers ((Victor Hugo Les Miserables) but earned nothing because their works were pirated.
If there's a weakness it's that he doesn't seem to have bothered creating a structure for what he has to say. Ideas and information come off every page like sparks – but one minute it's the economics of the book trade, and the next it's the Anglo-American copyright relation or Harry Potter promotions.
In Sutherland's reckoning, Zane Grey has claim to be an all time best seller – with 250 million sales and 100 film adaptations – though he is challenged by Max Brand (who he?) with 900 stories and 600 full length novels to his name. And just to keep things in perspective, Earl Stanley Gardner sold 300 million copies of his crime and mystery novels.
Oxford University Press have obviously found a niche in the publishing market with these pocket-sized guides – but it's the quality of the writing rather than their form which makes them a hit.
© Roy Johnson 2007

  Buy the book at Amazon UK

  Buy the book at Amazon US
---
John Sutherland, Bestsellers: a very short introduction, Oxford: Oxford University Press, 2007, pp.127, ISBN: 0199214891
---
More on literature
More on the novella
More on literary studies
More on short stories
---