When blogging first took off, the mainstream media (MSM) poo-poohed it, saying it was a fad that wouldn't last. Next, they started lifting ideas and news from bloggers and quoting them without attribution. Nowadays all newspapers and broadcasters have their own featured blogs and urge their readers to supply copy. They have been turned around within about ten years. So citizen journalism, as Dan Gillmor called it, has arrived and only a fool would pretend otherwise any more.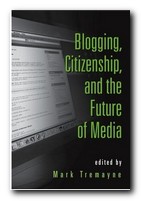 Mark Tremayne's collection of academic essays takes this fact as a starting point and looks at the current state of blogging as a cultural phenomenon. What are the facts, as revealed? Well – that the number of blogs continues to rise exponentially, that most have single authors, the majority of whom are adult males, the most popular feature political comment, and that only a small percentage generate comments from their readers.
It's pointed out that most blogs are in the form of personal diaries, but unlike conventional personal records they are intended to be read by others. And indeed, readers can add their own responses in the form of comments.
Whilst traditional journalism provides individuals with pictures of a world they cannot experience firsthand … blogs operate in the opposite direction, broadcasting the pictures in our heads back to a worldwide audience.
Many of the early chapters are academic studies of blog postings and activity – mainly focused on US political blogs around the period of the 2004 elections and the invasion of Iraq. There's a lot of technical data related to the way comparisons were made, and the language of discussion is rather abstract and heavily jargonised
Homophily theory underlies Sunstein's (2000, 2002) work on hate group polarization and cybercascades theories within the Internet's effect as deleterious to democracy because it enlarges fragmentation, insulation, and enclave deliberation.
It's largely a sociology of Web use, the motivation of bloggers and blog readers, and the reliability of sources. The latter part of the collection deals with the impact of blogging on traditional journalism. Does the freedom of the press enshrined in the First Amendment apply to bloggers? And if not, why not?
There's also an extended consideration of international jurisdiction in libel and defamation cases. Where should a case be brought – in the country where the offending material is downloaded for reading, or where it is stored on servers? The answer to this question seems to vary, depending on the case, the country, and the legislation. The same is true of copyright infringement cases, though the good news is that the costs of prosecuting across national boundaries are so high that individual bloggers are unlikely to be pursued.
The main thrust of the pro-blog argument is supplemented by a report of a citizen journalism project – MyMissourian.com – which set up a community blog in one month using free open source Mambo software. Within a year it had gone from online blog to supporting a print edition.
Mark Tremayne sums up all these issues and looks at the future of both blogging and traditional media. It's obvious that individual bloggers won't suddenly replace large-scale news-gathering organisations, but they might have significant impact at a local micro-news level. News organisations might start to invite citizen journalists to create content (as the Guardian is already doing on its in-house blogs 'Comment is Free').
There's also a future for individuals in database journalism in which existing sources are mined for original analyses and comment. And the Wikipedia project proves that the combined efforts of individuals can add up to an overwhelming whole.
What's certain is that the print and broadcast media are losing their traditional audience and power, the bloggers are gaining in strength and number, and journalism has a new force to be reckoned with.
© Roy Johnson 2007

Buy the book at Amazon UK

Buy the book at Amazon US
---
Mark Tremayne (ed) Blogging, Citizenship, and the Future of Media, London: Routledge, 2007, pp.287, ISBN: 0415979404
---
More on technology
More on digital media
More on design
---