a quick guide to creating an online journal
Start blogging
A blog (short for the term 'web log') is a form of online diary or journal. It's rather like having your own personal web site, but somebody else does all the technical work. All you need do is write the contents.
What do people put in their blogs? Answer: just about anything. Most are a sort of public diary where people record the events of their lives – occasionally adding a rambling commentary on the state of the world in general. Others can be a fairly serious record of professional work, with invitations for visitors to comment.
Belle de Jour claimed to be the diary of a London call girl, and was so successful it has now been snapped up by a publisher and turned into a book. The Baghdad Blogger became famous because he sent eyewitness accounts of what was happening during the Anglo-American invasion of Iraq.
---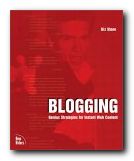 Biz Stone's Blogging: Genius Strategies is an enthusiast's guidance manual. He hit the blogging scene running, and has made himself an expert overnight. He now works for Blogger, which is owned by Google. Biz takes you from the very first steps of creating a blog, through to the advanced possibilities of syndicating what you write and even making money from it. He's something of an evangelist, but all his advice is perfectly sound. Good for beginners, but he takes you all the way through to more advanced topics such as content syndication and money-making affiliate programs.

  Buy the book at Amazon UK


  Buy the book at Amazon US
---
Content
What else can go into a blog? Links to other blogs you find interesting, pictures of your pet dog, observations left behind by your visitors, even snapshots posted from your mobile phone. Here come some examples. Go to an index such as Blogdex.net which lists the most popular and the most recent blogs. Try A Message from Albia, which is a very funny satire of English social and political life purporting to come from a mythical European country. BoingBoing.net is a very popular ragbag of entries, which when I just checked included an item on the youngest video blogger. Even newspapers such as The Guardian have their own blogs.
Blogging began as a medium for Web-based personal diaries, and most people still use it for this purpose. But some bloggers have started to develop the medium for what is essentially self-publishing. They might post notes reflecting briefly on a topic or discuss it with other bloggers, but they also upload essays, articles, or opinion pieces which count as serious pieces of journalism, expressing ideas and points of view which might not be available elsewhere.
It's a fairly simple process to keep a blog going – once you've got it set up. The procedures for signing up and creating a blog are fairly similar in each case. Basically, you subscribe to a blogging service; you set up your blog, choosing from a number of ready-made templates; then you start posting what you have to say.
There's no point spelling out the procedures in detail here, because online tutorials such as the excellent BlogBasics.com already exist. Read through their suggestions, print out the pages if you wish, then go to Blogger and get started immediately. What I'll give you here are some general tips, additional support resources, and how to make money from your blog.
---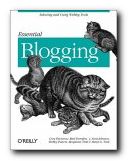 Cory Doctorow's Essential Blogging takes you through all the options of free blogging or paying a small fee to get extra features and more control. It covers all the essentials you might need, and it's presented in publisher O'Reilly's impeccably high-standard style. Doctorow is a young guy who has made a big impact in the world of online writing, and he's now an editor-in-chief at Boing-Boing as well as a successful writer of science fiction. Up to date.

  Buy the book at Amazon UK


  Buy the book at Amazon US
---
Procedure
Plan first — Before you start, think of a name for your blog, and decide what you are going to write about. It can follow a theme or a topic; it might be all about your home town or your favourite sports team; it could be a record of your trip around the world. I've just discovered that a lot of journalists have personal blogs where they record the gossip they leave out of their official reports. It doesn't even have to be true: a blog is the perfect medium for an online soap opera.
Sign up — When you have decided on a name and a theme, you need to sign up for an account. These come in two flavours – free and subscription. Blogger.com is the most popular, because it's free; but some people prefer MoveableType or DiaryLand because they offer additional features for a small charge. WordPress.com offers both a free and a commercial version.
Blog commerce — How can you make an income from all this? Well, it's unlikely that you can do so directly. But there are all sorts of small possible spin-offs. Lots of bloggers sign up as affiliates at Amazon.co.uk and Amazon.com and other commercial sites. You place advertising for Amazon on your blog, any they send you a (modest) residual income for sending customers through to their site to buy books, CDs, and software.
There's also the possibility of micro-payments. This is a system in which people are prepared to pay a small amount for downloading an article of interest. There's still some resistance to this idea, but it's now fairly common in downloading music files – so it might catch on.
The most lucrative source of revenue for many blogs and web sites is the Google Adsense scheme. In exchange for letting Google put advertising on your blog or your web pages, they offer you micropayments each time your visitors click through to the advertiser.
---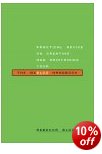 Rebecca Blood's The Weblog Handbook is a guide to creating your own blog. It's a book for anyone who has ever thought about starting but isn't sure how to post, where to find links, or even where to go to register. She certainly knows what she's talking about, as you can see at her own blog rebecca's pocket. She guides you through the whole process of starting and maintaining a blog and answers any questions that might pop up along the way, such as the elements of good blog design and how to find free hosting. She's gone on to be a very successful professional blogger.

  Buy the book at Amazon UK


  Buy the book at Amazon US
---
Advertising
The Google Ads scheme has three big advantages. First, the visitors don't have to buy anything: you get paid simply for their viewing the ad. Second, the whole thing works automatically. Once the code is in your pages, Google start paying money straight into your bank. Third, Google provide all the scripts and coding, and you can even customise the ads so that they blend into the design of your blog.
One of the cleverest features of Google's scheme is that the ads are matched to the content of the pages on which they appear. So, if your blog is about music or fashion, the ads will be for CDs and iPod downloads, clothing and online stores. Whatever you write about, the ads will be on the same subject. This is good for Google and good for you, because readers are more likely to click through.
Companies such as Blogger have done everything they can to make the process of setting up a blog as easy as possible. It's possible to set one up from scratch in just a few minutes. And yet everyone I know – including experienced users – has had some sort of minor problem in doing so. And that includes me.
If you get stuck there are FAQs to answer the most basic queries ("My blog has disappeared. Where has it gone?"). I found these very helpful when setting up my blog because they are full of genuine questions from beginners and answers from more experienced bloggers.
---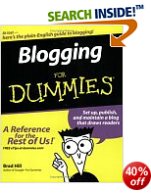 Brad Hill's advice in Blogging for Dummies is aimed at getting you up and running as quickly as possible – though he begins with what blogs are – and what they are not. He explains the different types of blogs, and how and why they are different from web sites. The good thing is that he looks at all the options and draws up comparison charts which show the features, cost, and options offered by the various providers and software programs. This includes popular features such as the ability to display adverts and upload photos.

  Buy the book at Amazon UK


  Buy the book at Amazon US
---
GLOSSARY
Blog (noun) – a journal or diary that is on the Internet – Andrew Sullivan has the most popular blog on the Internet.
Blogger (noun) – a person who keeps a blog – Bloggers are revolutionizing the way news is shared.
Blog (verb) – to write a blog – I am going to blog before breakfast this morning.
Blogging (verb) – the action of writing a blog – Blogging is my way of sharing my passions with the world.
Post (verb) – to write and despatch an individual entry on a blog – I will be posting on this issue tomorrow.
Post (noun) – an individual entry on a blog – In yesterday's post you mentioned that …
© Roy Johnson 2004
---
More on journalism
More on creative writing
More on writing skills
More on publishing
---