a selection of resources + how to get started
If you want to try the latest thing in Net publishing, it's called Blogging. A Blog (short for Web Log) is usually a combination of a personal diary, links to items of interest on the Internet, a commentary on them, plus personal thoughts and essays. It is a form of self-publishing, and because you can write whatever you wish is very popular with authors who have strong and unorthodox opinions.
Blogging began as a medium for Web-based personal diaries, and most people still use it for this purpose. But some bloggers have started to develop the medium for what is essentially self-publishing. They might post notes reflecting briefly on a topic or discuss it with other bloggers, but they also upload essays, articles, or opinion pieces which count as serious pieces of journalism, expressing ideas and points of view which might not be available elsewhere.
The mainstream media (MSM) made fun of blogging when it first appeared – but now they can't get enough of it. Newspapers, radio and TV stations, and magazines of all kinds have their own blogs – and they can't get enough user-generated content either. That's writing done by you and me, which they don't have to pay for.
Some bloggers with access to popular information have suddenly found their hobby has been transformed into a thriving business. Paul Staines' Guido Fawkes started as an amateur political gossip blog, but now gets 2 million visitors a month and makes him a full time living via advertising. Ric Turner's Blue Moon did the same thing for supporters of Manchester City FC.
In fact the latest generation of bloggers at the time of writing are uploading digital photographs, video clips, and audio files – which have spawned the term podcasting. It's also free and easy to do. You simply add your own text into a ready-made form and press the SEND button.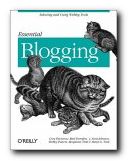 Essential Blogging offers a tour of the best blogging sites, how to upload and maintain your pages, and how to configure the options to get the best effects. A series of chapters, clearly written by enthusiasts, takes you through which Blog sites and software are available – from Blogger, Radio Userland (free software), Moveable Type, WordPress, and Blosxom. Some of these have developed rapidly beyond mere blogging tools into small-scale content management systems.
Are you likely to make an income from all this? Not directly – but there are all sorts of possible spin-offs. Lots of bloggers sign up as affiliates to Amazon, Google, and other commercial sites. They earn a small residual income from sending potential customers to buy books and software. Click one of the Amazon ads on this page, and you'll see how it works.
There's also the possibility of micro-payments. This is a system in which people are prepared to pay a small amount for downloading an article of interest. There's still some resistance to this idea, but it's now fairly common in downloading music files – so it might catch on.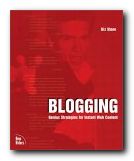 Blogging: Genius Strategies for Instant Web Content Biz Stone covers most of these new possibilities in his book. He shows how to log onto the most popular site of all – Blogger – and establish your Web presence. Then he shows you how to add colour, text manipulation, and layout variety to your pages, then on to the serious business of making money.
There's a chapter on arranging archives of your blogs, which can be done on a weekly or monthly basis. He also shows you how you can increase traffic to your blog. This text shows how to turn your home page into a microportal with fresh content to keep your readers coming back.
There are now all sorts of blogging support and development services springing up as the number of bloggers gets bigger and bigger. These range from online tutorials which will show you how to get set up — try BlogBasics — to tracking and site visitor statistics — try BlogFlux. And just to repeat the point yet again — it's all free. If you want to see our blog, go to mantex.blogspot.com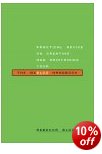 The Weblog Handbook Rebecca Blood's book is for anyone who has ever thought about starting a Weblog but isn't sure how to post, where to find links, or even where to go to register. She certainly knows what she's talking about, as you can see if you look at her own blog at RebeccaBlood.net.
She blogs regularly on topics which range from food and knitting to political activism and blogging itself. The Weblog Handbook is a clear and concise guide to everything you need to know about the phenomenon that is exploding on the Web. She expertly guides the reader through the whole process of starting and maintaining a Weblog and answers any questions that might pop up along the way, such as the elements of good Weblog design and how to find free hosting.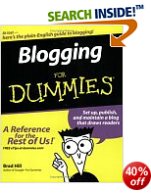 Blogging for Dummies Brad Hill's advice is aimed at getting you up and running as quickly as possible – though he begins with what blogs are – and what they are not. He explains the different types of blogs, and how and why they are different from web sites. The good thing is that he looks at all the options and draws up comparison charts which show the features, cost, and options offered by the various providers and software programs.

Publish your writing
© Roy Johnson 2009
---
More on publishing
More on journalism
More on creative writing
More on writing skills
---