famous encyclopedia of references and sources
Who were Gargantua's parents? What are 'naughty figs'? And what is the origin of the pub name, 'The Dog and Duck'? It's no use looking in a dictionary to answer questions like these – and if you pick up an encyclopedia, where would you start? What you need is an old, old favourite reference manual for the humanities – Brewer's Dictionary of Phrase and Fable.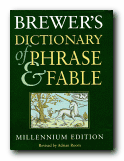 It is a compilation of people, places, sayings, customs, and mythology – first published by the Reverend Ebenezer Cobham Brewer in 1870 and massively popular with writers, readers, and crossword-puzzle fans ever since. Brewer was a clergyman-scholar who wrote books on popular education and literature. He drew the bulk of his materials from his reading of the classics.
But to this is added a now-quaint Victorian gloss of the public school polymath. Adrian Room, the editor of this latest version, has introduced French jargon, inkhorn literary terms, and many more historical and fictional characters to those legendary, mythical, and fabulous creatures in the original.
Sometimes Brewer's entries are so blindingly obvious, you wonder why they were included ['Fore' – in the front rank; eminent] but most of the time his examples are very entertaining. A section on 'Death from Strange Causes' includes 'Aeschylus was killed by the fall of a tortoise on his bald head from the claws of an eagle in the air' and 'Margutte died of laughter on seeing a monkey trying to pull on a pair of boots'. To this he adds the footnote: 'It will be observed that four of the last died of laughter. No doubt the reader will be able to add other examples.'
He is particularly good at explaining the historical origins and the symbolic connotations of things we often take for granted, such as pub names, expressions such as 'too bandy about' and the hidden meanings in such expressions as 'a game-leg'. The compilation is also stuffed with potted biographies of Biblical, mythical, and fictional characters, along with all sorts of other 'knowledge – from the origins of the letter 'A', to the note on Zulfagar, which turns out to be the name of Ali's sword – Ali of course being the cousin and son-in-law of Mahomet.
As you can probably tell, it's an interesting mixture of really useful reference material and slightly dotty erudition. But it's that which gives the book its charm. It's the sort of compilation which when you look up a reference, you can hardly stop yourself reading through lots of the adjacent entries and marvelling at the breadth of learning it represents. It's the only work of reference I can think of in which you're guaranteed a laugh on just about every page.
© Roy Johnson 2012

  Buy the book at Amazon UK

  Buy the book at Amazon US
---
Brewer's Dictionary of Phrase and Fable, London: Chambers, 19th revised edition 2012, pp.1536, ISBN: 0550102450
---
More on language
More on literary studies
More on writing skills
More on creative writing
More on grammar
---