tutorial, commentary, study resources, plot, and web links
Bunner Sisters was written in 1891, but wasn't published until 1916 in Edith Wharton's collection of short fiction Xingu and Other Stories. Technically, it has very strong claims to be classified as a novella, rather than a short story, but it is usually listed with her shorter works to keep it separate from the novels.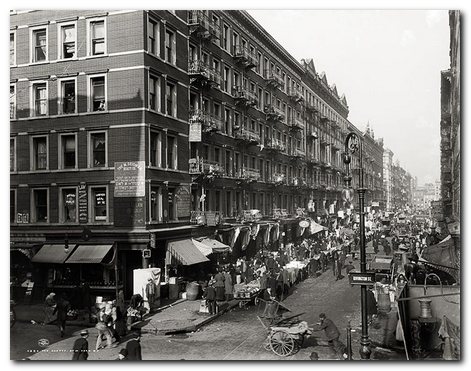 Old New York
---
Bunner Sisters – critical commentary
Literary naturalism
There was a literary vogue towards the end of the nineteenth century for naturalism – which is characterised by a concentration on everyday, unheroic subjects, often seeking to expose the poverty and misery of existence in contrast to the romantic and heroic treatment of life in traditional fiction. Naturalism as a literary mode was underpinned by a belief in determinism – that social conditions and heredity were the primary forces shaping human character. It was also strongly influenced by two other important philosophic features of late nineteenth century society – the decline of religious belief and the powerful influence of Darwinism and its popular manifestation in the idea of 'the survival of the fittest'.
Both of these ideas led the adherents of naturalism to emphasise a pessimistic view of life, and they also took the opportunity to expose the harsher and degenerate sides of society, including poverty, crime, prostitution, and corruption in general. There was also a marked tendency amongst naturalistic works to focus on the life of big cities. Writers who epitomised this literary trend included Emile Zola (France), Theodore Dreiser (USA), Stephen Crane (USA) and George Gissing (UK) – all of whom were at the height of their fame when Edith Wharton started writing.
Bunner Sisters certainly includes many of these ideas. Although it seems to begin in a mildly satirical manner, its trajectory is grimly pessimistic as things go from bad to worse in the two sisters' lives. Their business slowly dries up; they are preyed upon by a man who turns out to be an opium addict; and he eventually ruins Evelina's life, which in turn leaves Ann Eliza destitute.
These naturalistic tendencies are worth noting, because they were still present in Edith Wharton's work when she came to write her first major novel, The House of Mirth in 1905. Lily Bart falls from a much greater social height than Ann Eliza and Evelina Bunner, but she ends in a similar fashion – destitute, ill, and exhausted with self-sacrifice.
---
Bunner Sisters – study resources

Edith Wharton Collected Stories – Norton Critical – Amazon UK

Edith Wharton Collected Stories – Norton Critical – Amazon US

Bunner Sisters – eBook format at Project Gutenberg

Bunner Sisters – AudioBook format at librivox

A Historical Guide to Edith Wharton – Amazon UK

The Cambridge Introduction to Edith Wharton – Amazon UK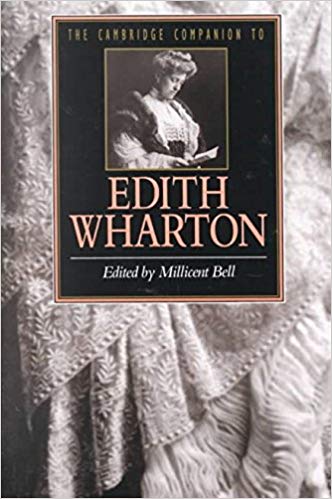 ---
Bunner Sisters – plot summary
Part I.   Ageing sisters Ann Eliza and Evelina Bunner maintain a millinery shop in a seedy and run down area of New York. They live in straightened circumstances, and on the occasion of Evelina's birthday, her sister buys her a cheap clock.
Part II.   She has bought the clock from an equally run down shop in the neighbourhood run by bachelor Herman Ramay, who she decides to pursue when the clock stops working. She goes to the local market, hoping to meet him there, but doesn't. A lifetime of co-operative self-sacrifice and renunciation begins to crumble as the two women secretly become competetive regarding Mr Ramay.
Part III.   Mr Ramay calls to check the clock they have bought, but nothing transpires from the visit.
Part IV.   They then entertain Miss Mellins, a dressmaker from upstairs, whereupon Mr Ramay visits again. Ann Eliza is jealously concerned that he is visiting to see her younger sister.
Part V.   Mr Ramay visits more frequently, but divides his time there between long silences and lengthy autobiographical anecdotes. He takes Evelina to a stereopticon; spring arrives; and he invites them both to Central Park, along with Miss Mellins. Ann Eliza is forbearing on her sister's behalf.
Part VI.   The sisters wish to transfer their meagre earnings into another bank. Ann Eliza calls for advice on Mr Ramay, who seems to have been ill.
Part VII.   Mr Ramay takes them on an excursion to his friend Mrs Hochmuller in Hoboken. Over dinner they discuss Mr Ramay's illness – which he denies. Then Evelina and Mr Ramay go for a walk in the countryside. Shortly afterwards Mr Ramay calls to the shop and proposes marriage to Ann Eliza, but she tells him she cannot think of marrying. She is secretly ecstatic at this major event in her life, and disappointed that she cannot reveal it to her sister.
Part VIII.   Mr Ramay then goes on an excursion with Evelina, who returns to announce that she is engaged to Mr Ramay. Ann Eliza prepares herself for being left alone when her sister moves to live at Mr Ramay's shop. However, Mr Ramay gets the offer of a job in St Louis, though he does not have enough money to risk transferring there. Ann Eliza gives her sister her half of their joint savings.
Part IX.   Left on her own, Ann Eliza feels very lonely, and Evelina writes from St Louis to say that she is lonely because Mr Ramay is out at work all day. Then the letters cease, and Ann Eliza learns that Mr Ramay has been dismissed by his employers. She cannot afford to visit St Louis and look for her sister, and meanwhile the business goes downhill.
Part X.   Anna goes to seek help from Mrs Hochmuller in Hoboken, but when she gets there she discovers that Mrs Hochmuller left some time before. She contracts fever as a result of the journey and is in bed for over a week. When she recovers she visits Mr Ramay's old employers, only to be told that he was dismissed for taking drugs.
Part XI.   Months pass by, then one day Evelina suddenly appear at the shop. She is in a very bad way, and recounts her tale of Mr Ramay's opium addiction, the birth and death of her child, and Ramay's running away with young Linda Hochmuller. Evelina was reduced to begging in the streets.
Part XII.   Evelina continues to be very ill, and Anna has to borrow money from Miss Mellins to pay the doctor's bill. Anna loses her faith in Providence and feels that self-sacrifice does not automatically transfer good or benefit to its intended recipient. The doctor recommends hospital for Evelina, but Anna prefers to keep her at home. Evelina reveals that during her troubles she has converted to Catholicism.
Part XIII.   Evelina gets steadily worse (with consumption) and believes her Catholic faith will permit her to be reunited with her baby in heaven. When Evelina dies, Anna gives up the shop, sells the last of her effects, and faces a bleak and unknown future.
---
Bunner Sisters – principal characters
| | |
| --- | --- |
| Ann Eliza Bunner | elder sister in a millinery shop |
| Evelina Bunner | her younger sister |
| Miss Mellins | their upstairs neighbour, a dressmaker |
| Herman Ramay | a German immigrant clock-maker |
| Mrs Hochmuller | washerwoman friend of Ramay |
| Linda Hochmuller | her young daughter |
---
Video documentary
---
Further reading
Louis Auchincloss, Edith Wharton: A Woman of her Time, New York: Viking, 1971,
Elizabeth Ammons, Edith Wharton's Argument with America, Georgia: University of Georgia Press, 1982, pp.222. ISBN: 0820305138
Janet Beer, Edith Wharton (Writers & Their Work), New York: Northcote House, 2001, pp.99, ISBN: 0746308981
Millicent Bell (ed), The Cambridge Companion to Edith Wharton, Cambridge: Cambridge University Press, 1995, pp.232, ISBN: 0521485134
Alfred Bendixen and Annette Zilversmit (eds), Edith Wharton: New Critical Essays, New York: Garland, 1992, pp.329, ISBN: 0824078489
Eleanor Dwight, Edith Wharton: An Extraordinary Life, New York: Harry N. Abrams, 1994, ISBN: 0810927950
Gloria C. Erlich, The Sexual Education of Edith Wharton, California: University of California Press, 1992, pp.223, ISBN: 0520075838
Susan Goodman, Edith Wharton's Women: Friends and Rivals, UPNE, 1990, pp.220, ISBN: 0874515246
Irving Howe, (ed), Edith Wharton: A collection of Critical Essays, London: University of North Carolina Press, 1986,
Jennie A. Kassanoff, Edith Wharton and the Politics of Race, Cambridge: Cambridge University Press, 2004, pp.240, ISBN: 0521830893
Hermione Lee, Edith Wharton, London: Vintage, new edition 2008, pp.864, ISBN: 0099763516
R.W.B. Lewis, Edith Wharton: A Biography, New York: Harper and Rowe, 1975, pp.592, ISBN: 0880640200
James W. Tuttleton (ed), Edith Wharton: The Contemporary Reviews, Cambridge: Cambridge University Press, 1992, pp.586, ISBN: 0521383196
Candace Waid, Edith Wharton's Letters from the Underworld, London: University of North Carolina Press, 1991,
Sarah Bird Wright, Edith Wharton A to Z: The Essential Reference to Her Life and Work, Fact on File, 1998, pp.352, ISBN: 0816034818
Cynthia Griffin Wolff, A Feast of Words: The Triumph of Edith Wharton, New York: Perseus Books, second edition 1994, pp.512, ISBN: 0201409186
---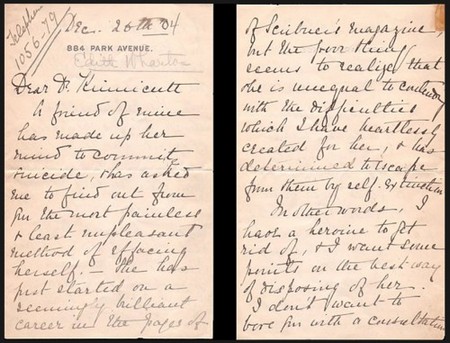 Edith Wharton's writing
---
Other works by Edith Wharton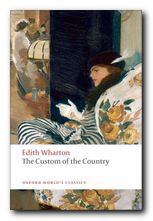 The Custom of the Country (1913) is Edith Wharton's satiric anatomy of American society in the first decade of the twentieth century. It follows the career of Undine Spragg, recently arrived in New York from the midwest and determined to conquer high society. Glamorous, selfish, mercenary and manipulative, her principal assets are her striking beauty, her tenacity, and her father's money. With her sights set on an advantageous marriage, Undine pursues her schemes in a world of shifting values, where triumph is swiftly followed by disillusion. This is a study of modern ambition and materialism written a hundred years before its time.


Buy the book from Amazon UK


Buy the book from Amazon US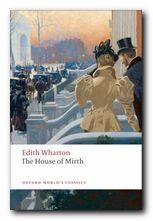 The House of Mirth (1905) is the story of Lily Bart, who is beautiful, poor, and still unmarried at twenty-nine. In her search for a husband with money and position she betrays her own heart and sows the seeds of the tragedy that finally overwhelms her. The book is a disturbing analysis of the stifling limitations imposed upon women of Wharton's generation. In telling the story of Lily Bart, who must marry to survive, Wharton recasts the age-old themes of family, marriage, and money in ways that transform the traditional novel of manners into an arresting modern document of cultural anthropology.


Buy the book from Amazon UK


Buy the book from Amazon US
---
Edith Wharton – web links
Edith Wharton at Mantex
Biographical notes, study guides to the major novels, tutorials on the shorter fiction, bibliographies, critiques of the shorter fiction, and web links.
The Short Stories of Edith Wharton
This is an old-fashioned but excellently detailed site listing the publication details of all Edith Wharton's eighty-six short stories – with links to digital versions available free on line.
Edith Wharton at Gutenberg
Free eTexts of the major novels and collections of stories in a variety of digital formats – also includes travel writing and interior design.
Edith Wharton at Wikipedia
Full details of novels, stories, and travel writing, adaptations for television and the cinema, plus web links to related sites.
The Edith Wharton Society
Old but comprehensive collection of free eTexts of the major novels, stories, and travel writing, linking archives at University of Virginia and Washington State University.
The Mount: Edith Wharton's Home
Aggressively commercial site devoted to exploiting The Mount – the house and estate designed by Edith Wharton. Plan your wedding reception here.
Edith Wharton at Fantastic Fiction
A compilation which purports to be a complete bibliography, arranged as novels, collections, non-fiction, anthologies, short stories, letters, and commentaries – but is largely links to book-selling sites, which however contain some hidden gems.
Wharton's manuscripts
Archive of Wharton holdings at the Beinecke Rare Book and Manuscript Library
© Roy Johnson 2014
---
Edith Wharton – short stories
More on Edith Wharton
More on short stories
---