popular and wide-ranging, one-volume dictionary
Did you know that Chambers Dictionary is the official reference dictionary for UK Scrabble competitions? And you can see why. It packs in more words, plus lots of unusual, archaic, and esoteric terms, than any other dictionary of its size. This edition combines the long-established virtues of its predecessors with a modern design and updated content. It offers coverage of English vocabulary, ranging from rare and archaic words to the latest slang and technical terms.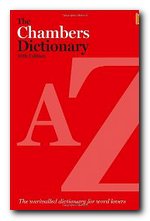 It also has an introductory essay on the history of English language, a note on American English, rules of English spelling, plus appendices giving the books of the Bible, and the works of Shakespeare. It also includes chemical elements, and phrases and quotations from Latin, Greek and modern foreign languages. What makes this dictionary really distinctive however is that it packs a huge number of words into the available space. It does this by sacrificing long encyclopedic entries and offering instead multiple variants.
It's particularly popular with crossword puzzle, Scrabble, and word game addicts – mainly because it lists so many unusual words. Some people even prefer it to the popular Collins and the venerable Oxford dictionaries.
The definitions given can be quite quirky and entertaining. For instance, the term eclair is defined as a cake 'long in shape, but short in duration'.
The text is easy to read, because Chambers follow the now-conventional practice of putting the headword in bold sans-serif type. This stands out well from the definitions which follow, which are set in a serifed font. It looks a bit like this:
abscind ab-sind, vt to cut off. —n abscissa also absciss or abscisse (ab'sis) the intercept between a fixed point and the foot of an ordinate; the x-co-ordinate in analytic geometry; — pl abscissae (ab-sisë or -sis'i), absciss'as or ab'scisses. —n abscission (-sizh'en) an act of cutting off, or the state of being cut off; a figure of speech in which words demanded by the sense are left unsaid, the speaker stopping short suddenly (rhetoric); organised shedding of a part (eg a leaf or fruit) (bot); liberation of a fungal spore by breakdown of part of its stalk (bot). — absciss layer or abscission layer (bot) a layer of parenchymatous cells through which a leaf, branch or bark scale separates off. [L abscindere, abscissum to cut off, from ab from, and scindere to cut]
The latest edition contains over 300,000 definitions, and as other reviewers have pointed out, it should not be confused with the Chambers 21st Century Dictionary. This one is much better and covers a far wider range.
© Roy Johnson 2011

  Buy the book at Amazon UK

  Buy the book at Amazon US
---
Chambers Dictionary, London: Chambers, 12th edition 2011, pp.1920, ISBN: 055010237X
---
More on language
More on literary studies
More on writing skills
More on creative writing
More on grammar
---