annotated bibliography of criticism and comment
Charles Dickens criticism is a bibliography of critical comment on Dickens and his works, with details of each publication and a brief description of its contents. The details include active web links to Amazon where you can buy the books, often in a variety of formats – new, used, and as Kindle eBooks and print-on-demand reissues. The listings are arranged in alphabetical order of author.
The list includes new books and older publications which may now be considered rare. It also includes versions of older texts which are much cheaper than the original. Others (including some new books) are often sold off at rock bottom prices. Whilst compiling these listings a hardback copy of Fred Kaplan's Charles Dickens: A Biography was available at Amazon for one penny.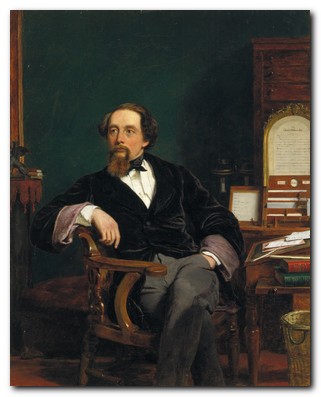 Dickens – Peter Ackroyd, London: Mandarin, 1991. Presents an illustrated introduction to the public and private life of the popular Victorian novelist.
Dickens at Work – John Butt and Jane Tillotson, London: Methuen, 1957. Illustrates what modes of planning Dickens evolved as best suited to his genius and to the demands of serial publication, monthly or weekly; how he responded to the events of the day; and how he yet managed to combine the freshness of this 'periodical', almost journalistic approach with the art of the novel.
The Violent Effigy: A Study in Dickens' Imagination – John Carey, London: Faber and Faber, 2008. This study sees Dickens as not a moralist or social commentator but as an anarchic comic genius, who was drawn irresistibly to the sinister and grotesque – murderers, frauds and public executions, bottled babies, wooden legs, walking coffins, corpses, umbrellas, waxworks, and living furniture.
Dickens: The Critical Heritage – Philip Collins (ed), London: Routledge, 1982. A collection of reviews and critical essays which trace the development of Dickens' reputation as a novelist from his original publications up to the late twentieth century.
Dickens and Crime – P.A.W. Collins, London: Macmillan, 1965.
Dickens and His Readers – G.H. Ford, Norton, 1965. Attempts to explain the fluctuations in Dickens' critical and popular reputation.
The Dickens Critics – George Ford and Lauriat Lane (eds). New York: Cornell University Press, 1961.
The Life of Charles Dickens – John Forster, Benediction Classics, 2011. The first comprehensive biography, written by his contemporary and friend.
Charles Dickens and the House of Fallen Women – Jenny Hartley, London: Methuen, 2009. An account of the refuge Dickens created with the financial backing of the heiress Angela Burdett Courts, Chronicles cast-off women, pickpockets, prostitutes, abandoned children, and others from the darkest streets of London.
Who's Who in Dickens – Donald Hawes, London: Routledge, 2001. Contains a physical and psychological profile of each character, a critical look at his characters by past and present influential commentators and over forty illustrations of major characters drawn by Dickens' contemporaries.
The Dickens World – Humphrey House, Oxford University Press, 1960. Minor works and journals as well as the novels are used to provide critical analysis of Dickens' prowess as a reporter of Victorian life.
Dickens's Villains: Melodrama, Character, Popular Culture – Juliet John, Oxford University Press, 2003. This interdisciplinary study locates the rationale for Dickens's melodramatic characters in his political commitment to the principle of cultural inclusivity and his related resistance to 'psychology'.
Dickens and Mass Culture – Juliet John, Oxford University Press, 2013. Examines Dickens's cultural vision and practice – his model of authorship, journalism, public readings, relations with America, and the commercial, cultural, and political aspects of Dickens's populist vision and legacy.
Charles Dickens: His Tragedy and Triumph – Edgar Johnson, Viking Press, 1977. This is universally regarded as the definitive biography and a highpoint in critical scholarship.
The Cambridge Companion to Charles Dickens – John O. Jordan, Cambridge University Press, 2001. Contains fourteen specially-commissioned chapters by leading international scholars, who provide diverse but complementary approaches to the full span of Dickens's work, with particular focus on his major fiction.
Dickens: A Biography – Fred Kaplan, William Morrow & Co, 1988. Well regarded critical biography by a Dickens specialist.
Dickens and his Illustrators – Frederick G. Kitton, Emerson Publishing, 2013. Detailed studies of the illustrators who worked with Dickens, examining the relationships between author and artists, drawing on correspondence between them and reproducing preparatory sketches.
Dickens the Novelist – F.R. Leavis and Q.D. Leavis, London: Chatto and Windus, 1970. In seven typically robust and uncompromising chapters, the Leavises grapple with the evaluation of a writer who was still open to dismissal as a mere entertainer, a caricaturist not worthy of discussion in the same breath as Henry James.
Charles Dickens: The Major Novels – John Lucas, Harmondsworth: Penguin, 1992. This study of five major novels by Dickens looks at the tensions between the private and public aspect of his work.
A Companion to Dickens – David Paroissien, Oxford: Blackwell, 2008. Includes original essays by leading Dickensian scholars on each of Dickens's fifteen novels, and puts his work into its literary, historical, and social contexts.
Charles Dickens: Critical Issues – Lyne Pykett, London: Palgrave Macmillan, 2002. Looks at the author as a Victorian 'man of letters', and explores his cultural and critical impact both on the definition of the novel in the nineteenth century and the subsequent development of the form in the twentieth.
Authors in Context: Charles Dickens – Andrew Sanders, Oxford University Press, 2009. Explores Dickens's interest in the urban phenomenon which so marks nineteenth-century culture, and looks at the vital interconnection between his life and his art.
The Oxford Companion to Charles Dickens – Paul Schlicke (ed), Oxford University Press, 2011. Features more than 500 articles, throwing new and often unexpected light on the most familiar of Dickens's works, and exploring the experiences, events, and literature on which he drew. There is also a chronology of Dickens' life, a list of characters in his works, a list of entries by theme, a family tree, three maps, and an invaluable bibliography.
Dickens and the City – F.S. Schwarzbach, Athlone Press, 1979. Traces the fascinating and often dramatic relationship of the novels to the ever changing Victorian urban scene. The novels emerge not only as valuable historical documents, astonishing in their accuracy of detail, but as a unique contribution to the growth of modern urban culture.
Charles Dickens – Michael Slater, Yale University Press, 2011. The core focus is Dickens' career as a writer and professional author, covering not only his big novels but also his phenomenal output of other writing–letters, journalism, shorter fiction, plays, verses, essays, writings for children, travel books, speeches, and scripts for his public readings,
The Narrative Art of Charles Dickens – Harvey Peter Sucksmith, Oxford University Press, 1970.
Going Astray: Dickens and London – Jeremy Tambling, London: Routledge, 2008. Drawing on all Dickens' published writings (including the journalism but concentrating on the novels), this study considers the author's kaleidoscopic characterisations of London: as prison and as legal centre; as the heart of empire and of traumatic memory; as the place of the uncanny; as an old curiosity shop.
Charles Dickens: A Life – Claire Tomalin, London: Penguin, 2012. Highly regarded critical biography by award-winning writer.
Dickens and Religion – Dennis Walder, London: Routledge, 2007. Dickens's religion is shown to be that of a great popular writer, who created a unique kind of fiction, and a unique relationship with his readers, by the absorption and transformation of less respectable contemporary forms, from fairy-tale and German romance to tract and print.
© Roy Johnson 2015
---
More on Charles Dickens
More on literature
More on the novella
More on literary studies
More on short stories
---