introductory notes to his most outstanding novels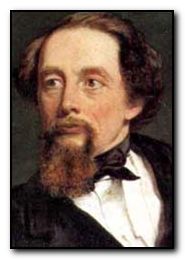 Charles Dickens (1812-1870) is a novelist whose work appeals to both general readers and serious literary critics alike. This is because at its best it operates at two levels simultaneously. Entertaining incidents and characters abound at the surface level, and deep beneath them exist profoundly serious themes and psychological insights into human nature. His early novels are rich in enjoyable knockabout entertainment, and his later works explore the darker side of moral and social issues with which he was so concerned throughout the whole of his working life.
Turn to any work in his huge output, and you will find linguistic invention, tremendous imaginative flair, memorable characters, vivid scene-painting, dramatic incidents, high comedy and tragic pathos packed into alternate chapters, and an overwhelming sense of joie de vivre.
There was a time when his fondness for melodrama and plots which hinged on improbable coincidence were thought to be fatal weaknesses, but modern readers now tend to be more tolerant of these nineteenth century conventions. They focus attention instead on his endless inventiveness and his mastery of the novel form.
Readers with less literary experience might choose to begin with early works such as The Pickwick Papers, Oliver Twist , or even David Copperfield. Those used to reading long novels with complex plots and a huge cast of characters could go straight to the late, great masterpieces such as Dombey and Son, Bleak House, or Great Expectations.
Your choice of editions is enormous. The most scholarly, with full introductions, notes, glossaries, and background details are the Oxford University Press and Penguin Books editions.
---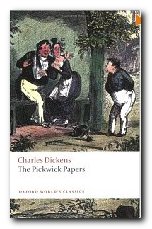 Pickwick Papers (1836-37) was Dickens' first big popular success, written when he was only twenty-four years old. It was issued in twenty monthly parts and is not so much a novel as a series of loosely linked sketches and changing characters featured in reports to the Pickwick Club. These episodes recount comic excursions to Rochester, Dingley Dell, and Bath; duels and elopements; Christmas festivities; Mr Pickwick inadvertently entering the bedroom of a middle-aged lady at night; and in the end a happy marriage. Much light-hearted fun, and a host of memorable characters.

Buy the book at Amazon UK


Buy the book at Amazon US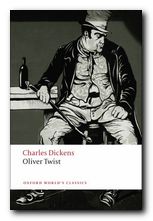 Oliver Twist (1837-38) expresses Dickens' sense of the vulnerability of children. Oliver is a foundling, raised in a workhouse, who escapes suffering by running off to London. There he falls into the hands of a gang of thieves controlled by the infamous Fagin. He is pursued by the sinister figure of Monks who has secret information about him. The plot centres on the twin issues of personal identity and a secret inheritance (which surface again in Great Expectations). Emigration, prison, and violent death punctuate a cascade of dramatic events. This is the early Victorian novel in fine melodramatic form. Recommended for beginners to Dickens.

Buy the book at Amazon UK


Buy the book at Amazon US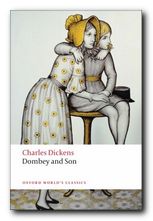 Dombey and Son (1847-48) is Dickens' version of the King Lear story, in which Dombey, the proud and successful head of a shipping company, loses his son, wife, and daughter because of neglect and his lack of sympathy towards them. Even his second wife is driven into the arms of his villainous business manager – with disastrous results. Eventually his empire collapses, and he lives on in tragic desolation – until his daughter Florence returns and finds a way back to his heart. This is the first of Dickens' great and powerful masterpieces.

Buy the book at Amazon UK


Buy the book at Amazon US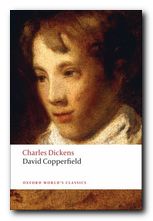 David Copperfield (1849-50) is a thinly veiled autobiography, of which Dickens said 'Of all my books, I like this the best'. As a child David suffers the loss of both his father and mother. He endures bullying at school and a life of poverty when he goes to work. The book is packed with memorable characters such as Mr Micawber, the fawning Uriah Heep, and the earth-mother figure Clara Peggotty. The plot involves Dickens' recurrent topics of thwarted romance, financial insecurity and misdoings, and the terrible force of the legal system which haunted him all his life.

Buy the book at Amazon UK


Buy the book at Amazon US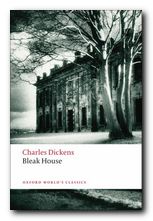 Bleak House (1852-53) is a powerful critique of the legal system. Characters waiting to gain their inheritance from a will which is the subject of a long-running court case are ruined when the delays and costs of the case swallow up the whole estate. At the same time, Ester Summerson, one of Dickens' most saintly heroines, is surrounded by mystery regarding her parentage and pressure to marry a man she respects but does not love. Unraveling the mystery results in scandal and deaths. Many memorable characters, including ace sleuth Inspector Bucket; Horace Skimpole a criminally irresponsible house guest; and Krook – the 'chancellor' of the rag and bone department, who dies from spontaneous combustion – something which Dickens actually believed could happen.

Buy the book at Amazon UK


Buy the book at Amazon US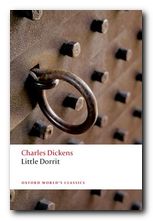 Little Dorrit (1855-57) features Dickens' recurrent themes of prison, debt, and the negative effects of wealth. William Dorrit and his daughter Amy have been paupers for so long that they actually live in the Marshalsea debtor's prison. When he is suddenly released because of an inheritance, his place is taken by the middle-aged hero Arthur Clenham when he falls on hard times. Amy is devoted to them both. There is also a murky sub-plot involving doubtful parentage, a mysterious secret, and a villain with two names. Also includes a satirical critique of nineteenth century government bureaucracy in his depiction of the Circumlocution Office. Another of the greatest of Dickens' works.

Buy the book at Amazon UK


Buy the book at Amazon US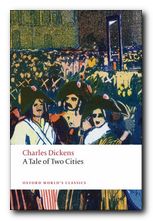 A Tale of Two Cities (1859) was Dickens' account of the French Revolution – with the story switching between London and Paris. It views the causes and effects of the Revolution from an essentially private point of view, showing how personal experience relates to public history. The characters are fictional, and their political activity is minimal, yet all are drawn towards the Paris of the Terror, and all become caught up in its web of suffering and human sacrifice. The novel features the famous scene in which wastrel barrister Sydney Carton redeems himself by smuggling the hero out of prison and taking his place on the scaffold. The novel ends with the memorable lines: "It is a far, far better thing that I do, than I have ever done; it is a far, far better rest that I go to, than I have ever known."

Buy the book at Amazon UK


Buy the book at Amazon US
The Oxford World Classics are the best editions of Dickens' work. They are largely based on the most accurate versions of the texts; and they feature introductory essays, a biography, explanatory notes, textual variants, a bibliography of further reading, and in some cases missing or deleted chapters. They are also terrifically good value.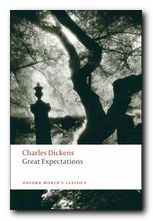 Great Expectations (1860-61) traces the adventures and moral development of the young hero Pip as he rises from humble beginnings in a village blacksmith's. Eventually, via good connections and a secret benefactor, he becomes a gentleman in fashionable London – but loses his way morally in the process and disowns his family. Fortunately he is surrounded by good and loyal friends who help him to redeem himself. Plenty of drama is provided by a spectacular fire, a strange quasi-sexual attack, and the chase of an escaped convict on the river Thames. There are a number of strange psycho-sexual features to the characters and events, and the novel has two subtly different endings – both adding ambiguity to the love interest between Pip and the beautiful Stella.

Buy the book at Amazon UK


Buy the book at Amazon US
---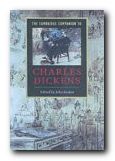 The Cambridge Companion to Charles Dickens contains fourteen essays which cover the whole range of Dickens's writing, from Sketches by Boz through to The Mystery of Edwin Drood. Some address important thematic topics: childhood, the city, and domestic ideology. Others consider the serial publication and Dickens's distinctive use of language. Three final chapters examine Dickens in relation to work in other media: illustration, theatre, and film. The volume as a whole offers a valuable introduction to Dickens for students and general readers, as well as fresh insights, informed by recent critical theory.
---
Charles Dickens – web links

Charles Dickens at Mantex
Biographical notes, book reviews, tutorials and study guides, free eTexts, videos, adaptations for cinema and television, further web links.

Charles Dickens at Wikipedia
Biography, major works, literary techniques, his influence and legacy, extensive bibliography, and further web links.

Charles Dickens at Gutenberg
A major collection of free eTexts of the major works in a variety of formats.

Dickens on the Web
Major jumpstation including plots and characters from the novels, illustrations, Dickens on film and in the theatre, maps, bibliographies, and links to other Dickens sites.

The Dickens Page
Chronology, eTexts available, maps, filmography, letters, speeches, biographies, criticism, and a hyper-concordance.

Charles Dickens at the Internet Movie Database
Adaptations of the major novels and stories for the cinema and television – in various languages

A Charles Dickens Journal
An old HTML website with detailed year-by-year (and sometimes day-by-day) chronology of events, plus pictures.

Hyper-Concordance to Dickens
Locate any word or phrase in the major works – find that quotation or saying, in its original context.

Dickens at the Victorian Web
Biography, political and social history, themes, settings, book reviews, articles, essays, bibliographies, and related study resources.

Charles Dickens – Gad's Hill Place
Something of an amateur fan site with 'fun' items such as quotes, greetings cards, quizzes, and even a crossword puzzle.
© Roy Johnson 2009
---
More on Charles Dickens
More on literature
More on the novella
More on literary studies
More on short stories
---