introductory study, background, and resources
This is an introductory survey of Dickens and the major parts of his work written for students and general readers who perhaps want to know more about this perennially popular novelist. Donald Hawes begins Charles Dickens – A Critical Guide with a sketch of Dickens's life – the hardships he suffered as a child, his early success as a writer with Sketches by Boz, and then his rapid rise to be the most successful writer in both England and America.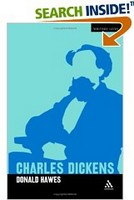 It's easy to forget Dickens's astonishing productivity: he regularly composed more than one novel at once, wrote and published his own weekly newspaper, and contributed to other people's journals as well. This is to say nothing of his prodigious physical energy: walks of up to forty miles a day taken at high speed.
And for all the close association with Englishness and London in particular, he also travelled widely in Europe, living in France and Italy on a regular basis.
What follows is chapters which offer accounts of his major works, alternating with studies of themes and issues important to his work as a whole.
The first give potted plot summaries as well as critical insights which will be particularly useful for beginners. The latter explore recurrent symbols and those topics which Dickens made his own – for example nineteenth century London and its relation to the labyrinthine system of jurisprudence which permeates Bleak House, or the prisons, most notably in Little Dorrit.
Donald Hawes clearly knows Dickens's work inside out, and all his arguments are illustrated by well-chosen details from the best known works. In most cases he gives some notion of their contemporary reception, plus an account of how these reputations have lasted into the twentieth century.
There's a very good chapter on Dickens's unforgettable rogues, villains, and comic masterpieces, analysing why they so brilliantly conceived and executed. Another on the theatre places Dickens's enthusiasm for the genre firmly in the realm of what we would now call 'popular culture' – since at that time, in mid nineteenth century there was little else the lower orders could enjoy. The same was also true of Dickens's public readings from his own works – which both made him rich and probably shortened his life.
I hadn't previously realised just how much Dickens's friend John Forster had played in the composition, revision, and editing of his writing, but there's a good chapter on Dickens's relationship with his friends and contemporaries.
Other topics considered include prisons, education, doctors and hospitals, social class, Christmas, and even a section on animals – especially dogs and ravens (both of which Dickens possessed).
So, Hawes covers all the major novels, the stories, and some of the occasional writing. With this and the thematic chapters, plus an extensive bibliography of further reading, there's everything here for someone who wants a comprehensive departure point for further Dickens studies.
© Roy Johnson 2007

Buy the book at Amazon UK

Buy the book at Amazon US
---
Donald Hawes, Charles Dickens, London: Continuum, 2007, pp.167, ISBN 0826489648
---
More on Charles Dickens
More on literature
More on the novella
More on literary studies
More on short stories
---