dictionary and thesaurus – two books in one
The Collins Dictionary and Thesaurus (In One Volume) was first produced in 1987.  My copy is the 1990 reprint and like all good dictionaries it is now falling apart, because it has stopped me from falling apart in the decade since I received it as a gift from my wife.  Even though I have the advantage of spellcheck and thesaurus on computer, The Collins Dictionary and Thesaurus is – and will remain – on my desk.  Why do I like it so much?  Why is it such a popular dictionary?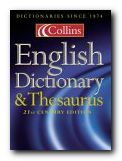 When it came out, it was the first time that a dictionary and thesaurus had been put together in this format.  Like all great concepts, it was essentially a simple idea – a general purpose dictionary and thesaurus arranged so that matching relevant material was printed on the same page.  If you want to check the spelling and meaning of concubine, you look at the top half of the page, then check out the lower thesaurus half for a range of alternative words.
This is just very convenient, and it makes the book doubly useful. The arrangement of the print and the division of the pages is very attractive to the eye and easy to read – which is a godsend for people who have to work late to deliver deadlines.  The alphabetical ordering is thumb indexed with the letters printed in gold on a black background. The aesthetic qualities of the Collins Dictionary and Thesaurus are excellent to the last detail, and this shows a design awareness that is in tune with the people most likely to use it. The book which stares up at me from the desk looks good as well as having first-rate content.
There are 71,000 dictionary references and a quarter of a million thesaurus synonyms in this volume, all gathered from the larger Collins English Dictionary and New Collins Thesaurus.  I believe a good dictionary gives a feel for the linguistic zeitgeist of the time in which it was produced.  Open this volume at any page and you'll be hit by the vibrant choice of words – hatchet man, roly-poly, parodist, polish off.  Look in the Thesaurus – what synonyms does it give for Police? Boys In Blue, Fuzz, Old Bill, The Law. It's plain to see that this volume is aimed at being more than a language tool: it's also a good read.
This strength, the volume's readability, can also be perceived as a weakness.  It's hard to open the book, get the word you immediately need, and then shut it and move on. I invariably, end up skimming and scanning the rest of the page, flicking through, opening at random and seeing what jumps off the page.  This is great fun, but it can be a distraction when there's a deadline to meet.
The definitions of words are plainly and exactly expressed throughout. Cannelloni are 'tubular pieces of pasta filled with meat or cheese'. The synonyms are often poetic, evocations of the many spirits resident within a single word.  Dig yields break up, burrow, delve, excavate, gouge, grub, hoe, hollow out, mine.
In his introduction to A Dictionary Of The English Language, Samuel Johnson wrote that those who engaged in the business of writing dictionaries were 'exposed to censure without hope of praise'.  Or as we might call it the 'Hiding to Nothing' syndrome. Personally, I can't praise the managing editor William T McLeod and his team enough.  They have produced a book that would be my choice of reading matter if I was stranded on a desert island – a popular, attractive, user-friendly and entertaining celebration of language.
© Mark Roberts 2011

  Buy the book at Amazon UK

  Buy the book at Amazon US
---
The Collins Dictionary and Thesaurus In One Volume, London: Collins, 5th edition 2011, pp.1344, ISBN: 0007429029
---
More on language
More on literary studies
More on writing skills
More on creative writing
More on grammar
---