popular electronic talking dictionary
Dictionary owners have been quicker than most publishers to exploit the commercial possibilities of their databases. This software offers a talking dictionary containing 80,000 words. It comes with a set of tools for speedy and accurate look-up of any words or phrases on your computer. The information about each item is fairly basic, but pronunciation using the voices of professional native speakers is used in the audio recordings.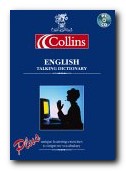 The dictionary can be used with any other computer application to get the definition and correct spelling of words – as well as for listening to a reading of each entry. It's part of a series that uses the complete text of printed dictionaries, adapted so that they sit on a corner of your screen while you're working.
It's designed for non-native English users, but the adaptation to computer has been so well thought out that native English speakers who want more than a spell checker will also find it useful. One good feature is that long entries have their own scroll button, so that you can read each entry without enlarging the dictionary screen or losing your place.
If you encounter a word in a definition you don't understand, you simply right click on it and jump to its definition; then a single click takes you back to the original entry. Bookmarks can be used for more complex cross-referencing.
Definitions can be transferred to the main screen via the clipboard or drag and drop, and text can also be imported into the dictionary where each word will automatically be defined. You can hear all headwords in standard English pronunciation at a single click. Learners can then practice their pronunciation, comparing it with the original.
There's also a system of entertaining and dynamic exercises which enables you to not only memorize the words you need, but also type them correctly. You can also monitor your progress and displayed with helpful graphics.
© Roy Johnson 2000

  Buy the CD at Amazon UK

  Buy the CD at Amazon US
---
Intense Language Office / Collins Talking Dictionary on CD-Rom; HarperCollins Publishers 1995 / Intense Educational Ltd 2002. ISBN: 1903397154
---
More on language
More on literary studies
More on writing skills
More on creative writing
More on grammar
---