dual-language talking dictionary
Don't be misled by the title of this program. It's is two dictionaries in one – a Spanish-English dictionary as well as English-Spanish. And it's very easy to switch between the two. The program installs effortlessly and takes up 44MB of hard disk space. In terms of sheer vocabulary there are over 80,000 words and phrases, and over 120,000 translations. The dictionary can be used with any other computer application to translate words and phrases, as well as for listening to the correct pronunciation of Spanish and English words.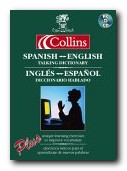 The dictionary word-base comes from the Collins paper dictionary, and you can easily add other dictionaries into the same basic program. There's a talk-through introduction explaining all these functions – done by a very fruity-voiced woman, who even started playing jazz piano part way through.
Each entry has a sound file attached giving the correct pronunciation. The sound files can either be run from the CD or copied permanently onto your hard drive. If the program reads the sound files off the CD, there's a teensy time-lag first time you click on a word, but after that each successive selection plays instantly.
The program can sit in a small window in the corner of your screen, so you can keep it open unobtrusively whilst working on another document. I liked the fact that you can locate a term easily, simply by typing the first few letters into a dialogue box.
You can also work with the dictionary in condensed or expanded mode – which means that less or more details are shown for each entry. And you can test your grasp of the language as you go along with either a shooting gallery exercise or a crossword.
The AudioPad feature gives you the chance to practise your speaking skills with the help of professionals. You compare your pronunciation with the expert speaker, and see the result in sound waves on screen.
There's a full HELP system which explains how to use and configure the program. It also lists keyboard shortcuts. Useful tips, answers to frequently asked questions, and database updates are available at the publisher's web site.
It recognises the importance of distinctions between European and Latin-American usages, and each definition comes with a sign as to whether it is used in Spain or in the Americas.
Who is it for? I would say beginners to intermediate, as well as professional and business users. I've been using it to brush up my restaurant-level Spanish skills, so that I can get closer to the goodies of Andalucian gastronomy. And it works.
© Roy Johnson 2004

  Buy the book at Amazon UK

  Buy the book at Amazon US
---
Collins Talking Spanish-English Dictionary, Intense Educational, 2004, CD-ROM
---
More on language
More on literary studies
More on writing skills
More on creative writing
More on grammar
---