biography, guidance notes, and critical essays
This complete critical guide to Jane Austen comes from a new series by Routledge which offers comprehensive but single-volume introductions to major English writers. They are aimed at students of literature, but are accessible to general readers who might like to deepen their understanding. The approach taken is quite straightforward. Part One is a potted biography of Austen, placing her life and work in a socio-historical context. This takes into account the role of women in the early nineteenth century; the position of a female author in the world of book publishing at the time; the social conventions surrounding women and marriage; and the sheer political fact that she was living at the time of the French revolution and war between Britain and France.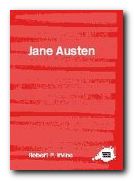 Part Two provides a synoptic view of Austen's six great novels – from Northanger Abbey to Persuasion. The works are described in outline, and then their main themes illuminated. This is followed by pointers towards the main critical writings on these texts and issues.
Part Three deals with criticism of Austen's work. This is presented in chronological order – from contemporaries such as Walter Scott to critics of the present day, with the focus on feminist and gender criticism, Marxist, and psychoanalytic criticism. Some of the readings Irvine outlines will be quite provocative and surprising to many readers – particularly those dealing with such issues as slavery in Mansfield Park and both sexual and homosexual readings of Sense and Sensibility.
The book ends with a commendably thorough bibliography which covers biography, criticism in books and articles, plus pointers towards specialist Austen journals. There is also a separate chapter which deals with Austen on screen. This discusses the controversial issue of Austen's work as it has been appropriated to project modern notions of English nationalism and the 'heritage industry'.
This will be an excellent starting point for students who are new to Austen's work – and a refresher course for those who would like to keep up to date with criticism. And it certainly is up to date – with references to publications only just over a year old at the time of publication.
© Roy Johnson 2005
---
Robert P. Irvine, The Complete Critical Guide to Jane Austen, Abingdon: Routledge, 2005, pp.190, ISBN 0415314356
---
More on literature
More on the novella
More on literary studies
More on short stories
---