essays on readability and layout in electronic writing
As the price of scalable fonts has dropped and the range available has increased recently, many people have developed an interest in typography. For those with the slightest interest in the appearance of the printed page, the flight from Courier 10 c.p.i. is understandable. Those of us who have gone to libraries to dig out the available literature may have been impressed by the craftsmanship in print production which has been traditionally maintained by printers, type designers, and bibliographists of all kinds.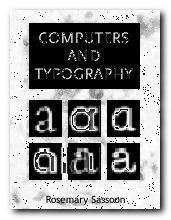 But many will have been disappointed that there is so little available which deals with the type design which is now possible in conjunction with computers. Rosemary Sassoon's book is one answer to this absence. She is a distinguished typographist, the creator of Sassoon Sans-Serif, a legible script for children's books. This is her assembly of a series of articles exploring the theoretical and practical relationships between computers and what is possible in modern typography.
There are sections on Text Massage (line and word spacing) and the effect of layout on readability; the creation of new alphabets in Latinate and non-Latinate languages using bitmapped fonts; a couple of items on the history of typography and its effects; a piece on the visual analysis of a page of text; and then perhaps the most convincing essay in the book – Sassoon's own essay on perception and type design related to writing for children.
This is a stimulating collection which I suspect will have an appeal for those interested in typography, book design, the new computer software, and the relationship between writing (and print layout) and our understanding of texts. There is a good index and each essay carries its own bibliography.
The message which emerges from a series of essays which are surprisingly varied both in length and written style is that we should learn from the good practices of our post-Gutenberg heritage – and we should not believe that access to a second-hand bundle of software will automatically make us layout artists.
As Alan Marshall argues in his cautionary essay on access to the new technology "So long as writing (in the full sense of the word, that is, spacing and layout as well as words and punctuation) is not taught at school and at university, most texts produced on micro-computers will never reach the standards necessary for the effective transmission of ideas or information from one person to another". Be warned.
© Roy Johnson 2002
Buy the book at Amazon UK
Buy the book at Amazon US
---
Rosemary Sassoon, Computers and Typography, Oxford: Intellect, 1993, pp.164, ISBN: 1871516234
---
More on typography
More on computers
More on technology
More on digital media
---