what was written and published between 1474 and 2000
What were people writing about as Michelangelo painted the ceiling of the Sistine Chapel, or whilst engineers built the first railways in the nineteenth century? This reference book Concise Chronology of English Literature lists the major and some minor works published in every year between 1474 and 2001. Each year in the chronology begins with a list of interesting events, births, and deaths. The later entries also include other cultural items such as films, television productions, and plays.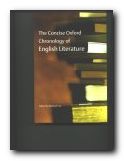 There's a big index which lists the authors and all their works listed by date – so you can either see an entry in its chronological context or look up its dating directly. It represents highbrow, middlebrow, and even lowbrow tastes, so the editors have tried to be egalitarian. So for instance, we learn that 1900 saw the birth of the Labour Party; the death of Ruskin, Nietzsche, and Oscar Wilde; and the publication of Elgar's The Dream of Gerontius, Joseph Conrad's Lord Jim, Bernard Shaw's Fabianism and the Empire, and H.G.Wells' Love and Mr Lewisham.
It was also the year which saw the first production of Chekhov's Uncle Vanya, the Boxer Uprising in China, and the publication of S.R. Crockett's The Stickit Minister's Wooing, and Other Galloway Stories – which I have to confess I have never heard of before, and I bet you haven't either.
Although the entries are short, there is an amazing amount of fine detail. For instance, here are two listings from 1756:
David Hume (1711-76)

The History of Great Britain [vol ii] NF Published 1756, dated 1757. Volume i published 1754 (q.v.) See also History of England 1759

Charlotte Lennox (1729? – 1804) (tr.) The Memoirs of the Countess of Berci F Anonymous. Adapted from L'Histoire tragi-comique de notre temps by Vital d'Audiguier (1569-1624)
The more recent entries – say from 2000 onwards read like a list of best-sellers in the weekend supplements. But then of course, who knows how many of these titles will stand the test of time. Will people still think Zadie Smith's White Teeth and Anita Brookner's The Bay of Angels summarised the turn of the century? I somehow doubt it.
On some items there is additional publishing history details which appeals to literary anoraks like me. For instance:
Joseph Conrad (1857-1924)

Youth F

Published on 13 November 1902. Contains 'Youth' (first published in Blackwood's Magazine, September 1898), 'The Heart of Darkness' (first published in Blackwood's Magazine, February 1898), and 'The End of the Tether' (first published in Blackwood's Magazine, July-December 1902).
This is useful information for researchers, historians, and detail specialists. All of which might all sound dry as dust – but the strange thing is that I imagine that this will stay at the front of my desktop bookshelf as a useful resource.

  Buy the book at Amazon UK

  Buy the book at Amazon US
© Roy Johnson 2005
---
Michael Cox (ed), The Concise Oxford Chronology of English Literature, Oxford: Oxford University Press, 2nd revised edition 2005, pp.844, ISBN: 0198610548
---
More on literature
More on the novella
More on literary studies
More on short stories
---