best-selling one-volume desktop reference
Choosing a dictionary can be very much a matter of personal taste, but the Concise Oxford Dictionary has several features which have always made it a great favourite with writers. It is based upon the monumental Oxford English Dictionary and its latest supplements, which gives it a very good pedigree. At a practical level, it's perfect for the desktop and easy to handle. I always reach for this one first. For the latest edition, Oxford's lexicographers have rewritten every entry to represent English as it is used today.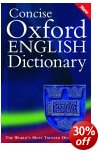 There are over 240,000 words, phrases and meanings covering current and historical English, and specialist and technical areas. Each entry is now clearer and more accessible, with the most modern meanings placed first, and definitions given in a clear and straightforward style. Authoritative guidance on grammar and usage is provided in highlighted boxes, and there are also new Word Formation panels that show how complex words are created.
Full explanations of pronunciation, inflexion, and historical derivation are offered in a systematic manner, and the latest edition also includes a wide range of abbreviations. The Concise Oxford was first published one hundred years ago, and this centenary edition continues the tradition of providing an authoritative coverage of English as it is used today.
Another welcome feature (added as a result of reader-demand) is guidance on matters of disputed and controversial usage. Now you can be warned about that possible non-PC faux-pas (both included) – and it also shows the differences for spellings in American English.
I've actually got two copies: one old and battered with use which has been on the bookshelf for years; the other a recent edition which was a present to my office when I moved here.
The critic Cyril Connolly once said that if you knew all the words in the Oxford Concise, you would have a big enough vocabulary to be civilized, fluent, and literate. The jacket-cover advert isn't exaggerating when it says "The world's favourite". If you only have room for a single dictionary, it should be this one.
© Roy Johnson 2011

  Buy the book at Amazon UK

  Buy the book at Amazon US
---
Concise Oxford English Dictionary (12th updated edn) 2011, Oxford: Oxford University Press, pp.1728, ISBN: 0199601089
---
More on dictionaries
More on language
More on literary studies
More on grammar
---