tutorial, commentary, study resources, and web links
Confession first appeared in Edith Wharton's collection of stories The World Over, which was published in 1936. It is based upon a famous (and scandalous) incident from 1892 which Edith Wharton had used for the basis of a stage play which she never completed.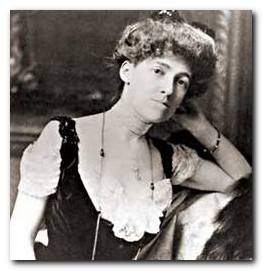 Edith Wharton
---
Confession – critical comments
Murder mystery
The puzzle to this story is explained by the fact that nowhere is the truth of the situation made explicit. Everything is revealed via inference and small details which add up to the fact that Kate has killed her father. The trial jury concluded that Ezra Spain was killed by 'a passing tramp' and his daughter Kate has been acquitted of any involvement in the crime on the strength of the evidence of the household servant Cassie Donovan who testified that they were both elsewhere at the time of the murder. As Jimmy Shreve points out to Severance in his exposition of the facts:
Cassie was the servant girl's name, sure enough … It was her evidence that got Kate Spain off. But at the trial she was a thin haggard Irish girl in dirty calico
But she has become larger and coarsened through over-indulgence, and like Kate she has changed her name – from Donovan to Willpert. Cassie has complete control over Kate, who does whatever her socially subservient travelling companion decides.
Kate also provides Cassie with an allowance, and in earlier attempts to free herself from the dominance of her companion she has offered to give her a house and double her allowance – offers which were refused.
Because Miss Willpert is such an unappetizing figure (especially in the eyes of the first person narrator Severance) superficial suspicion is cast over her as the villain whom Kate Ingram has agreed to protect.
But in fact the truth is the other way round. Cassie Donovan has provided an alibi for Kate Spain, who is guilty of the murder. In return for this favour Kate is forever beholden to her former domestic servant. This explains her inability to act in her own interest. Kate is not free to do anything – because Cassie has the evidence which could reveal her guilt.
That evidence is information she carries within herself, and it is encapsulated in the written document Cassie is about to produce from her handbag when she has her stroke. Following her death, that evidence is rescued from the police by Severance's vigilance and is passed over to Kate.
Severance guesses that the envelope contains information about the trial, but he assumes that Kate has concealed evidence to shield someone else (that person most likely being Cassie Willpert). He does not suspect Kate herself, and thus he remains 'innocent and slightly naive' until the end..
Lizze Borden
This story has strong echoes of the Lizze Borden trial – a case which shocked America (and the world) in 1892. Lizzie was tried for killing her wealthy but tyrannical and tight-fisted father and her stepmother with an axe, but acquitted because of conflicts and lacunae in the evidence.
The trial caused a sensation which was intensified by extensive coverage in newspapers. And even though she was acquitted, Lizzie was ostracised by the public ever afterwards. Edith Wharton not only knew about the famous Lizzie Borden case, she started writing a play about it, called Kate Price but never finished it.
The case is remembered in American folk memory by the anonymous rhyme:
Lizzie Borden took an axe
And gave her mother forty whacks.
When she saw what she had done
She gave her father forty-one.
Setting
The story begins in a hotel situated in Mont Soleil in the Engadine, southwest Switzerland. When the two women leave for Italy, Severance follows them to Orta in the Italian lakes.
---
Confession – study resources

Confession – Capuchin Classics – Amazon UK

Confession – Capuchin Classics – Amazon US

The New York Stories – New York Review Books – Amazon UK

The New York Stories – New York Review Books – Amazon US

Edith Wharton Collected Stories – Norton Critical – Amazon UK

Edith Wharton Collected Stories – Norton Critical – Amazon US

Confession – eBook formats at Project Gutenberg

A Historical Guide to Edith Wharton – Amazon UK

The Cambridge Introduction to Edith Wharton – Amazon UK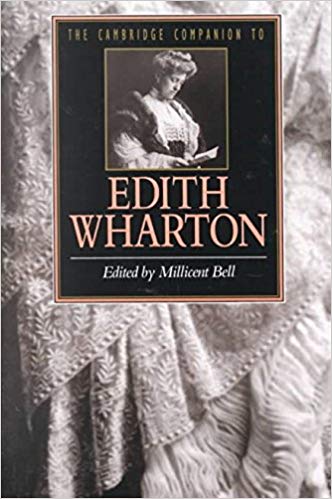 ---
Confession – plot summary
Severance, a somewhat naive and imperceptive New York banker is convalescing in a Swiss hotel when he encounters a mysterious woman with whom he very rapidly falls in love. She is Mrs Kate Ingram, and is closely protected by a brusque and masculine travelling companion Cassie Willpert, who takes a dislike to Severance. Jimmy Shreve, a journalist friend of Severance arrives at the hotel and claims that Mrs Ingram is in fact Kate Spain, a woman who has been acquitted in a trial for the murder of her rich and tyrannical father. Severance does not believe this story.
He tries hard to express his interest in Mrs Ingram and to learn more about her, but is repeatedly thwarted by Miss Willpert. Mrs Ingram finally hints that she will reveal more about herself the next day. But when Severance presents himself he learns that the two women have left the hotel for Italy.
He follows Mrs Ingram to a shabby pension on Lake Orta in Italy where she confesses to him that she is Kate Spain, and has travelled to escape the opprobrium attached to her name. Severance makes an offer of marriage, but she says that Cassie Willpert will never agree to it. They agree to meet her the next day to seek a resolution.
But next morning Cassie Willpert confronts Severance in his room. She tells him that Kate Spain cannot marry him or anyone else. She then tries to bribe him to leave, and when he refuses she threatens to reveal something that will shock him into submission. She is about to produce the evidence when she has a stroke.
In fact she dies shortly afterwards without revealing anything. Severance presses his offer of marriage again, whereupon Mrs Ingram produces an envelope belonging to Miss Willpert and insists that Severance read it. He accepts the envelope, insists he will not read it, but promises not to destroy it.
Severance assumes that the contents of the envelope have some bearing on the death of Kate's father, and he assumes that she is protecting someone – the overt implication being that this person is Miss Willpert. But since she is now dead, all objections to the marriage are removed. They do finally marry, but Mrs Ingram dies five years later, whereupon Severance burns the envelope.
---
Principal characters
| | |
| --- | --- |
| Severance | the first person narrator, a New York banker |
| Mrs Kate Ingram | the dark mysterious lady |
| Miss Crissie Willpert | her travelling companion |
| Antoine | the head waiter |
| Mr Jimmy Shreve | journalist on the New York Evening Star |
---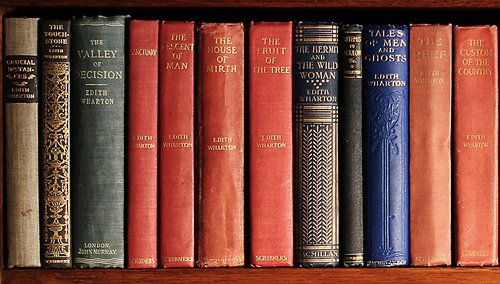 Edith Wharton's publications
---
Further reading
Louis Auchincloss, Edith Wharton: A Woman of her Time, New York: Viking, 1971,
Elizabeth Ammons, Edith Wharton's Argument with America, Georgia: University of Georgia Press, 1982, pp.222. ISBN: 0820305138
Janet Beer, Edith Wharton (Writers & Their Work), New York: Northcote House, 2001, pp.99, ISBN: 0746308981
Millicent Bell (ed), The Cambridge Companion to Edith Wharton, Cambridge: Cambridge University Press, 1995, pp.232, ISBN: 0521485134
Alfred Bendixen and Annette Zilversmit (eds), Edith Wharton: New Critical Essays, New York: Garland, 1992, pp.329, ISBN: 0824078489
Eleanor Dwight, Edith Wharton: An Extraordinary Life, New York: Harry N. Abrams, 1994, ISBN: 0810927950
Gloria C. Erlich, The Sexual Education of Edith Wharton, California: University of California Press, 1992, pp.223, ISBN: 0520075838
Susan Goodman, Edith Wharton's Women: Friends and Rivals, UPNE, 1990, pp.220, ISBN: 0874515246
Irving Howe, (ed), Edith Wharton: A collection of Critical Essays, London: University of North Carolina Press, 1986,
Jennie A. Kassanoff, Edith Wharton and the Politics of Race, Cambridge: Cambridge University Press, 2004, pp.240, ISBN: 0521830893
Hermione Lee, Edith Wharton, London: Vintage, new edition 2008, pp.864, ISBN: 0099763516
R.W.B. Lewis, Edith Wharton: A Biography, New York: Harper and Rowe, 1975, pp.592, ISBN: 0880640200
James W. Tuttleton (ed), Edith Wharton: The Contemporary Reviews, Cambridge: Cambridge University Press, 1992, pp.586, ISBN: 0521383196
Candace Waid, Edith Wharton's Letters from the Underworld, London: University of North Carolina Press, 1991,
Sarah Bird Wright, Edith Wharton A to Z: The Essential Reference to Her Life and Work, Fact on File, 1998, pp.352, ISBN: 0816034818
Cynthia Griffin Wolff, A Feast of Words: The Triumph of Edith Wharton, New York: Perseus Books, second edition 1994, pp.512, ISBN: 0201409186
---
Other works by Edith Wharton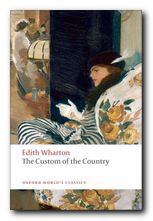 The Custom of the Country (1913) is Edith Wharton's satiric anatomy of American society in the first decade of the twentieth century. It follows the career of Undine Spragg, recently arrived in New York from the midwest and determined to conquer high society. Glamorous, selfish, mercenary and manipulative, her principal assets are her striking beauty, her tenacity, and her father's money. With her sights set on an advantageous marriage, Undine pursues her schemes in a world of shifting values, where triumph is swiftly followed by disillusion. This is a study of modern ambition and materialism written a hundred years before its time.


Buy the book from Amazon UK


Buy the book from Amazon US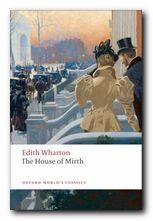 The House of Mirth (1905) is the story of Lily Bart, who is beautiful, poor, and still unmarried at twenty-nine. In her search for a husband with money and position she betrays her own heart and sows the seeds of the tragedy that finally overwhelms her. The book is a disturbing analysis of the stifling limitations imposed upon women of Wharton's generation. In telling the story of Lily Bart, who must marry to survive, Wharton recasts the age-old themes of family, marriage, and money in ways that transform the traditional novel of manners into an arresting modern document of cultural anthropology.


Buy the book from Amazon UK


Buy the book from Amazon US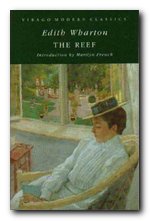 The Reef deals with three topics with which Edith Wharton herself was intimately acquainted at the period of its composition – unhappy marriage, divorce, and the discovery of sensual pleasures. The setting is a country chateau in France where diplomat George Darrow has arrived from America, hoping to marry the beautiful widow Anna Leith. But a young woman employed as governess to Anna's daughter proves to be someone he met briefly in the past and has fallen in love with him. She also becomes engaged to Anna's stepson. The result is a quadrangle of tensions and suspicions about who knows what about whom. And the outcome is not what you might imagine.


Buy the book from Amazon UK


Buy the book from Amazon US
---
Edith Wharton – web links

Edith Wharton at Mantex
Biographical notes, study guides to the major novels, tutorials on the shorter fiction, bibliographies, critiques of the shorter fiction, and web links.

The Short Stories of Edith Wharton
This is an old-fashioned but excellently detailed site listing the publication details of all Edith Wharton's eighty-six short stories – with links to digital versions available free on line.

Edith Wharton at Gutenberg
Free eTexts of the major novels and collections of stories in a variety of digital formats – also includes travel writing and interior design.

Edith Wharton at Wikipedia
Full details of novels, stories, and travel writing, adaptations for television and the cinema, plus web links to related sites.

The Edith Wharton Society
Old but comprehensive collection of free eTexts of the major novels, stories, and travel writing, linking archives at University of Virginia and Washington State University.

The Mount: Edith Wharton's Home
Aggressively commercial site devoted to exploiting The Mount – the house and estate designed by Edith Wharton. Plan your wedding reception here.

Edith Wharton at Fantastic Fiction
A compilation which purports to be a complete bibliography, arranged as novels, collections, non-fiction, anthologies, short stories, letters, and commentaries – but is largely links to book-selling sites, which however contain some hidden gems.

Wharton's manuscripts
Archive of Wharton holdings at the Beinecke Rare Book and Manuscript Library
© Roy Johnson 2012
---
Edith Wharton – short stories
More on Edith Wharton
More on short stories
---