a guide to Conrad's classic critique of imperialism
Joseph Conrad retired from the sea and started writing romantic adventure stories. His first works were popular but light, but then in 1899 he produced a novella which struck such dark tones and offered a reading of European imperialism so profound, that it still strikes deep resonances today. Heart of Darkness, which is aimed at students and general readers who might wish to extend their understanding of Conrad and what he has to offer. The first chapter puts Conrad into historical, intellectual, cultural, and literary context. He was of the nineteenth century, but he signalled many of the concerns and even the literary techniques of twentieth century modernism. And of course, even though he is now regarded as a pillar stone of English Literature, he was Polish.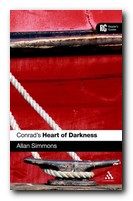 This is a study guide to that work, Allan Simmons then takes you straight into an analysis of the story via his consideration of Conrad's use of English (which was his third language) his narrator Marlow, and his use of the novella as a literary form. A level students and undergraduates will find his analyses of the details thought-provoking – and the process should lead them towards the complexities of investigation they might be making on their own behalf. At the same time, anyone teaching the novella will find his approach useful.
The central part of the book is a reading of the novella, tracing the narrator Marlow's journey from Europe, into the 'dark continent', and back out again – an ambiguously changed man. Simmons traces all the subtle allusions, symbols, and thematic parallels in the narrative.
Despite the ultimate pointlessness of comparing fiction with what might have been its real life inspiration, I think a map of the Congo would have been useful here.
In the two final chapters Simmons traces Conrad's reputation as a writer from the publication of Heart of Darkness to the present, then he looks at the adaptations – nearly ninety films and even a piano concerto.
There is still interpretive work to be done on many aspects of Conrad – not least his attitude to women – but studies such as this help to provide the means whereby this work will be done.
© Roy Johnson 2007
---
Allan Simmons, Conrad's Heart of Darkness, London: Continuum, 2007, pp.132, ISBN: 0826489346
---
More on Joseph Conrad
Twentieth century literature
More on Joseph Conrad tales
---