Sharing headlines and information using XML
Content syndication means making headlines and information from one web site available for distribution to any others that want it. This is done technically by using RSS, which stands for RDF Site Summary, Rich Site Summary, or Really Simple Syndication. If you need to go all the way, RDF stands for Resource Description Framework. Ben Hammersley first of all explains the separate standards which have arisen, taking them in chronological order.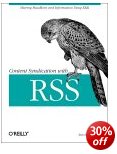 Then he describes the software which has been written both to generate RSS feeds, and to receive and read them on screen. There's also a short XML tutorial, as well as a list of useful sites and resources. Unfortunately there are two camps of competing standards, each with two current versions – rather like the early days of the browser wars.
Fortunately he covers them all in his description of how to use RSS and what it does. The separate standards are complex in their differences, and he obviously belongs to one of the rival camps promoting them; but he is even handed in his treatment, and gives them all comprehensive coverage.
Much of the book is rather technical, with pages full of coding; but anyone familiar with HTML or XML will feel pretty much at home.
He gives fully written out examples of pages in each of the standards. As in strict XML, there is a complete separation of style and content. This is because the recipient might be reading the news feed as part of a blog, on on a PDA, or even as a text message.
RSS is sprouting all over the Web at the moment. Wherever you see one of the small buttons saying "News Feed" or "XML Feed", you have the ability to receive information from that site. And of course it's all free.
This publication is aimed at web developers and web site authors who want to share their site with others by offering RSS-based feeds of their content. It's also for developers who want to use the content that other people are syndicating. As usual with O'Reilly publications, the presentation is impeccable.
© Roy Johnson 2003

  Buy the book at Amazon UK

  Buy the book at Amazon US
---
Ben Hammersley, Content Syndication with RSS, Sebastopol, CA: O'Reilly, 2003, pp.208, ISBN: 0596003838
---
More on technology
More on digital media
More on online learning
More on computers
---