tutorial, commentary, study resources, web links
Cousin Bette (1846) is often regarded as the greatest of Balzac's many novels and stories. It is an action-packed story that deals with all his favourite themes – financial greed, sexual desire, and the drive for social status – plus some spectacular examples of successful and failed revenge. The setting is upper-class society in Paris, most of whose inhabitants are ruthless social climbers, wallowing in financial corruption, adultery, and a world of polite hypocrisy.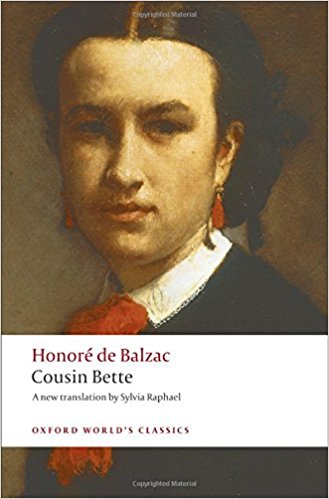 ---
Cousin Bette – background
La Cousine Bette (full French title) was first published as a serial in La Constitutionnel in 1846. This was a newspaper featuring commerce, politics, and literature. In 1847 the novel appeared in book format, published by Chlendowski. A year later it appeared as Volume XVII in the definitive Furne edition of Balzac's collected works, given the title La Comedie Humaine.
The novel began life as a long story called Le Parasite (an ironic reference to Bette's role in the family) and from the start it was seen as a companion novel to Cousin Pons which appeared the following year. Balzac wrote the whole of Cousin Bette in only two months – an astonishing rate of literary production, even by his normal standards.
In fact he abandoned his usual practice of editing his work on printers' proof copy. Instead he sent his instalments directly to the newspaper editor. He never saw his work until it was published, and he had to write feverishly in order to stay ahead of the daily instalments. These are still available at Le Constitutionnel online archives (in the original French). See entries for 8 October to 3 December 1846.
It is worth noting that his original text was split into short scenes, each of which was given a descriptive and sometimes ironic title ('A third father for the Marneffe child'). These titles were removed in later editions in order to save space – but they make the novel much easier to read, and offer an additional level of entertainment.
---
Cousin Bette – commentary
Sex and money
It is quite clear from this novel that Balzac sees the principal forces driving his characters as their desire for sex and money, quite apart from their social climbing and a taste for sumptuous living. The main character Hulot is an example of sexual obsession, who ruins his family in his pursuit of courtesans and young girls. His counterpart Valerie Marneffe uses her sexual allure to achieve a rich and comfortable life in the upper echelons of society. The two items – sex and money – are often directly related.
But it is interesting to note the differences in the ways these two topics are treated Whilst there is no shortage of desperation, dramatic irony, and social ruin into which characters are prepared to put themselves in their pursuit of sex – the female characters passively and the males actively – there is remarkably little explicit mention of any sexual activity.
This can be explained by the literary conventions of the period. It would simply not have been possible to publish descriptions of explicit sex in the early nineteenth century – either in France or any other European country. In fact novels produced in France were considered dangerously racy for even hinting at sexual desire.
Yet the reverse is true of the financial connections that dominate the characters' lives. Everybody seems to be aware to the last Franc how much people are worth, how much they spend on their homes, how much it costs to maintain a mistress or furnish an apartment, and how big some daughter's dowry will be.
Characters such as Crevel and Hulot offer quite clearly defined sums of money in return for sexual favours from their mistresses – sometimes in the form of regular incomes. Crevel offers to pay a specific dowry for Adeline's daughter Hortense if Adeline will become his lover. When she refuses, his similar offer to Valerie Marneffe makes even clearer the business-like nexus between cash and sex:
Be all mine. You won't regret it. To start with, I'll give you a share certificate with eight thousand Francs a year, but as an annuity. I won't give you the capital until you've been faithful to me for five years.
The separation of sexual desire from conventional marriage might strike many readers as rather surprising, if not shocking. But there are legal and socially structural reasons why this was prevalent. For an explanation of the French establishment of the Napoleonic Code and its effects on marriage and inheritance, see my comments on Balzac's earlier and equally powerful novel Old Goriot (1834).
Baron Hulot
From the opening of the novel until its very last sentence, Baron Hulot is obsessed by his pursuit of sex. He disgraces and ruins his family by his behaviour, he spends (squanders) thousands and thousands of Francs on keeping one mistress after another, and he neglects his saintly wife who dies with shock when she overhears him propositioning a kitchen maid when he is eighty years old: 'My wife hasn't got long to live, and if you like you can be a baroness'. For good measure, he is also guilty of embezzlement. He sets up a fraudulent operation in government military supplies to Algeria, and when the crime is exposed his elder brother has to repay the debt in order to save the honour of the family.
Valerie Marneffe
Hulot spends much of the novel in thrall to the young and attractive Madame Marneffe, until he is displaced by Crevel – who has more money. She is adept at sustaining multiple simultaneous relationships, extracting money from her admirers, and living in luxury at secret locations. Even though she is married to the seedy clerk Marneffe, she counts Hulot, Crevel, Steinbock, and Montes amongst her lovers. When she becomes pregnant she manages to persuade all five men that they are the father of her child. Her success appears unstoppable, until she and Crevel are poisoned by the jealous Montes – both of them dying in a gruesome and lingering manner.
Cousin Bette
Bette is the 'poor relation' of the novel. She is a cousin of the Hulot family, and bitterly resents their patronising attitude to her. She is motivated entirely by revenge – in a series of psychologically complex manoeuvres. First she takes Steinbock under what is supposed to be her maternal wing; but she is intensely jealous when he marries Hortense and becomes a member of the family. She allies herself with Valerie Marneffe in order to extract money from the Hulots, and she gradually becomes obsessed with the idea of marrying Hulot's elder brother and being a countess. But none of her schemes are successful, and she dies of tuberculosis, taking her secret hatred of the family to her grave.
---
Cousin Bette – study resources
Cousin Bette – Penguin Classics – Amazon UK
Cousin Bette – Penguin Classics – Amazon US
Cousin Bette – Oxford Classics – Amazon UK
Cousin Bette – Oxford Classics – Amazon US
Cousin Bette – Everyman – Amazon UK
Cousin Bette – Everyman – Amazon US
---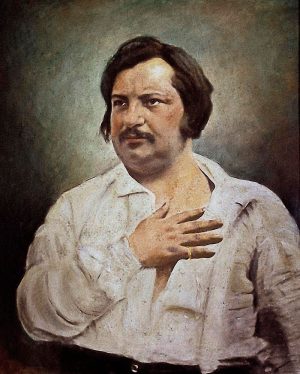 Honore de Balzac
---
Cousin Bette – plot summary
Monsieur Crevel calls on Adeline Hulot to pay court to her. He reveals his illicit relationship with the singer Josepha, whom Adeline's husband Hector Hulot stole to be his own mistress. Crevel predicts that Hulot will ruin himself with expenditure on women, and he offers to supply a dowry for Adeline's daughter Hortense in exchange for her 'favours' as a lover. She flatly refuses his proposal.
Cousin Bette is a 'family parasite' who remains stubbornly unfashionable. She secretly has under her protection Count Steinbock, a young sculptor, but as his patroness, not his lover. She files legal papers to record the financial support she has given him.
Josepha leaves Hulot for a much richer man. Adeline consoles her husband for this loss, and he promptly takes up with Madame Marneffe. Their daughter Hortense meets Steinbock, who immediately falls in love with her. Hulot promotes Steinbock, who immediately rises to fashionable success.
Mme Marneffe reveals the relationship between Steinbock and Hortense to Bette, who is furious. The two scheming women become accomplices. Bette vows to avenge herself on Steinbock and the Hulots. Crevel seeks revenge on Hulot as a sexual rival.
Bette has Steinbock arrested for debt so that he cannot marry Hortense, but he is released the same day. Hulot engages in fraudulent business deals to fund his daughter's marriage and his own expenses in keeping a mistress. He moves his wife into a smaller apartment to save money.
Crevel is envious of Hulot's possession of Mme Marneffe. Bette accumulates money from Crevel and Hulot, both of whom think she is working on their behalf. She also ingratiates herself with Adeline. Hulot incurs further debts which the family cannot meet. Bette schemes to marry into the family as an act of revenge.
Tbe young Brazilian Montes suddenly appears as Mme Marneffe's youngest lover. She hides him in her bedroom whilst Hulot rages jealously about Crevel. Valerie then tricks Crevel into deposing Hulot as her 'protector'. Crevel reveals his hidden love nest to Hulot and pretends that they are both better off without her. Next day they all meet at Valerie's where she is deciding between Crevel and Montes as her 'protector'.
Steinbock's reputation declines and he lives extravagantly. Bette persuades him to borrow money from Mme Marneffe Steinbock flirts with Valerie and asks her to pose for a sculpture. He lies to his wife Hortense, and they quarrel, but are reconciled by Adeline. Valerie becomes pregnant with Hulot's child.
Hortense leaves Steinbock and goes to live with her mother. Montes, Crevel, Hulot, and Steinbock all believe they are the father of Valerie's child – and Monsieur Marneffe pretends to be. Hulot's fraud in Algeria is uncovered. He continues to meet Valerie Marneffe in Crevel's love nest, until there is suddenly a police raid. This is exposed as a trap set by Mme Marneffe herself. The official report of Hulot's Algerian fraud is silently quashed by his young boss as a favour.
But Hulot must find money to cover up the Algerian swindle. His wife Adeline offers herself to Crevel in exchange for the money. Crevel turns her down – but is touched by her piety and offers to lend her the money.
Hulot's brother pays the missing Algerian money in order to protect the family's good name – but he then dies. Adeline seeks to 'rescue' her husband morally, but he runs away and hides in secret, pursued by debtors.
He visits Josepha, who sets him up in an embroidery shop with money and a sixteen year old mistress. Valentin Hulot and his mother Adeline are also given money and jobs. Valerie Marneffe bears a stillborn child, and her husband dies.
Adeline visits Josepha where they both learn that Hulot's embroidery business has gone into debt and he has run off with another young girl. Josepha promises to help her find Hulot. Bette finds Hulot and lends him money to set up another business with the girl.
At a courtesan's dinner party it is revealed to Baron Montes that Valerie Marneffe is about to marry Crevel and has Steinbock as a lover. Crevel vows to kill her, but even when confronted in the love nest with Steinbock, she bluffs her way out
Crevel and Valerie Marneffe both become infected with the deadly disease Montes has threatened to use as a revenge. They both die, leaving money to the Hulots.
Adeline meets the fifteen year old Atila who is living with Hulot in hiding. She takes her husband back home, and the whole family is re-united. Cousin Bette dies, along with her secret hatred of the family. Adeline discovers Hulot seducing the young kitchen maid and dies of shock, after which Hulot, now eighty years old, marries the maid.
---
Cousin Bette – principal characters
| | |
| --- | --- |
| Baron Hulot | a 60 year old rake, ex-army administrator |
| Count Hulot | his honourable older brother |
| Adeline Hulot | the Baron's attractive and saintly forgiving wife (48) |
| Hortense Hulot | their daughter, who marries Steinbock |
| Victorin Hulot | the son, who becomes a successful lawyer |
| Lizbeth Fischer | their cousin, an old maid at 41 |
| Celestin Crevel | a wealthy rake, mayor in Paris, former perfumier |
| Celestine Crevel | his daughter, married to Victorin Hulot |
| Josepha (Mirah) | young Jewish singer, mistress to Crevel and Hulot |
| Valerie Marneffe | young and attractive, with multiple lovers |
| Jean-Paul Marneffe | her seedy and depraved husband |
| Wenceslas Steinbock | a young Polish count and sculptor |
| Baron Montes de Montejanos | a rich Brazilian, lover to Valerie Marneffe |
© Roy Johnson 2017
---
More on literature
More on the novella
More on literary studies
More on short stories
---