tutorial, study resources, video, further reading
Death in Venice (1913) is a classic novella – half way between a long story and a short novel. It's a wonderfully condensed tale of the relationship between art and life, as well as love and death. Venice provides the background for the story of a famous writer Von Aschenbach who departs from his usual routines, falls in love with a beautiful young boy, and gets caught up in a subtle downward spiral of indulgence. The unity of themes, form, and motifs are superbly realised – even though Mann wrote this when he was quite young.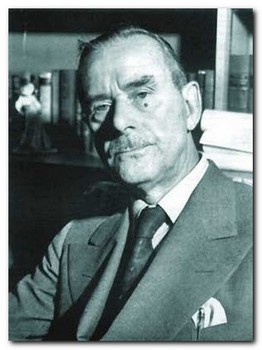 Thomas Mann
---
Death in Venice – plot summary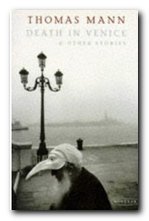 Gustav von Aschenbach is a famous author in his early fifties. He is a widower, dedicated to his art, and disciplined to the point of severity. While strolling outside a cemetery in his native Munich he has a disturbing encounter with a red-haired man, after which he resolves to take a trip. He reserves a suite in the Grand Hôtel des Bains on the Lido island of Venice. While en route to the island by vaporetto, he sees an elderly man with a wig, false teeth, makeup, and foppish attire, which disgusts him. Soon afterwards he has a disturbing encounter with a gondolier.
At dinner in his hotel he sees an aristocratic Polish family at a nearby table. Among them is an adolescent boy in a sailor suit. Aschenbach is startled to realize that the boy is beautiful. His sisters, however, are so severely dressed that they look like nuns.
The hot, humid weather of Venice begins to affect Aschenbach's health, and he decides to leave early and move to a more salubrious location. On the morning of his departure however, he sees Tadzio again, and a powerful feeling of regret sweeps over him. When he reaches the railway station he discovers his trunk has been misdirected. Secretly overjoyed; he decides to remain in Venice and wait for his lost luggage. He returns to the hotel, and thinks no more of leaving.
Over the next days and weeks, Aschenbach's interest in the beautiful boy develops into an obsession. He watches him constantly, and secretly follows him around Venice. One evening, the boy directs a charming smile at him. Disconcerted, Aschenbach rushes outside, and in the empty garden whispers aloud, "I love you!"
Aschenbach next takes a trip into the city of Venice, where he sees a few discreetly worded notices from the Health Department warning of an unspecified contagion and advising people to avoid eating shellfish. He smells an unfamiliar strong odour everywhere, and later realises it is disinfectant. However, tourists continue to wander round the city, apparently oblivious.
Aschenbach at first ignores the danger because it somehow pleases him to think that the city's disease is akin to his own hidden, corrupting passion for the boy. During this period, another red-haired, disreputable-looking man crosses Aschenbach's path – a street singer who entertains at the hotel one night. Aschenbach listens entranced to songs that, in his former life, he would have despised – all the while stealing glances at Tadzio, who is leaning on a nearby parapet in a classically beautiful pose.
Aschenbach decides to uncover the reason for the health notices posted in the city so he can warn Tadzio's mother. After being repeatedly assured that the sirocco is the only health risk, he finds a British travel agent who reluctantly admits that there is a serious cholera epidemic in Venice. Aschenbach, however, funks his resolution to warn the Polish family, knowing that if he does, Tadzio will leave the hotel and be lost to him.
One night, a dream filled with orgiastic imagery reveals to him the sexual nature of his feelings for Tadzio. Afterwards, he begins staring at the boy so openly and following him so persistently that the boy's guardians finally notice, and take to warning Tadzio whenever he approaches too closely. But Aschenbach's feelings, though passionately intense, remain unvoiced; and while there is some indication that Tadzio is aware of his admiration, the two exchange nothing more than the occasional glance.
Aschenbach begins to fret about his aging face and body. In an attempt to look more attractive, he visits the hotel's barber shop almost daily, where the barber eventually persuades him to have his hair dyed and his face painted to look more youthful. Freshly dyed and rouged, he again shadows Tadzio through Venice in the oppressive heat. He loses sight of the boy in the heart of the city; then, exhausted and thirsty, he buys and eats some over-ripe strawberries and rests in an abandoned square, contemplating the Platonic ideal of beauty amidst the ruins of his own once-formidable dignity.
A few days later Aschenbach feels ill and weak, and discovers that the Polish family plan to leave after lunch. He goes down to the beach to his usual deck chair. Tadzio is there accompanied by an older boy. Tadzio leaves his companion and wades over to Aschenbach's part of the beach, where he stands for a moment looking out to sea; then turns around to look at his admirer. To Aschenbach, it is as if the boy is beckoning to him: he tries to rise and follow, only to collapse back into his chair. His body is discovered a few minutes later. When news of his death becomes public, the world decorously mourns the passing of a great artist.
---
Death in Venice – study resources

Death in Venice – Vintage Classics – Amazon UK

Death in Venice – Vintage Classics – Amazon US

Death in Venice – Kindle eBook edition – Amazon UK

Thomas Mann – biographical notes

Der Tod in Venedig – eBook (in German) at Project Gutenberg – [FREE]

The novella – study notes

The Cambridge Companion to Thomas Mann – Amazon UK

Death in Venice – the 1971 Luchino Visconti film – Amazon UK

Death in Venice – unabridged audioBook edition – Amazon UK

Thomas Mann at Wikipedia – biographical notes and web links

Thomas Mann at Mantex – tutorials, web links, and study resources
---
Death in Venice – film adaptation – I
Luchino Visconti – 1971
Visconti produced a visually glamorous version of Mann's novella which captures the original very faithfully. Shimmering scenes of the Venice lido are interspersed with menacing glimpses of the impending plague. The film is famous for two features – the spectacular use of a slowed-down version of the adagietto from Mahler's fifth symphony as a sound track, and the outstanding performance of Dirk Bogard as the ageing Gustav von Aschenbach – one of his last and greatest screen performances. Visconti takes the liberty of transforming Aschenbach from a writer into a composer, but the film as a whole is a visually spectacular rendering of the original story.

See reviews of the film at the Internet Movie Database
---

Mont Blanc – Thomas Mann special edition
---
Further reading

Gilbert Adair, The Real Tadzio: Thomas Mann's Death in Venice and the Boy who Inspired it, Carrol and Graf, 2003.

James Hardin, Understanding Thomas Mann, University of South Carolina Press, 2004.

Anthony Hielbut, Thomas Mann: Eros and Literature, Papermac, 1997.

Herbert Lehnert (ed), A Companion to the Works of Thomas Mann, Camden House, 2009.

Georg Lukacs, Essays on Thomas Mann, The Merlin Press, 1979.

Donald Prater, Thomas Mann: A Life, Oxford University Press, 1995.

Ritchie Robertson, The Cambridge Companion to Thomas Mann, Cambridge University Press, 2001.

Richard Winston, Thomas Mann: The Making of an Artist, 1875-1911, Peter Bedrick Books, 1990.
---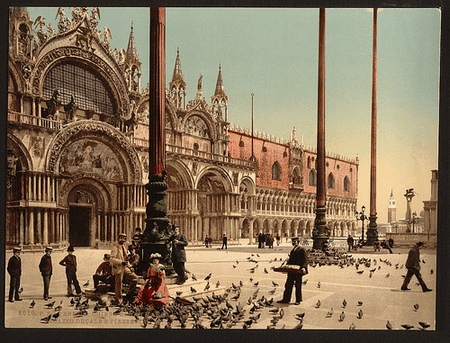 Old Venice – St Mark's Square
---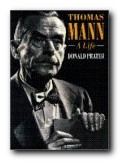 Thomas Mann: a life This exploration of Thomas Mann's life by Donald Prater describes his relationship of intense rivalry with his brother Heinrich, who was also a novelist, his (much-concealed) homosexuality, his career as a prolific essayist, and the vast achievement of his novels. Particular attention is paid to Mann's opposition to Nazism, and his role in the rise and fall of Hitlerism. It traces Mann's political development from the nationalistic conservatism of his younger days, to the humanistic anti-Nazim of his maturity.  

Buy the book here
---
Opera adaptation
Benjamin Britten 1973
---
Classical references
| | |
| --- | --- |
| Achelous | chief river deity |
| Cephalus | one of the lovers of the dawn goddess Eos |
| Cleitos | officer of Alexander the Great |
| Elisium | final resting places of the souls of the heroic and the virtuous |
| Eros | the primordial god of sexual love and beauty |
| Hades | the ancient Greek underworld, and its God |
| Hyacinthus | a beautiful young man admired by the god Apollo and the West Wind, Zephyr |
| Kritobulous | son of Crito, who was friend of Socrates |
| Mercury | a messenger, and god of trade, profit and commerce |
| Narcissus | a beautiful youth, changed by Echo into a flower |
| Orion | a giant huntsman |
| Phaeax | son of Poseidon and Cercyra |
| Phaedrus | a friend of Socrates |
| Poseidon | god of the sea – and earthquakes |
| Zephyr | god of the west wind |
---
Other works by Thomas Mann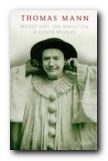 Mario and the Magician
Using settings as varied as Germany, Italy, the Holy Land and the Far East, these stories explore a theme which always preoccupied Thomas Mann – "the two faces of things". Written between 1918 and 1953, they offer an insight the development of his thought. The title story concerns a German family on holiday in Italy who fall under the hypnotic spell of a brutal magician. It is often seen as a warning against the seductive power of fascism.

Buy the book at Amazon UK


Buy the book at Amazon US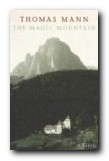 The Magic Mountain
This is a curious but impressive novel, written on either side of the First World War. The setting is a sanatorium in the Alps – a community organized with exclusive reference to ill-health. There the characters discuss love, politics, and philosophy. Much of the novels 'activity' is intellectual debate between characters such as Settembrini and Naphta (who are said to represent Mann's brother Heinrich and the Hungarian Marxist critic Georg Lukacs respectively). It's an intellectual drama of the forces which play upon modern man. Don't expect tension or plot in the conventional sense. The novel also marks a transition in Mann's political philosophy – from a conservative to a more liberal ideology.

Buy the book at Amazon UK


Buy the book at Amazon US
© Roy Johnson 2010
---