software and media for creating learning programs
In the rapidly developing world of IT and multimedia, it's strange to be reviewing a book published three years ago – and probably written at least a year before that. Some of the programs discussed by Tom Boyle in this survey will by now be 'legacy software' – but the fact is that some of them are still being used. His book is in four parts. The first provides a critical review of work in the field – from resource-based learning, through simulation and virtual experience to guided discovery learning.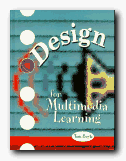 This includes consideration of programs such as Speakeasy, the Web, DOVE, Braque, and CLEM – [CORE Learning Environment for Modula-2]. The second part deals with conceptual design – the devising of the deep architecture of the system. Part three deals with presentation design. This covers screen layout, media integration, and the design of individual media – text, graphics, sound, and video. One of the virtues of the book is that it is so wide-ranging. It deals en passant with programs such as Toolbook and systems such as HTML – which was sill being viewed as a rather limited option in the mid 1990s.
Boyle covers moving objects and sound – both of which are conversely viewed rather sceptically in Web circles as distractions bordering on the unnecessary. However, there are circumstances in which these features are necessary. One of the examples discussed and illustrated is a training program showing how to install a hard disk in 'Build Your Own Personal Computer'. There are other disciplines in which digitised video is essential. A colleague of mine is currently grappling with comparable issues in a teaching hospital, where video clips of operations are put on CD-ROM as seminar support materials.
Part four deals with project development, evaluation, and delivery of teaching programs. It's all written in a lively and informative style, but the question remains, 'Are such books superseded by the rapid development of software?' My answer is 'No – on two grounds'. First, it's good to have a historical record of software development. Just as people are now beginning to collect and archive old computers [some of them less than twenty years old] so a well-documented account of the programs which were written for them will become increasingly important.
The second reason is that some of the basic design concepts and the architecture of these older programs may well appear to have been superseded by recent developments. But anyone who uses something as common as a word-processor knows that more features do not always result in improved functionality. At any time, some of these older approaches could be resuscitated for the simplicity and elegance of their design.
© Roy Johnson 2000

  Buy the book at Amazon UK

  Buy the book at Amazon US
---
Tom Boyle, Design for Multimedia Learning, London: Prentice Hall, 1997, pp.240, ISBN: 0132422158
---
More on online learning
More on technology
More on digital media
More on web design
More on computers
---