Product design in America 1800-2000
Design in the USA is much more interesting than its rather plain title suggests. It's a very scholarly approach to the subject, incorporating both the economic and social history of design in America from its revolutionary origins to the present day. Jeffrey Meikle's first chapters deal with America's ambiguous relationship with Europe (and England in particular) before native designers begin to emerge towards the end of the nineteenth century in the form of Charles Eastlake (furniture) and Tiffany (lamps) – though I was glad to see that the novelist Edith Wharton got a mention for The Decoration of Houses (1897). Then there's something of a leap from the end of the nineteenth century to the arrival of art deco in the 1920s.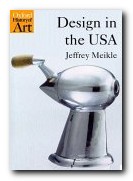 Since the art deco designers were influenced by the motifs they picked up from "automobiles, airplanes, zigzag bolts of electricity, and Manhattan's skyscrapers", one wonders why the engineers and architects who produced them are not given more consideration.
He claims that "The profession known as industrial design emerged during the Great Depression of the 1930s", and he certainly provides a very detailed account of the design consultancies set up by Norman Bel Geddes, Raymond Lowey, and Henry Dreyfuss.
He's particularly good at documenting the sociology of his subject – the movement of designers within their profession, and the effect on design of economic and political changes in society.
The good part of this survey is that issues of design are firmly placed within the context of American history, economics, and social change. It's almost like reading an account of the social development of the USA in the last two centuries.
His account ends, quite tantalisingly, just as more-or-less universal access to the personal computers makes designers of us all. Now with the proliferation of web sites and blogs – plus the additional tools of digital photography and software to personalise everything from page layout to typography – the arts of design are truly democratised, which he points out is where they began in the USA two centuries earlier.
The book is very well illustrated, and there's also a full scholarly apparatus – references, further reading for each chapter and its principal topics, a timeline matrix of design and related subjects; and a list of museums and websites.
© Roy Johnson 2005

  Buy the book at Amazon UK

  Buy the book at Amazon US
---
Jeffrey L. Meikle, Design in the USA, Oxford: Oxford University Press, 2005, pp.252, ISBN: 0192842196
---
More on design
More on media
More on web design
More on information design
---