illustrated essays on design, graphics, and typography
Design Writing Research is the name given to the combined work of Ellen Lupton and Abbott Miller, who are curator at Cooper-Hewitt design museum and director of a New York design agency. This elegant compilation brings together their writings on a wide variety of design-related topics – from the graphic presentation of numbers; contemporary hieroglyphs; the choice of body text in printed books; advertising; racial presentations in journalism; the seductiveness of commercial advertising; and newspaper layout and design – to a brief history of graphic design in America. This splendid variety in content is also matched by the design of the book itself.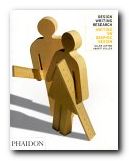 They start with an essay on Deconstruction in design history – tracing the influence of French critical theory in the US and eventually settling on notions of typographical presentation. There's also an essay on the history of punctuation and spacing which is wittily illustrated with a visual paraphrase of punctuation styles – from Latin monumental inscriptions to email emoticons in one short essay. This is a perfect use of the print medium, and an excellent fusion of form and content.
Some of the essays are no more than a sketch over a double page spread, but all of them are interesting – even one on the representation of numbers in print which inexplicably comes to an abrupt stop after the abacus.
They ambitiously tackle structuralist typography – an attempt to apply cultural theory to the realm of type design. Whilst this is not altogether convincing, it's consistently thought-provoking and like all the other essays in the compilation, skillfully illustrated in a manner which is reminiscent of the work of Edward Tufte.
There are some indications of old-fashioned political correctness. They use the term 'progressive' as a blanket marker of approval reminiscent of the Old Left. When this is combined with an essay extolling the technical skills of Andy Warhol, the effect seems naive and rather whimsical. And yet the essay itself, a study of the relationship between advertising and graphic design, is essentially quite interesting. It looks at the work of illustrators such as Ben Shan, Paul Glaser, and David Stone Martin – pointing out that many of their works 'were sold in galleries soon after they were published'.
The essays in the centre of the book are longer, detailed, and well researched, looking at the practice of graphic design in the context of twentieth century art. A study of McLuhan's The Medium is the Message argues the case for the groundbreaking contribution of his co-author, Quentin Fiore. This is followed by an in-depth study of the relationship between race and advertising; then the use of stock photographic archive materials in journalism; and subliminal messages in advertising.
The book ends with a synoptic account of graphic design in the USA between 1829 and 1993 – which just stops short of the Internet explosion. If they ever get round to analysing Web pages in the way they treat their material here, it will be truly something to look out for.
This is a beautifully designed and exquisitely illustrated book which is a Must for anyone interested in graphics, information design, typography, or media studies – and it's amazingly cheap. I bought my copy at full price, just in case the bookshop had made a mistake.
© Roy Johnson 2000

  Buy the book at Amazon UK

  Buy the book at Amazon US
---
Ellen Lupton and Abbott Miller, Design Writing Research: Writing on Graphic Design, London: Phaidon, 1996, pp.211, ISBN: 0714838519
---
More on design
More on media
More on web design
---