web-based course construction – from start to finish
This is a well-illustrated guide to every phase of designing, setting-up, and managing a Web-based training site. It goes from graphics and content design, to finding students and assessing their needs; from hardware and software options, to usability testing. William Horton explains what Web Based Training (WBT) can do and how to get the best results from exploiting its technologies. And for 'training' you can also read 'education' – because as he argues, the distinction between the two is often negligible. His approach is practical and clear; the book is written in a no-nonsense manner; and he follows his own prescriptions by giving examples to illustrate every point he makes.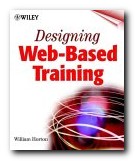 The design of the book itself more or less imitates Web pages: there are lots of headings, subheadings, quick paragraphs, tabled checklists, call-out boxes, horizontal rules, screenshots, and bulleted lists. He is essentially gung-ho for WBT as a novel learning technology – but he does look at a lot of research evidence, both pro and contra. He discusses the tricky issues of how to put a cost on course construction, how to devise navigational metaphors, and how to deal with potential plagiarism.
He offers several explanations of how to organise the sequence of learning events (or 'objects') in a course of learning. Then he even demonstrates the design of an entire course in outline, with templates of all the important pages and the structure in which they are arranged. This is valuable material for anyone who might be coming to the writing of online learning materials for the first time.
He covers an amazing variety of approaches to teaching – including the use of Webcasts, presentations, guided research, case studies, and learning games. There are some particularly good examples of virtual laboratories for teaching mechanical engineering and HTML coding. Most importantly perhaps, he shows which approaches are best used for which type of problem or task.
There's a good section on tests and exercises, including advice on setting true/false and multiple-choice questions, and when it's best to use matching pair and drag and drop questions. A section on teaching by email and discussion groups contains all the usual advice about Netiquette which many people still ignore.
The book is aimed at professional designers, trainers, and teachers – but it's written in a way which will make it useful at any level. I bought my copy to solve some design problems for one group of students – which it has done in no time at all. Now my business partner has grabbed it to do the same for another group.
© Roy Johnson 2000

  Buy the book at Amazon UK

  Buy the book at Amazon US
---
William K. Horton, Designing Web-Based Training : How to Teach Anyone Anything Anywhere Anytime, John Wiley & Sons, 2000, pp.640, ISBN: 047135614X
---
More on online learning
More on technology
More on digital media
More on web design
More on computers
---