web services for bloggers
What's a 'feed'? And what are RSS and Atom? Answer – a feed is the automatic distribution of information from someone's blog or web site, and RSS (Really Simple Syndication) and Atom are the technologies which deliver this information to your desktop. A friend recently emailed me someone's blog entry. It discussed in excited terms the emergence of Web 2.0 or the Semantic Web. This is the next development for the Web whereby computers will be able to understand the meaning of and the relationships between documents and other data. Automatic web ad blog feeds are one part of that development, and Ben Hammersley's timely manual is an introduction to the technology involved.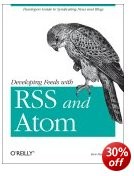 He is a very active technology journalist and blogger, and he knows whereof he speaks. First he explains the history of how there came to be two competing sets of standards – which is more interesting than you might imagine from that description. The advantages of accepting automatic feeds from others are fairly obvious, but why supply your own? Hammersley is in no doubt: it increases traffic to your site; helps with search engine rankings; improves relations with your users; and makes the Internet an altogether richer place, pushing semantic technology along and encouraging reuse.
For reading other people's feeds, he describes both the available web-based readers and downloadable software. You can even receive feeds as email or on a mobile phone.
The central section of the book describes a variety of feeds and shows you the scripts you might need to implement them I say 'might', because for most people all this will be done for you using templates at sites like Blogger and Moveable Type. However, knowing the code gives you more control – and it isn't all that complicated if you know some basic HTML or XML.
Assuming that you wish to publish a feed from your own blog or web site, he devotes a handy chapter to showing you how to maximise the chances it will be circulated and read.
He ends by offering a collection of recipes for creating and using feeds to do things such as keeping track of "404 Page Not Found" errors on your web site; downloading your favourite comic strip each morning; generating your own wish list at Amazon; automatically checking web pages are W3C valid; and receiving regular weather forecasts for your area.
He ends with what is one of the hallmarks of these O'Reilly publications – a comprehensive and annotated list of tools and resources. Most of these are free – so if you are interested in receiving or publishing feeds, you can start right now.
© Roy Johnson 2005
---
Ben Hammersley, Developing Feeds with RSS and Atom, Sebastopol: CA, O'Reilly, 2005, pp..253, ISBN 0596008813
---
More on technology
More on digital media
More on online learning
More on computers
---