portfolio of contemporary graphic design
Rian Hughes is a designer who has captured very accurately a retro look of the 50s and 60s – flat colours, comic-book style, cocktail glasses, kidney-shaped 'contemporary' coffee tables, abstract design wallpaper. He has also been influenced by Japanese Pokemon design and more than a little by the British typographist Neville Brody. This collection of his work Device: Art, Commercial is from Die Gestalten Verlag – high quality design, print, paper, and production.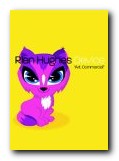 Hughes' designs are for exhibition and travel posters, CD covers, comics, magazines, product advertising, font sets, dingbats, and book jackets. There are strong affinities with the French style of bandes dessinées, and some of the more intriguing examples here are visual narratives – stories told in a series of pictures without words.
There's an amazing variety of material here – greetings cards, packaging, carrier bags, graphic novels, logos, stationery – though he seems at his strongest to me in his designs for adult comics and font sets. Every page is a treat in terms of colour and composition – and I'm sure this compilation will be a rich source of visual stimulation for graphic designers in all fields.
He also does a nice line in parodies. Dare is a satirically downbeat 'controversial memoirs' of Dan Dare from the Eagle comic, and TumTum and the Forged Expenses is a wonderful take-off of Tintin.
As a nice bonus, Device comes with a CD-Rom featuring a mini-Flash presentation, through which you can access free fonts and desktop wallpaper, and watch a selection of animated commercials and presentations, all designed by Hughes.
This is a very handsome production – except the supporting text is set at six points and printed on mid-grey paper. You'll need a magnifying glass if you want to read any of the details.
© Roy Johnson 2002

  Buy the book at Amazon UK

  Buy the book at Amazon US
---
Rian Hughes, Device: Art, Commercial, Berlin: Die Gestalten Verlag, 2002, pp.288, ISBN: 3931126862
---
More on design
More on media
More on web design
---