origins of UK town, hamlet, and village names
Have you ever wondered how places such as Eccles, Stoke Poges, Great Snoring, Lower Peover, or Leighton Buzzard get their names? This Dictionary of British Place Names will tell you, and give you details about the historical background. The reason there are so many unusual names for British towns, villages, and hamlets is of course that the UK has been invaded by so many different nations in the past. They have left their languages stamped all over the land.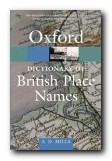 And as the author of this specialist dictionary points out, foreign languages actually persist in place names more than in the living language, because place names are not likely to change, whereas the spoken language does. There are over 17,000 entries listed here – alphabetically, from Abbas Combe in Somerset to Zennor in Cornwall. Most place names come from Old English, Danish, Norse, and Celtic, with only a smattering from Norman-French, and Latin. And not all of the etymologies are as obvious as they might seem.
For instance, many place names which occur a lot can in fact come from different origins. Broughton occurs in several counties and combinations such as Broughton Astley (Leics) and Broughton Poggs (Oxon). But the name can come from 'brook farmstead', 'hill farmstead', or 'fortified farmstead'.
The opposite phenomenon also occurs – where the same thing can give rise to different names. Thus Keswick and Chiswick both come from 'cheese farm'.
Most of the names listed are likely to be at least a thousand years old, and structurally they are often in two parts. The first may be a place, person, tribal, or river-name – and it qualifies the second part. Thus Bakewell was originally Badecanwelle formed from Badeca + wella = 'Spring or stream of a man called Badeca'.
There's a glossary of common elements in British place names – such as baernet, land cleared by burning; mynster, minster or large church; and stoc, outlying farmstead or hamlet. This occurs in my own home town of Stockport – which I notice has just appeared in the designed-for-Xmas novelty publication, Crap Towns: The 50 Worst Places to Live in the UK.
© Roy Johnson 2011

  Buy the book at Amazon UK

  Buy the book at Amazon US
---
A.D. Mills, Oxford Dictionary of British Place Names, Oxford: Oxford University Press, revised edition, 2011, pp.576, ISBN: 019960908X
---
More on dictionaries
More on language
More on grammar
---