UK parliament, its members, and political affairs
If you want to know what's going on in UK society and politics today, the Dictionary of British Politics is the definitive resource. It's written by a best-selling authority on the subject of parliament, personalities, and modern politics. Entries span from Diane Abbot and the Acts of Union, via the Maastrict Treaty and Gus MacDonald, to Tim Yeo and the Zinoviev letter. I don't know why the entries are split into two parts – politics and people – but there's a list of web sites and a good list of further reading.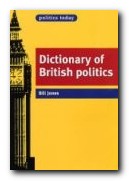 These make you feel confident that the author is on top of his subject. (So confident that he's even just started a daily political blog at SKIPPER). It covers the personalities, policies, and institutions that have shaped British politics. The entries are short, lively, and authoritative. What I liked in particular was the mixture of biographical sketches (Killroy-Silk failed his eleven-plus exam) and entries which give thumbnail accounts of larger issues, events, and movements such as Marxism, the Kyoto Protocol, and election rules, as well as politically influential forces such as newspapers, pressure groups, and the media.
This is a book which I imagine will be invaluable to any student of politics or general readers who want to know what's going on now in the UK. It will also help them to understand the details of the many organisations and pressure groups which compete to influence political power.
All information is well cross-referenced. So for instance, the entry on the Daily Mail provides the newspaper's web site; it points to the entry for its original owner Alfred Harmsworth; and it flags up its support for the above-mentioned bogus Zinoviev letter.
The coverage even extends to social issues such as water privatisation, party political broadcasts, cronyism, and arcane parliamentary issues such as the Chiltern Hundreds: (I didn't realise there were three).
It also covers members of parliament, government policies, the important bits of parliamentary history, political theories, historical landmarks, and even newspapers and their proprietors who influence events. The latest edition also covers the many scandals in political life during the last few years.
© Roy Johnson 2010

  Buy the book at Amazon UK

  Buy the book at Amazon US
---
Bill Jones, Dictionary of British Politics, Manchester: Manchester University Press, 2nd revised edition 2010. p.496. ISBN: 0719079403
---
More on language
More on literary studies
More on writing skills
More on creative writing
More on grammar
---