comprehensive A to Z reference to the classical world
This Dictionary of Classical Myth and Religionis a serious reference book providing invaluable information not only on Greek and Roman mythologies but also on religion in the Graeco-Roman world, including both Judaism and Christianity. It runs from Abaris, legendary devotee of Apollo, through to Zoroaster (who I didn't realise was the Greek form of the Iranian Zarathrustra). Many of the entries are the length of mini essays. The compilation includes both Greek mythology and Roman festivals, religious places, gods, deities, divination, astrology, and magic. There are also entries on Egyptian religion, Christian beliefs, Homer, Judaism, magic, and river gods.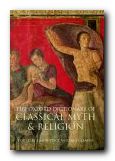 So, in a typical entry you are given multiple interpretations and sources. Electra for instance is daughter of Agamemnon and Clytemnestra and sister of Orestes, but she is also alternatively daughter of Atlas and Pleione, mother by Zeus of Dardanus and Iasion.
You can also look up classical notions such as the polis, votive offerings, and hubris ('intentionally dishonouring behaviour' – not 'pride or over-confidence') .
Iliona, in mythology, eldest daughter of Priam and Hecuba. Wife of Polymestor (see HECUBA), she saved the life of Polydorus in a variant version by passing him off as her son, Polymestor thus murdering his own child.
(Virgil, Aeneid 1. 653-4)
The main text is supplemented by an important introductory essay providing
overviews of mythology, religious pluralism in the ancient world, and the
reception of myths from antiquity to the present.
This is a serious, heavyweight, and comprehensive work of reference. It also contains maps, lists of genealogical tables, a thematic index, and an extensive bibliography. An ideal resource for students and teachers of ancient history and religion and anyone interested in the ancient world.
© Roy Johnson 2003

  Buy the book at Amazon UK

  Buy the book at Amazon US
---
Simon Price and Emily Kearns, The Oxford Dictionary of Classical Myth and Religion, Oxford: Oxford University Press, 2003, pp.599, ISBN: 0192802887
---
More on dictionaries
More on language
More on literary studies
More on grammar
---