What is the plural of fez? How should we pronounce millefeuille? And where would you see a strabismus? The words can come from anywhere: the Latin, German, and French by whom we were once occupied, imports from Britain's own former colonies, and modern coinages from around the world. The Dictionary of Foreign Words and Phrases includes a guide to pronunciation, over 8,000 entries, and the words and phrases are drawn from over forty languages – including Afrikaans, Chinese, Greek, Hebrew, Hindustani, Latin, Malay, and Turkish.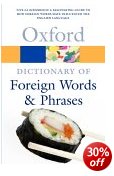 If ever you had any doubt concerning the English Language's propensity to soak up and use words from many other languages, have a look at this amazing collection. Entries run from the Greco-Roman import abacus, a cappella, and ab initio through futon and moloch to tamagotchi and the German Zwischenzug, which didn't mean 'through train' as I thought but turned out to be a chess move.
There are details of the history of each word or phrase, including its language of origin and any original spelling, and an account of its current use in English. There's also an appendix in which the terms included are listed by their language of origin as well as the century during which they were introduced into English.
Quotations are used throughout the text to illustrate the terms in their English context. A typical example reads as follows:
deus ex machina noun phrase L17 Modern Latin (translation of Greek theos ek mekhanes, literally, 'god from the machinery'). A power, event, or person arriving in the nick of time to solve a difficulty; a providential (often rather contrived) interposition, especially in a novel or play.

The 'machine' was originally the device by which deities were suspended above the stage in the theatre in classical antiquity. The phrase is generally used in its entirety but also occurs abbreviated to ex machina, with another agent of providence substituted for deus (see quotation 1996(2)).
attributive 1996 Spectator The deus ex machina resolution of the drama may provide one of the most feeble denouements in all opera.
1996 Times In this ideal scenario, growth in Europe turns up and deficits come down without anyone on this side of the Atlantic having to do anything. EMU ex machina.
This is a wonderfully rich and useful source of reference. Like most other specialist dictionaries, it profits by ommission. That is, all the obvious and boring stuff is left out. What remains is an excellent source of reference for anyone who is interested in words and their origins.
Because the entries are from such a wide variety of sources, reading continuously is a curiously refreshing experience. It might seem a bit nerdish to admit the fact, but I read the entire collection from cover to cover.
Oh, and by the way, the plural of fez is fezzes. Bet you didn't know that.
© Roy Johnson 2010

Buy the book at Amazon UK

Buy the book at Amazon US
---
Oxford Dictionary of Foreign Words and Phrases, Oxford: Oxford University Press, 2nd edition 2010, pp.432, ISBN: 0199543682
---
More on dictionaries
More on language
More on literary studies
More on grammar
---