memorable quips, bon mots, ripostes, and one-liners
There are subtle shades of distinction to be made between a saying which is funny, humorous, or witty. Funny makes you laugh, humorous produces what someone called 'a smile in the mind', and witty is usually associated with a rapid intellectual riposte – a nimbleness of mind. Ned Sherrin is right to call his compilation 'humorous'. It's probably best to ration yourself to a few pages now and again – otherwise they all tend to blend into a sort of verbal soup. But I must say I'm a sucker for these compendiums, and I couldn't stop myself reading this one through from start to finish. It reflects Sherrin's theatrical bent that he includes so many quotes and bon mots from the stage and its authors. Lots of Noel Coward, John Gielgud, Ralph Richardson, and as a wonderful camp lyricist, Cole Porter comes out well too.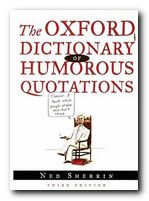 Mae West is as quotable as ever. Commenting on the possible choice of a leading man, she observes: "Let's forget about the six feet and talk about the seven inches". [I learned recently that she used to work very hard writing and honing these one-liners.] Dorothy Parker is good too: "If all the girls attending the prom were laid end to end, I wouldn't be surprised."
There are also a lot of entries from song lyricists, which makes you appreciate someone like Ira Gershwin even more when you realise that he wrote the music as well as the words to But Not for Me
With love to lead the way,
I've found more clouds of grey
Than any Russian play
Could guarantee . . .
. . . When ev'ry happy plot
Ends with the marriage knot –
And there's no knot for me.
There are also random gems, such as this, attributed to Dick Vosburgh: "I haven't been so happy since the day that Reader's Digest lost my address". And some come anonymously out of the side field, as in "Death is nature's way of telling you to slow down".
There are even gnomic contributions from scientists – such as Werner Von Braun's "Basic research is what I'm doing when I don't know what I'm doing." And I even have a sneaky admiration for George Best's self-defense: "People say I wasted my money. I say 90 per cent went on women, fast cars, and booze. The rest I wasted."
I didn't realise that the expression "A camel is a horse designed by a committee" is attributed to Alex Issigonis, the Greek-born designer of the Mini – nor that the expression "The lunatics are taking over the asylum" was occasioned by the takeover of the United Artists film production company by Charlie Chaplin, Mary Pickford, Douglas Fairbanks, and D. W. Griffith.
Devotees of UK radio and TV programmes will be interested to know that there's a whole section on catchphrases – from Mrs Mopp's "Can I do you now, sir?" [ITMA] to "You might well think that. I couldn't possibly comment" from House of Cards.
P.J. O'Rourke is on good form throughout the compilation, and for someone who is essentially regarded as a right-wing commentator, he can be surprisingly radical:
Wherever there is suffering, injustice and oppression, the Americans will show up, six months late, and bomb the country next to where it's happening.
This might have been written with ironic intent, but it doesn't strike me as being really humorous – because it is so chillingly close to the truth.
On 'Pride', I was glad to see that Jeanette Winterson's self-estimation was being kept alive as a deterrent to others. She was asked to name the best living author writing in English.
No one working in the English language now comes close to my exuberance, my passion, my fidelity to words.
Not funny – not even humorous – but bracing as an example of hubris.
It's superbly browsable, but as the nearly 5,000 quotations are grouped by more than 100 themes, it's also a reference with practical applications.
The entries run from Acting and Advertising to Writing and Youth. Then there's an index of authors and the topics whereon they have written. And if that's not enough, there's also a keyword index – so there's no shortage of routes to what you might be looking for.
John Paul Getty's formula for success: "Rise early. Work late. Strike oil."
© Roy Johnson 2009

  Buy the book at Amazon UK

  Buy the book at Amazon US
---
Ned Sherrin (ed), Oxford Dictionary of Humorous Quotations, Oxford: Oxford University Press, 4th edition, 2009, pp.560, ISBN: 019957006X
---
More on language
More on literary studies
More on writing skills
More on creative writing
More on grammar
---