explanations of the language of literary criticism
Do you want to know the difference between an epic poem and a tragedy? Between 'classical' and 'romantic'? Between 'naturalism' and 'realism'? Chris Baldick's Dictionary of Literary Terms answers all these questions – and more besides. With entries which range from definitions of abjection to zeugma, it is in fact a guide to a mixture of old-fashioned grammatical terms, traditional drama, literary history, and textual criticism. It contains over 1,200 of the most troublesome literary terms you are likely to encounter. Some of the longer entries and explanations become like short essays on their subject.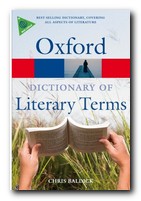 He also includes literary terms which have slipped into everyday use – such as 'text' and 'interpretation'. He gives clear and often witty explanations of terms such as 'hypertext', 'multi-accentuality', and 'postmodernism'. He also explains more common figures of speech such as the metaphor (straightforward) and those you can never remember such synecdoche and metonymy (can you really tell the difference between them?)
He also explains literary genres, from 'the madrigal' to 'dirty realism' and 'the boddice ripper', as well as offering potted accounts of theories such as structuralism and hermeneutics.
The latest (third) edition has been expanded and I was glad to see that he has added entry-level web links from OUP's companion website to the book.
This will appeal to the general reader with an interest in literary studies, but it's principally a useful reference for the advanced schoolroom or for undergraduates. And in fact – make that teachers too. I've had a copy of the first edition on my shelves for years, and I use it all the time.
© Roy Johnson 2008

Buy the book at Amazon UK

Buy the book at Amazon US
---
Chris Baldick, Concise Dictionary of Literary Terms, Oxford: Oxford University Press, (third edition) 2008, pp.361, ISBN: 0199208271
---
More on dictionaries
More on language
More on literary studies
More on grammar
---