What They Didn't Say: misattributions and apocrypha
Play it again, Sam is the classic much-used phrase which is in fact a misquotation. What Ingrid Bergman actually says to Dooley Wilson in Casablanca is Play it, Sam. Play 'As Time Goes By'. And Humphrey Bogart later demonstrating his emotional stoicism, says If she can stand it, I can. Play it. But for general circulation the misquotation has stuck. This Dictionary of Misquotations is a compendium of well-known sayings, phrases, and quotations which are all inaccurate representations of the original.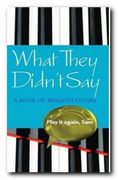 They get changed, mangled, and abbreviated for all sorts of reasons – and in many cases the later version completely obliterates the original. Sometimes they are what people mistakenly think or wish what somebody had said. What causes this to happen? Well, on seeing all these examples brought together, the answer appears to be that the misquotations are all slicker, more rounded and memorable than the originals. One example after another illustrates this point.
During the afternoon of 11 September, Jo Moore, a British government adviser, wrote a memo saying 'It is now a very good day to get out anything we want to bury'. But it's the much pithier a good day to bury bad news which has entered common language. Similarly, Harold Macmillan only ever mentioned 'the opposition of events', but the more memorable yet completely invented phrase Events, dear boy, events has been attributed to him, and it has stuck.
Charles Boyer never said Come with me to the Casbah (in fact he said the rumour had hampered his career); James Callaghan never said Crisis? What crisis?" (it was the Sun wot did it); Tarzan never said Me Tarzan – You Jane (though Johnny Weissmuller did); and Sherlock Holmes never said Elementary, my dear Watson.
You can see from the examples that there's a tendency towards poetic repetition, parallel phrases, syntactic inversion. Mae West actually said Is that a gun in your pocket, or are you just pleased to see me? – but it is most often quoted as pistol.
And not all are misquotations: some are complete fabrications. When working on the Times in the 1930s for instance, Claude Cockburn claimed to have mischevously written the dullest headline ever: Small earthquake in Chile. Not many dead. But no such entry has ever been traced.
So – good fun and clarification all around. And a salutary lesson that we need to take care if invoking these expressions whose origins seem so assured. This book has appeared just in time for the Xmas market, and it will make an excellent present for anyone who's interested in language and how it is used – and misused.
© Roy Johnson 2006

  Buy the book at Amazon UK

  Buy the book at Amazon US
---
What They Didn't Say: a Book of Misquotations, Oxford: Oxford University Press, 2006, pp.153, ISBN: 0199203598
---
More on dictionaries
More on language
More on literary studies
More on grammar
---