famous quotes, sayings, film lines, slogans, catchphrases
The Dictionary of Modern Quotations is a collection of quotes which offers a vivid picture both of the world today, and of the landmark events and key voices leading up to it. From Scott's Antarctic Expedition in 1912 to the attack on the World Trade Centre in 2001, it charts watersheds such as two World Wars, as well as the ebbs and flows of popular culture. The new second edition now also includes Soundbites of 2002-3.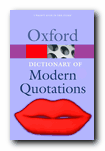 It contains more than five thousand quotations from authors as diverse as Elizabeth Arden, Billy Connolly, Bertolt Brecht, Linda Evangelista, Eddie Izzard, Alison Lurie, Carl Sagan, William Shatner, and Desmond Tutu. The dictionary is author-organized with generous cross-referencing and indexed by both keywords and themes.
This latest edition also contains new categories for film taglines and cartoon captions which have been added to accompany misquotations. It is designed to answer the questions, 'Who said that…and when…and why?' And to tell the truth, is also answers questions such as 'Did he really say that!?
My favourites are still wisecracks from the likes of Woody Allen:
If only God would give me some clear sign. Like making a large deposit in my name in a Swiss bank.
or Grouch Marx, earlier in the same tradition:
I've been around so long, I knew Doris Day before she was a virgin.
Some entries make you want to read more – as in the case of the now almost forgotten Hilaire Belloc:
I'm tired of Love: I'm still more tired of Rhyme.
But money gives me pleasure all the time.
Or this from James Elroy Flecker, an English poet whose name I had not come across before:
I have seen old ships sail like swans asleep
Beyond the village which men still call Tyre,
With leaden age o'ercargoed, dipping deep
For Famagusta and the hidden sun
That rings black Cyprus with a lake of fire.
OK, it has a ring of John Masefield's Cargoes about it, but it tweaked my appetite for more.
Some of the entries now seem amazingly prescient, such as the remark made by Albert Einstein in 1931:
I am not only a pacifist but a militant pacifist. Nothing will end war unless the people themselves refuse to go to war.
and even more so, this from French general Foch on the Treaty of Versailles in 1919:
This is not a peace treaty, it is an armistice for twenty years.
Spot on, general.
This latest updated edition now also includes famous soundbites as well as memorable quotes from the famous (and infamous); it also includes advertising slogans, catchphrases, lines from films, misquotations, newspaper headlines, and political sayings.
If you like these anthologies, either as a serious reference or a rich source of pleasant browsing, this is a good example of its kind.
© Roy Johnson 2008

  Buy the book at Amazon UK

  Buy the book at Amazon US
---
Elizabeth Knowles (ed) Dictionary of Modern Quotations, 3rd edition, Oxford: Oxford University Press, 2008, pp.496, ISBN: 0199547467
---
More on dictionaries
More on language
More on literary studies
More on grammar
---