private names for the notorious, famous, and infamous
This specialist Dictionary of Nicknames offers a collection of names associated with historical figures, politicians, sports stars, actors, entertainers, organizations, and places. It also includes nicknames which have become so famous they have eclipsed the real name of the original – such as Botticelli, Tintoretto, and El Greco. A well-coined nickname is supposed to summarise an individual's reputation, personality, or principal characteristic. And if it's good, or funny, it will stick.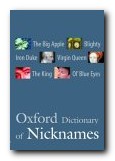 For instance when the ferocious, right-wing, black-haired, English MP Anne Widdecome was lecturing the Labour government from her position in the shadow cabinet, she was given the rather unflattering nickname of Doris Karloff. It stuck, because it seemed so appropriate – even though she is now an Alice-band wearing blonde. And when she said in her turn of her boss Michael Howard, that he 'had something of the night about him', it helped to nail his reputation as a political vampire.
Some of the potted biographies which accompany the entries are quite revealing – such as that on America's Sweetheart (Mary Pickford) who was not only a star but became an astute businesswoman who founded the production company United Artists with Charlie Chaplin, D.W.Griffiths, and her husband Douglas Fairbanks.
Nicknames can be affectionate, approbatory, respectful, scornful, scurrilous, derogatory, or even vitriolic. Some of those listed here are also pretty lame, such as The Blind Poet for John Milton. Others are quite cruel, such as The Great Whore for Anne Boleyn – so named because she failed to produce an heir for Henry VIII, and was alleged to have many lovers.
It's a dictionary full of pop and media trivia – such as the fact that Bing Crosby got his nickname from reading a comic called The Bingville Bugle which featured a character called Bingo, a boy with large floppy ears.
I think it was a mistake to exclude generic nicknames such as Chalky White and Dusty Miller, because these are of interest. But as compensation, there's a special appendix of football club nicknames, British army regiments, and US state names.
© Roy Johnson 2006

  Buy the book at Amazon UK

  Buy the book at Amazon US
---
Andrew Delahunty, Oxford Dictionary of Nicknames, Oxford: Oxford University Press, new edition 2006, ISBN: 0198609485
---
More on dictionaries
More on language
More on literary studies
More on grammar
---