memorable sayings by the clever and famous
Dictionaries of quotations used to be about 'Who said that?', whereas now people want to know 'What has been said about this?'. In this new type of dictionary from Oxford University Press, you can do both. The latest volume in their newly revamped series of dictionaries is arranged by topics – ranging from traditional categories such as Courage and Love to more recent subjects like Computers and the Internet.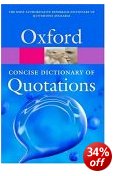 It's a collection of over 9,000 quotations, covering an enormous range of nearly 600 themes, from over 2,400 authors. They are arranged alphabetically, and you can check who said something about which topic via an extensive double index of names and themes.
The general approach is to split categories down into smaller and more specific topics. So, instead of The Press, there are entries listed under Journalism, News, Newspapers, and Press Photographers. Gerald Priestland observes:
Journalists belong in the gutter, because that is where the ruling classes throw their guilty secrets.
The quotes themselves range from Julius Caesar and Jane Austen to Tony Blair and Madonna, and where the quotation needs a context to be appreciated, this is provided. Not that it does in the case of Lytton Strachey on his death bed:
If this is dying, then I don't think much of it.
A book such as this is useful when racking your brains to recall where the lines quoted by an actor in a film came from. Surprisingly, many of the most famous, such as 'Play it again, Sam' and 'Come up and see me some time' turn out to be mis-quotations. And the best all seem to be propelled by deep feeling – even when it is self-mocking, as in the case of George Best:
People say I wasted my money. I say 90 percent went on women, fast cars, and booze. The rest I wasted.
The American ragtime pianist Eubie Blake struck a similar note when he commented, on becoming one hundred years old:
If I'd known I was going to live this long, I'd have taken better care of myself.
There are some brilliant one-liners, such as Stephen Fry's 'Reading newspapers is like opening a piece of used lavatory paper' and Mae West's 'A hard man is good to find'. Woody Allen is also well represented – as in his bon mot on bisexuality:
It immediately doubles your chances for a date on Saturday night.
This type of compendium has three possible uses. It can serve as a straight work of reference if you are stuck for the source of a famous quotation; you might dip into it for bedtime relaxation; and it's the sort of book which some people would keep in the lavatory for a few moments of light relief.
© Roy Johnson 2006

  Buy the book at Amazon UK

  Buy the book at Amazon US
---
Susan Ratcliffe (ed), Concise Oxford Dictionary of Quotations, Oxford: Oxford University Press, 5th edn, 2006, pp.580, ISBN: 0198614179
---
More on dictionaries
More on language
---