Internet jargon and IT technical terms explained
Do you know what a 'dongle', a 'sandbox', and a 'Ponzi scheme' are? The Internet and its technology is expanding at such a blistering rate, that it's difficult to keep up. Sometimes it's even hard to understand the terms in which it's all described. This Dictionary of the Internet explains the thousands of new terms which have come into use during the last few years. This includes the abbreviations of the newsgroups, the language of e-commerce, and the scientific terms used to describe the technical and organisational structure of the Internet.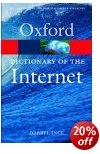 It provides terms on the Web itself, software technology, security, and the arcane language of hackers, whitehats, and alpha geeks. It gains its strength from concentrating in depth on the Internet and its infrastructure, rather than on general computing terms. Entries run from 'above the fold' – an expression taken from the newspaper industry which is now applied to Web design – to 'Z order' – the sequence in which layers are added to a graphic or a Web page.
In between, there's a useful and very entertaining mixture of the language of bleeding edge technology [yes, that's in] as well as the slang, vogue terms, and prolific coinings of newsgroups. Darrell Ince's explanations are so thorough that some of them are like mini-tutorials. I read them through from first entry to last and learned something interesting on almost every page.
The book is issued with a CD which contains the full dictionary entries in a browsable format, with hyperlinks. There are also links to relevant websites. The dictionary is supported by a separate web site where updates for downloading are posted. This is a wonderfully rich compendium – as smack up to date as it's possible to be.
© Roy Johnson 2003

  Buy the book at Amazon UK

  Buy the book at Amazon US
---
Darrel Ince, Dictionary of the Internet, Oxford: Oxford University Press, 2003, pp.340, ISBN: 019280460X
---
More on dictionaries
More on language
More on grammar
More on technology
---