Teaching and learning art using IT
This is a collection of academic conference papers which look at the ways in which digital art history and the use of computers is affecting the ways in which art is both taught and studied. The papers cover issues such as the storage, access, and searchability of images; ownership and copyright. iconography and classification, and the analysis of art works using Computer Aided Design. There's an account of a multi-media project for instance, Colour and Communication in 20th-Century Abstract Art, which teaches issues of tone, tint, and hue by making comparisons with music which are included as audio files alongside interactive exercises.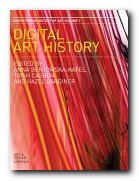 Next comes a web-based project called The Cathedral as Virtual Encyclopedia – a virtual panoramic tour of Chartes cathedral. The really interesting and ambitious feature here is that the authoring team, lead by Stephen Clancy, have been digitally manipulating the panorama shots using Macromedia Director to produce a thirteenth-century version of the tour.
This is followed by an account of creating a multimedia database of the source materials archived by Georg Morgenstiern, professor of Indo-Iranian languages at the University of Oslo, Norway. The resulting collection of photographs, sound recordings, and movie clips can be seen at www.nb.no.
There is a short encomium for computer gaming which could safely have been left out of the collection. More interesting is an account of experimental new media art at the University of the West of England in Bristol – though the emphasis is on problems of curation rather than the 'exhibits' themselves. This is also true of an essay on the creation of a visually searchable database of images at London Guildhall.
The centrepiece of the book shows how computer graphics and visioning techniques can be used in the scientific analysis of paintings. Once the examples have been digitised using CAD software, new versions can be generated from different points of view; partly occluded objects can be completed; shapes and objects can be analysed; and a 3D version of the scene can be generated.
They show an amazing three dimensional reconstruction of Masaccio's Florentine fresco, The Trinity. This paper is the work of three scholars in art history and engineering science working collaboratively at the University of Oxford and is probably the highlight of the collection.
As an e-learning author myself, I would sometimes have welcomed a little more technical detail, but there's certainly enough here to stimulate anybody who want to see what's possible in harnessing the power of IT to the teaching and learning in visual arts.
© Roy Johnson 2005

Buy the book at Amazon UK

Buy the book at Amazon US
---
Anna Bentkowska-Kafel et al (eds), Digital Art History, Bristol: Intellect, 2005, pp.118, ISBN 1841501166
---
More on art
More on media
More on design
---