This is a beautifully designed and an elegantly produced book. It's an excellent counterpart to Bob Gordon's other recent publication – Making Digital Type Look Good. First he offers a brief introduction which illustrates contemporary digital design in a variety of media – print, packaging, signage, exhibitions, Internet, and Multimedia. The rest of the book is in four sections. The first deals with basic design principles. That is, issues such as shape, line, colour, type, layout, images, and the dynamics of emphasis, contrast, and shade.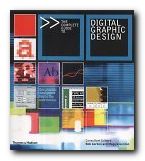 The next sections look in detail at the latest developments in design for print publications, public signage, exhibitions, for the computer screen, and for multimedia. If any of this sounds rather abstract, it has to be said that these principles are illustrated in a wonderful series of double-page spreads, orchestrated in a beautifully rhythmic series of variations on a five column grid. The book itself lives up to the high design values it is presenting.
The supposition is that many designers will be migrating from the world of print to that of the digital interface – and I think that is reasonable – since the Web gets some of its most efficient and elegant designs from the influences of print design.
There's an account of the best software programs [QuarkXPress and PageMaker] and how they are used in print preparation. This is followed by a series of illustrated case histories and interesting details of what is now called 'surface design' used in instances as varied as cardboard engineering and multimedia exhibitions.
On designing for the screen, there are useful tips on coping with the frustrations of Web page composition – such as browser download times and display uncertainties. There's an introduction to Flash, Web editors, and graphics packages such as Fireworks.
The section on multimedia concentrates on designing for CD-ROM and DVD using software such as Macromedia Director and Adobe After Effects – all of which are now within budget price range. The big advantage of this increasingly popular form of delivery is that the author can control the appearance of the finished design on screen.
This is a very elegant production which is worth owning as a stunning example of graphic design in its own right. But it will also form an excellent overview of what is current in the field of digital graphics.
© Roy Johnson 2003

Buy the book at Amazon UK

Buy the book at Amazon US
---
Bob Gordon and Maggie Gordon, The Complete Guide to Digital Graphic Design, London: Thames and Hudson, 2002, pp.224, ISBN: 050028315X
---
More on design
More on media
More on web design
---